How to
Tutorials. How To Tie Dye Your LEGS. I am about to show you how to tie dye your legs... or leggs really.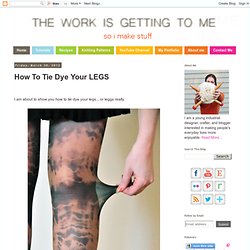 Yeah, they're just stockings, but the result is still the same. I now have 3 different crazy pairs of tights that each were made from old clothes and food coloring. I do know that this red color looks like I got a sunburn or was in a bad fire, so you can stop saying so. This was an experiment, and so the black color that I wanted turned out red. I've fixed it, look:
WORK SPACE
FASHION. KIDS. CATS. HOME DECOR. CHRISTMAS. House to Home. Most favorited all-time. How To stuff. 101 Crafty Gifts. To make all of these Instructables, download this collection of How To's as an ebook.
Download » 101 Crafty Gifts is a collection of simple, beautiful gifts you can make! Looking for that perfect gift to make for someone? This collection of over 100 projects from Instructables.com has step-by-step instructions and pictures to get you going! Page corner bookmark. This project comes to you at the request of Twitterer @GCcapitalM.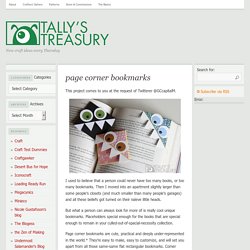 I used to believe that a person could never have too many books, or too many bookmarks. Then I moved into an apartment slightly larger than some people's closets (and much smaller than many people's garages) and all these beliefs got turned on their naïeve little heads. But what a person can always look for more of is really cool unique bookmarks. Arts & Crafts.
---