Social network
Today, the major search engines use many metrics to determine the value of external links. Some of these metrics include: The trustworthiness of the linking domain.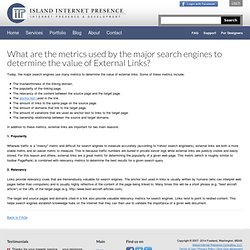 What are the metrics used by the major search engines to determine the value of External Links?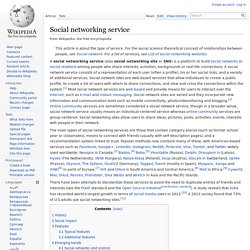 A social networking service is an online service , platform, or site that focuses on facilitating the building of social networks or social relations among people who, for example, share interests, activities, backgrounds, or real-life connections.
The 10 Social Media Metrics Your Company Should Monitor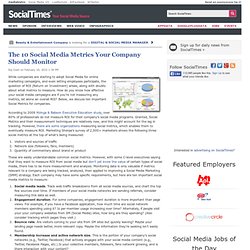 While companies are starting to adopt Social Media for online marketing campaigns, and even letting employees participate, the question of ROI (Return on Investment) arises, along with doubts about what metrics to measure. How do you know how effective your social media campaigns are if you're not measuring any metrics, let alone an overall ROI?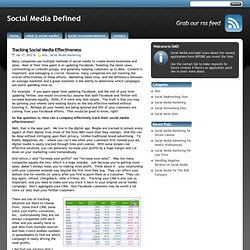 Many companies use multiple methods of social media to create brand awareness and sales. Most of their time spent is on updating Facebook, Tweeting the latest news, commenting on LinkedIn groups, and generally keeping customers up to date.
Tracking Social Media Effectiveness | Social Media Defined
Earlier this week a post on the average clickthrough rates for popular Facebook brand pages reminded me of an article I wrote nearly three years ago, which was all about how to measure social media .
Are you measuring the right social media metrics?
The use of social media platforms used to be only used for popularity purposes. This is where companies, marketers and communicators made use of Twitter and Facebook to only measure the effectiveness of the product. These were also the days where they would only post information and media like photos and videos and just leave it at that, hoping that prospective clients will have a look at it and contact them for further information.
Measuring Social Media Effectiveness & Engagement: On Your Own | WSI Social Media Strategies
Measure Twitter effectiveness by tracking retweets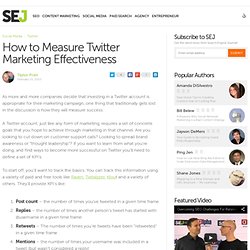 How to Measure Twitter Marketing Effectiveness
As more and more companies decide that investing in a Twitter account is appropriate for their marketing campaign, one thing that traditionally gets lost in the discussion is how they will measure success. A Twitter account, just like any form of marketing, requires a set of concrete goals that you hope to achieve through marketing in that channel. Are you looking to cut down on customer support calls? Looking to spread brand awareness or "thought leadership"? If you want to learn from what you're doing, and find ways to become more successful on Twitter you'll need to define a set of KPI's.
Carolyn Everson, Facebook's vice-president of global marketing solutions, unveiled the new initiatives at New York's Advertising Week, throwing light on to how the company intends to monetise the new products it unveiled at its own f8 conference last month.
Facebook to allow companies to measure effectiveness of their pages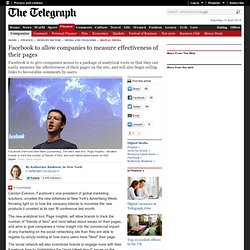 How To Profit With Social Network Websites – Popular And Makes Money… « Talking Odours
Were you aware that you can profit with social network websites? These sites are incredibly popular and are a great tool for any online or offline business.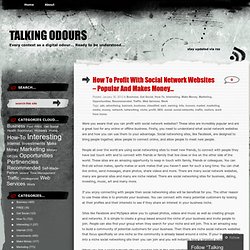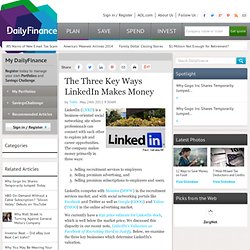 The Three Key Ways LinkedIn Makes Money
LinkedIn ( LNKD ) is a business-oriented social networking site where professionals can connect with each other to explore job and career opportunities. The company makes money primarily in three ways: Selling recruitment services to employers Selling premium advertising, and Selling premium subscriptions to employers and users.
Facebook Had $1 Billion In Profits Last Year, On $3.7 Billion In Revenues
Facebook just filed its IPO registration ( SEC doc here ) and its financials are off the charts.
They say its free.
How does Facebook Make Money
How exactly is Facebook making money? | Technology
A Facebook user's profile The news that Facebook has tripled in size in the past year has grabbed headlines , but the real news was that the social network is now - in Mark Zuckerberg's words - "free cash flow positive". That piece of accounting jargon indicates that, after more than five years, the site has taken the first major step towards becoming an honest-to-god profit-making company and (perhaps) indicates that a stock market launch could finally become a possibility . But the news that the site has money coming in needs to be examined a little closer. While it's a little difficult to discern exactly what this "free cash flow" constitutes for a private company like Facebook, one spokesman told Reuters that it "does not include any cash from private investment".
Twitter Earns First Profit Selling Search to Google, Microsoft | Epicenter
Twitter Is Said to Be Profitable After Making Search Agreements
Increase Brand Exposure, Loyalty, and Retention Using Social Media and Community