Maps of History
United States Historical Maps. Historical Maps of the United States Historical Maps of U.S.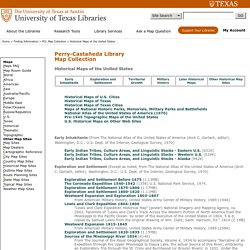 CitiesHistorical Maps of TexasHistorical Maps of Texas CitiesMaps of National Historic Parks, Memorials, Military Parks and BattlefieldsNational Atlas of the United States of America (1970)Pre-1945 Topographic Maps of the United StatesU.S. Historical Maps on Other Web Sites. Antique Maps, Old maps, Vintage Maps, Antique Atlases, Old Atlases - StumbleUpon. The Centennia Historical Atlas -- Europe and the Middle East 1000AD to the Present, software for Windows and Mac OSX. Looking for the "viral" YouTube videos which were created by a couple of East Europeans using our map animations and, unfortunately, in direct violation of our copyright?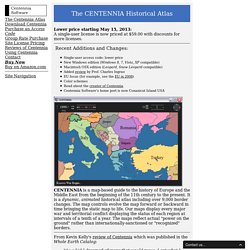 Try these official versions instead... Recent Additions and Changes: New Windows edition ( Windows 7, Vista, XP compatible) Macintosh OSX edition ( Leopard , Snow Leopard compatible) Updated through 2003 EU focus (for example, see the EU in 2008 ) Color schemes Read about the creator of Centennia Centennia Software is now located on Conanicut Island CENTENNIA is a map-based guide to the history of Europe and the Middle East from the beginning of the 11th century to the present. The Collection. It's a Google Streetmap of history: How our famous landmarks looked up to 170 years ago. By Daily Mail Reporter Updated: 07:19 GMT, 7 November 2011 A website has taken the notion of the 'Now and Then' photo to another level with their 'Google Streetmap of history' which allows people to see what a British street looked like 10, 20 or even 100 years ago.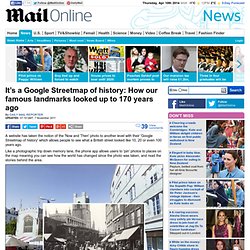 Like a photographic trip down memory lane, the phone app allows users to 'pin' photos to places on the map meaning you can see how the world has changed since the photo was taken, and read the stories behind the area. §. European History Interactive Map. Maps of War ::: Visual History of War, Religion, and Government.
---