Cartes heuristiques - Organigrammes - Graphes
Customizing Bubble Chart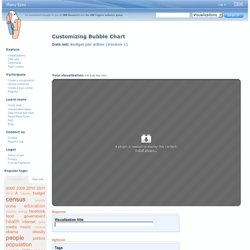 Many Eyes Log in Explore Visualizations Data sets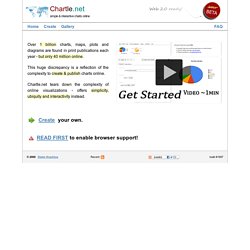 Over 1 billion charts, maps, plots and diagrams are found in print publications each year - but only 40 million online. This huge discrepancy is a reflection of the complexity to create & publish charts online. Chartle.net tears down the complexity of online visualizations - offers simplicity, ubiquity and interactivity instead. upcoming features : impressive new Ajax/Flash user interface and improved data import from Excel.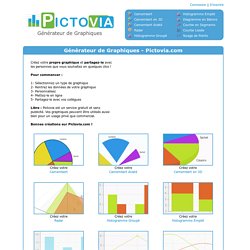 Générateur de Graphiques - Pictovia.com
Créez votre propre graphique et partagez-le avec les personnes que vous souhaitez en quelques clics ! Pour commencer : 1- Sélectionnez un type de graphique 2- Rentrez les données de votre graphique 3- Personnalisez 4- Mettez-le en ligne 5- Partagez-le avec vos collègues Libre : Pictovia est un service gratuit et sans publicité.
Créer des graphiques en ligne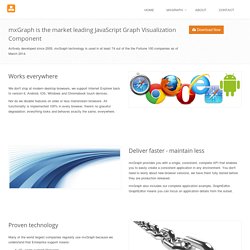 mxGraph is simple, you include it as a JavaScript link in your HTML file and you instantly have access to the cleanest, most functional native browser diagramming component available. HTML 5 and full Internet Explorer Support. Imagine your application completely web based. Design workflows in a browser, manipulate a telecomms network combined with a background map. Create BPMN designer online, database schema editors, UML diagrams and organizational charts. Anything that you previously required users to install software for can now be provided as a web application with zero install on any major browser.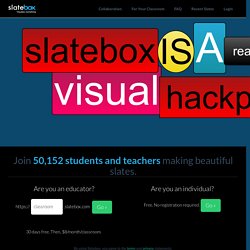 A whole bunch of awesome for your school or business. Meet SlateMind: a fun and easy mind- mapping app included in every account. Page-by-page 'surfing' is so 1990s. Go off rails and find out why it's better. The real time web is baked into EVERY app making collaboration a snap. Open Source everywhere