Exemple Artiste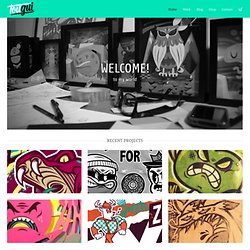 Tougui Home » Tougui
Hello, I'm Guillaume but you can call me Tougui! I'm a freelance graphic designer established near Annecy in France. As far as I can remember, I have always loved drawing, and I directed my studies towards that objective. After I graduated from the Ecole des Gobelins of Paris in 2007, I started my freelance career. ...
Andrée Wallin
ArseniXC: 3d, 2d, concept artist
Nekro .Art & Illustration.
tuomaskorpi.com
Chase Stone's Sketchbook!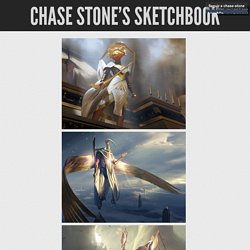 My work from Born of the Gods Some of the stuff I've done for Legend of the Cryptids over the past year. Applibot's great and super open minded in their art direction, so designing these has been a really rewarding and creative process for me. My illustrations from M14.
James Ng Art: Art
Diego L. Rodríguez · Freelance Illustrator
Florian Nicolle | graphic designer & illustrator | neo
Peter Jaworowski's Portfolio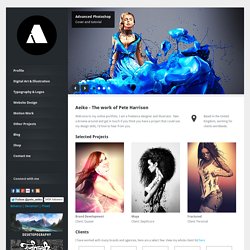 Aeiko – The work of UK digital artist and designer Pete Harrison // v10
Aeiko - The work of Pete Harrison Welcome to my online portfolio, I am a freelance designer and illustrator. Take a browse around and get in touch if you think you have a project that could use my design skills, i'd love to hear from you. Based in the United Kingdom, working for clients worldwide. Selected Projects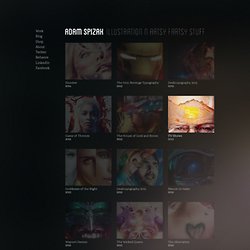 Personal project based on Pearl Jam song.Digital Art, Illustration, Motion Graphics2014 IronMan type projectArt Direction, Illustration, Typography2013 I had a great opportunity to contribute to the annual desktopography project curated by Pete Harrison. This year i've made the exercise focused on delivering two images inspired by endangered species. The project used set of different styles – from digital painting to 3D and uses mystical and sci-fi metaphors to highlight the issue of species facing a very high risk of extinction.Art Direction, Digital Art, Illustration2013 Welcome to the Game! We all have projects we really want to work on and creating art based on this amazing universe of Game of Thrones was something I wanted to do since the first season of this great show aired on HBO. So here we are – three posters based on the characters and houses that I think are the essence of the show and also make the biggest impact.
Adam Spizak's Portfolio
Graphic travelling, online showcase of François Leroy, Illustration/Graphic Design/ Art Direction
OMEGEAR ™ - Graphic designer
Portfolio of Craig Shields /
GAGA - IK-YD
nickonken
Adam Burn - Phoenix-06's Gallery
http://luk.pazera.pl/
Graphaddict © Freelance - Concept Artist - Illustrateur - Webdesigner
Daniel Merriam - Home
Personal Details Status: Name: Ross Tran Gender: Male Birthdate: Nov 5th 1992 Location: Pasadena Sketchbook: Website: Personal Blog Member Type: Student Projects I've worked on: Current employer: Areas of expertise: Skills: Available for Work? Yes - Freelance Networks: Resume, etc.: Site Details
Ross Tran - Kirupa - CGHUB
The art of Erik Schumacher
...::: WELCOME on the GrivetArt's Website :::...
BIBAS CREATION (RENO LAMOTTE)