GRAPHIC'S & MOTION DESIGN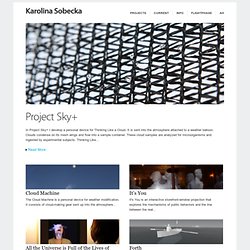 KAROLINA SOBECKA
In Project Sky+ I develop a personal device for Thinking Like a Cloud. It is sent into the atmosphere attached to a weather balloon. Clouds condense on its mesh wings and flow into a sample container. These cloud samples are analyzed for microorganisms and ingested by experimental subjects. Thinking Like…
Not sold on the idea of going back to school? Neither was Daniel Savage. The NYC-based designer/director just released his animated short, "Helium Harvey," a labor of love that doubled as self-directed education: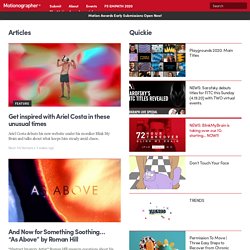 Sixstation Workshop
New artworkNov. 25 2013 "Waiting Room". New artworkNov. 6 2013 "Big Head". BandcampOct. 23 2013 I've set up a Bandcamp page: raoulsinier.bandcamp.com where you will find all my records with download/store links. (… and "Covers", "Raoul Loves You", "Wxfdswxc2" and a few others are now available in various lossless formats, if it's your thing).
.: Raoul Sinier :.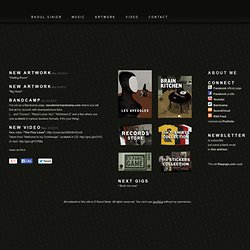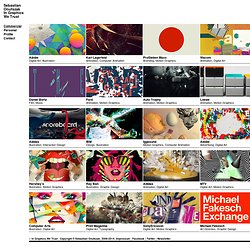 SEBASTIAN ONUFSZAK Designer/Illustrator/Director Digital illustration for the Adobe "I Am The New Creative" portrait series.Digital Art, Illustration2014 Short animation for Karl Lagerfeld's 'Happy Chinese New Year' greetings.Animation, Computer Animation2014 Channel Branding for ProSieben MAXX.Branding, Motion Graphics2013 Visual conception for the Wacom Cintiq Companion commercial.Animation, Digital Art2013 Music video by Jürgen Branz and Sebastian Onufszak "Spend The Night" is featured on Daniel Bortz´ full length debut "Patchwork Memories".Film, Music2013 Visual conception (pitch) for a Ford TV commercial.
tariqdesign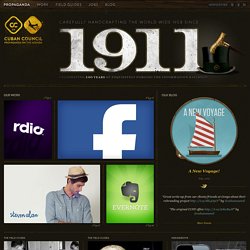 BBC, Apple, Adobe, NASA, Entertainment Television, Target, Google, Google Ventures, Gmail, iGoogle, Orkut, Google Checkout, Facebook, Spike TV, Sony Ericsson, Palm, Zynga, Old Spice, Cyworld, SK Communications, France Telecom, Fox, Francis Ford Coppola, Slide, Yahoo, Glaceau, Lockheed Martin, Tom Waits, Virgin, EMI, Anti, Native Instruments, Kaliber10000, Rdio, Bell Mobility, Truth, The American Film Company, Lifetime Television, Hugo Enterprises, Digg, Monocle, Steven Alan, Zendesk, Aupeo, Venzero, Orkut, Foodzie, Betable, Slated, Inkling, Future Publishing, Daily Radar, Astro Studios, Astro Gaming, Minted, Danoo, Grows Up, Orange Telecom, Grundfos, Hotels.com, IMVU, Nexon, Suicide Girls, MyWire, Scrapblog, Boku, Epitaph Records, Hellcat Records, Anti Records, Bad Religion, Monson Snowboards, Quora, iBend, Tyra Banks, Floop, Bungalux, Nebula, Evernote, Steven Alan, Indeed, Chloe & Isabel
Free Logo Designer | Get your logo now!
Grafik Mag | We love design
Author: YOOtheme Icon set website: Visit site License: Free for commercial use (Include link to authors website)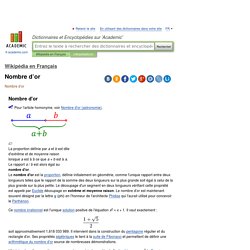 La proportion définie par et est dite d'extrême et de moyenne raison lorsque est à ce que + est à . Le rapport / est alors égal au . Le est la proportion , définie initialement en géométrie, comme l'unique rapport entre deux longueurs telles que le rapport de la somme des deux longueurs sur la plus grande soit égal à celui de la plus grande sur la plus petite. Le découpage d'un segment en deux longueurs vérifiant cette propriété est appelé par Euclide découpage en . Le nombre d'or est maintenant souvent désigné par la lettre φ (phi) en l'honneur de l'architecte Phidias qui l'aurait utilisé pour concevoir le Parthénon . Ce nombre irrationnel est l'unique solution positive de l'équation 2 = + 1.
Nombre d'or
50 High Quality Paper Textures