Gov-INFO ACCESS
Lifehacks. Reference. 1-20-13 Have not downloaded into html...do this next time. Collections. The National Air and Space Museum holds in trust some 60,000 objects, including aircraft, spacecraft, engines, rockets, uniforms, spacesuits, balloons and artwork.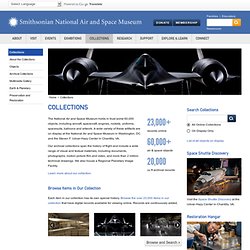 A wide variety of these artifacts are on display at the National Air and Space Museum in Washington, DC and the Steven F. Udvar-Hazy Center in Chantilly, VA. Our archival collections span the history of flight and include a wide range of visual and textual materials, including documents, photographs, motion picture film and video, and more than 2 million technical drawings.
We also house a Regional Planetary Image Facility. Learn more about our collection. Archives of American Art, Smithsonian Institution. A Message From Anonymous To The Global (R)evolution. Singers. Your Life Torn Open, essay 1: Sharing is a trap. This article was taken from the March 2011 issue of Wired magazine.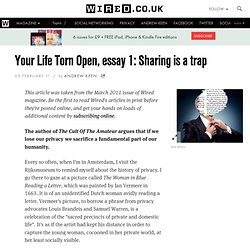 Be the first to read Wired's articles in print before they're posted online, and get your hands on loads of additional content by subscribing online. The author of The Cult Of The Amateurargues that if we lose our privacy we sacrifice a fundamental part of our humanity. Every so often, when I'm in Amsterdam, I visit the Rijksmuseum to remind myself about the history of privacy.
I go there to gaze at a picture called The Woman in Blue Reading a Letter, which was painted by Jan Vermeer in 1663. Private © Watchdogs. GOVERNMENT SERVICES. Public Knowledge | Fighting for your digital rights in Washington. Understanding it all. Public Data Sources. UN Agenda 21. USEFUL STUFF. NASA Science. Centers for Disease Control and Prevention. United States Patent and Trademark Office. Digital Public Library of America.
Arpa-e > Home. Using Primary Sources on the Web. Before relying on the information provided by a website, examine and understand the purpose of the website.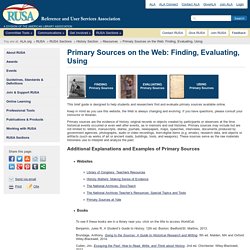 While the purpose might not affect the accuracy of the primary source material it contains, it might indicate that the material has been altered or manipulated in some way to change or influence its meaning. Sometimes sites use primary source material to persuade the reader to a particular point of view, distorting the contents in obvious or subtle ways. Joyce Valenza's Primary Source Pathfinder. US History Primary Sources. Congressional Research Service. The Congressional Research Service (CRS) works exclusively for the United States Congress, providing policy and legal analysis to committees and Members of both the House and Senate, regardless of party affiliation.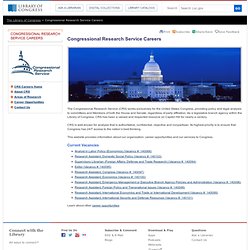 As a legislative branch agency within the Library of Congress, CRS has been a valued and respected resource on Capitol Hill for nearly a century. CRS is well-known for analysis that is authoritative, confidential, objective and nonpartisan. Its highest priority is to ensure that Congress has 24/7 access to the nation's best thinking. This website provides information about our organization, career opportunities and our services to Congress. U.S. Bureau of Labor Statistics. National Archives Online Public Access. Florida Electronic Library. National Archives and Records Administration. National Libraries and Archives. Library of Congress Home. Smithsonian Institution Archives. Organizations and Institutions. Welcome to the CIA Web Site.
The National Security Archive. National Register of Historic Places Database and Research Page -- National Register of Historic Places Official Website--Part of the National Park Service. FBI — Homepage. Office of Management and Budget. April 8, 2014 at 1:02 PM EDTCreating a 21st Century Government: Enhancing Productivity and Achieving Cost Savings by Reducing Fragmentation, Duplication, and OverlapToday, the Government Accountability Office (GAO) released its fourth annual report identifying opportunities for Congress and the Executive Branch to reduce fragmentation, duplication, and overlap, and achieve cost savings across the Federal government.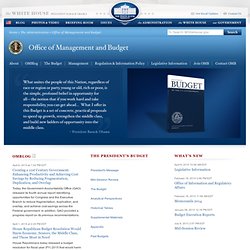 In addition, GAO provided a progress report on its previous recommendations. April 1, 2014 at 2:24 PM EDTHouse Republican Budget Resolution Would Harm Economy, Seniors, the Middle Class, and Those Most in NeedHouse Republicans today released a budget resolution for fiscal year (FY) 2015 that would harm the economy, seniors, the middle class, and those most in need, while not using any savings from ending inefficient tax breaks to help reduce the nation's deficits. U.S. Department of State. US-CERT: United States Computer Emergency Readiness Team.
The Official Home of the Department of Defense. U.S. Energy Information Administration (EIA) Welcome to the National Security Agency. Official Home of the United States Marine Corps. United States Air Force - airforce.com. United States Air Force - airforce.com. Freer and Sackler Galleries.
The Official Web Site of the United States Navy. The Official Home Page of the United States Army | The United States Army. Visual Understanding Environment. US Environmental Protection Agency.
GOVERNMENT. Museums and Historic Sites. HistoryBuff.com.
---