SEO
Please bookmark this page on Delicious for your future reference. Set up your free SEO Book account, and you will get this tool + 2 other SEO tools valued at over $300 for free. Already have an account? Log in and your installation link will appear in the place of this message. Why do Over 500,000 Webmasters Use Rank Checker?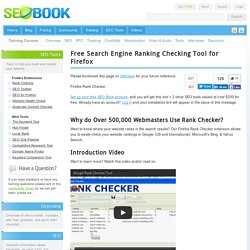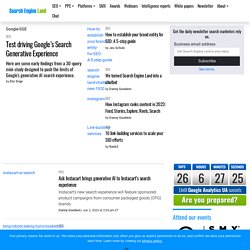 Paid Search Column - Rebekah Diedo As Group Head at a fast growing search agency, I've carried out hundreds of campaign checks over the years. In my contributions here, I'll be sharing my top tips on things to look out for when reviewing your own campaigns. Some of these things are obvious, while others might have slipped past you because you're […] Read more |
If you're convinced that conducting business online is the way forward, then you need to go about setting up your presence through website development as effectively as possible. Creating an eCommerce website has a great deal in common with creating a website in general. It's time to focus on these basics, as we start off. The first question you will have to consider is what website type is most appropriate for you?
Free SEO Tools Online | Makes Getting SEO Help Easier |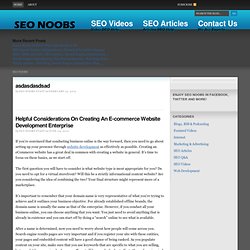 SEO stands for search engine optimization. It is the process of designing the web site in such a way that it would be able to attract search engine spiders and improve a site's ranking. This article provides links to the best SEO Tools found on the Internet. It will help you to find out how to optimize your website, what you should use to improve the quality of backlinks, what keywords you should use on your web-pages, and how to move up your position in search engines. Ranking Tools
The Best SEO Tools
Are you a marketing tactician or strategist? by Mike Moran January 16, 2014 Now, in a sense, that's a dumb question, because we all need to be both at times, but I was put in the frame of mind to ask it because of a recent encounter with a prospective client.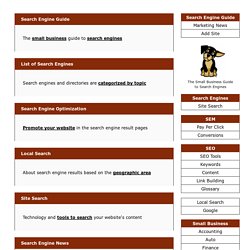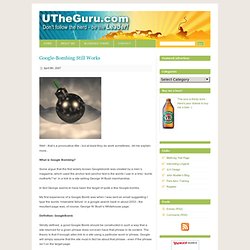 Google-Bombing Still Works - UtheGuru.com
April 9th, 2007 Well - that's a provocative title - but at least they do work sometimes.. let me explain more.. What is Google Bombing?
Ambient Findability: Findability Hacks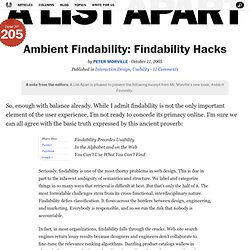 So, enough with balance already. While I admit findability is not the only important element of the user experience, I'm not ready to concede its primacy online. I'm sure we can all agree with the basic truth expressed by this ancient proverb: Findability Precedes Usability In the Alphabet and on the Web You Can't Use What You Can't Find Seriously, findability is one of the most thorny problems in web design.
One of the great things about blogs is how much the search engines love them. But is there a way to get even more love from Google by making just one small adjustment to your WordPress blog? Search engines want a frequently updated web site with good information, and that also has a solid, navigable directory structure with meaningful URLs. Oh, and it's also a huge bonus if your XHTML markup is both valid and semantically sound. You can score outstanding code by applying the Cutline theme to your WordPress blog, and then you can learn how to create search-engine-friendly permalinks (page addresses) by watching this video!
How to Get More Search Engine Traffic With One Simple Tweak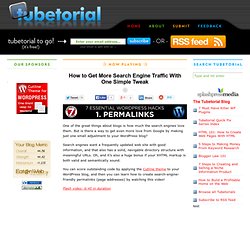 HOW TO: Get Billions of Pages Indexed in Google - Merged.ca
Copyright Ian Rogers, 2002 onwards NB. this page was originally hosted on www.iprcom.com/papers/pagerank/ until I shut that company and website down. And then on www.ianrogers.net/google-page-rank/ until I lost that domain to a domain grabber. So much for permanency on the Internet Introduction Page Rank is a topic much discussed by Search Engine Optimisation (SEO) experts.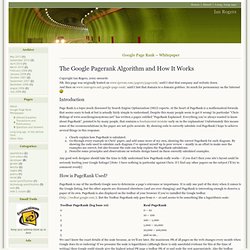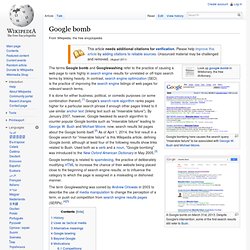 A Google bomb on March 31st, 2013. Despite Google's intervention, some of the first search results still refer to Bush. The terms Google bomb and Googlewashing refer to practices, such as creating large numbers of links, that cause a web page to have a high ranking for searches on unrelated or off topic keyword phrases, often for comical or satirical purposes. In contrast, search engine optimization is the practice of improving the search engine listings of web pages for relevant search terms.
How to make a Google bomb