Google +
8 Reasons Why You Need to Establish Authority on Google+
Being an Authority on Google+ Directly Impacts Search Results (Case Study)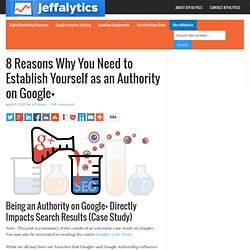 If you're a small local business, having a Google+ Local profile is imperative to putting your brand – quite literally – on the map.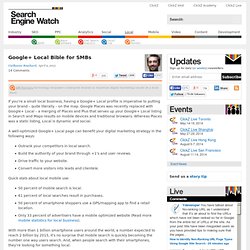 Google+ Local Bible for SMBs
How to Use Google+ Local to Get New Customers
Google+ Local is a powerful tool for small businesses targeting local customers because it combines customer reviews and local search into one platform.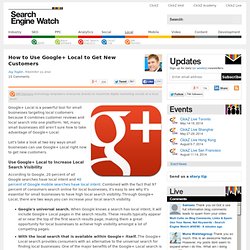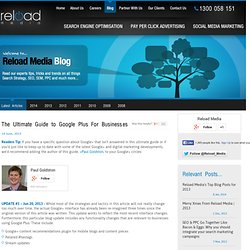 What is Google+? | The Ultimate Guide for Businesses
Readers Tip: If you have a specific question about Google+ that isn't answered in this ultimate guide or if you'd just like to keep up to date with some of the latest Google+ and digital marketing developments, we'd recommend adding the author of this guide, +Paul Goldston , to your Google+ circles: UPDATE #3 – Jun 20, 2013 - While most of the strategies and tactics in this article will not really change too much over time, the actual Google+ interface has already been re-imagined three times since the original version of this article was written.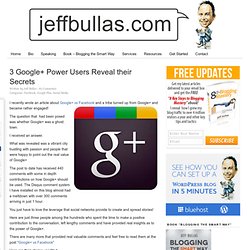 3 Google+ Power Users Reveal their Secrets
I recently wrote an article about Google+ vs Facebook and a tribe turned up from Google+ and became rather engaged!
Website owners with a Google+ page will soon be able to add content recommendations to the user experience on their mobile websites. Google just announced the new feature today, which blends both Google+ activity (such as +1s and shares) and search authorship to determine the best related content to show to users as they browse mobile website content. Readers will see recommendations whether they're signed in to a Google account or not.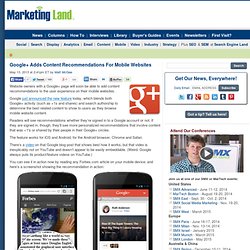 Google+ Adds Content Recommendations For Mobile Websites
8 Reasons Why You Need to Establish Authority on Google+
Bloggers and marketers are always aiming to weave magic by placing their brand in front of as many people as possible without having to show up.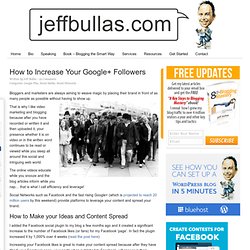 MIHMORANDUM NO. 1577 | September 17th, 2012 I'm not necessarily saying anyone should do this right now, as the implications of syncing / switching over completely to a Google +Local page are still unclear .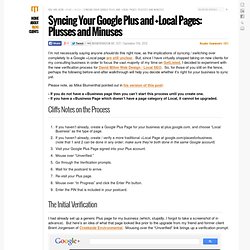 Syncing Your Google Plus and +Local Pages: Plusses and Minuses
Badge - Google+ Platform
Social networks are evolving before our eyes. The changes are often subtle and hidden. Facebook is still the defacto social network with over 900 million users.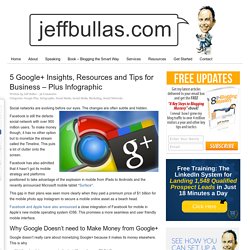 www.jeffbullas.com/2012/06/20/5-google-insights-resources-and-tips-for-business-plus-infographic/
in Share 62
Local SEO with Google+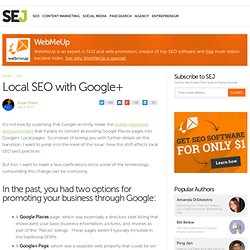 Replay: Google plus Training
PLUS Local Ranking Factors You Need to Know
Shortly after writing about Why Small Businesses Shouldn't Be Afraid of Google+ Local , which focused on "best practices" that are still highly relevant in light of the new +Local/Places merger, I began to wonder what other helpful Local ranking tips the average local businessman is missing out on.
There are a several kinds of people in social media. There are the people that enjoy a nice, quiet existence with their family and close friends.
40+ Tips on How to Become a Social Media Rock Star on Twitter, Facebook, and Google+
In this article, you'll learn... The benefits of using Google+ How Google+ differs from Facebook, Twitter, and Pinterest The following article is based on an excerpt from the author's recently published e-book, What the Plus!
Why I Love Google+
How To Get Started With Google+ Hangouts On Air
Quick Start Cheat Sheet #1 by Simon Laustsen (1-page infographic) Cheat Sheet #2 by Simon Laustsen (1-page infographic) Longer cheat sheet by Technostreak.com (2-page infographic) Infographic comparing features of FB, G+, & Twitter by Blogging Innovation Google+ Terms and Translations by Dain Binder Set Your Google+ Profile Settings Official Google+ Help Forum Overview
Section 1: Getting Started | SocioloG+
4 Ways to Boost Your SEO With Google+
If you use Google regularly — and who doesn't? — you've probably noticed that the company has been using various ways to coerce you to join Google+, its incipient social network. The plugs have been pretty overt and include a call-to-action on Google's homepage and automatic G+ registration for new Gmail accounts.
10 Productive Tasks You Should Be Doing On Google+ Right Now
How to Create an Effective Google+ SEO Content Strategy
Real-Life Examples Of How Google's "Search Plus" Pushes Google+ Over Relevancy
How To Implement Rel=Author
11 Ways To Build A Community Around Your Google+ Page
How To Implement Rel=Author
How to Hold a Google+ Hangout and Why You Should
SEO for Google+ Profiles and Pages
Google+ Pages Can Now Be Managed With Third-Party Apps
How Google+ Could One-Up Facebook's Brand Pages | Share on LinkedIn
Guy Kawasaki & Chris Brogan Talk Google Plus For Business @guykawasaki @chris brogan #BWELA |
Get closer to your customers with Google+
Five Things Small Businesses Should Know About Google+
SEO Tip: Rank Higher by Linking Your Google Profile