Google +
8 Reasons Why You Need to Establish Authority on Google+ Google+ Local Bible for SMBs. If you're a small local business, having a Google+ Local profile is imperative to putting your brand – quite literally – on the map.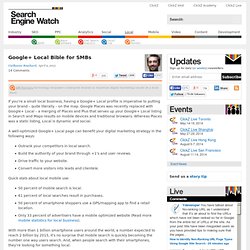 Google Places was recently replaced with Google+ Local – a merging of Places and Plus that serves up your Google+ Local listing in Search and Maps results on mobile devices and traditional browsers. Whereas Places was a static listing, Local is dynamic and social. A well-optimized Google+ Local page can benefit your digital marketing strategy in the following ways: How to Use Google+ Local to Get New Customers. Google+ Local is a powerful tool for small businesses targeting local customers because it combines customer reviews and local search into one platform.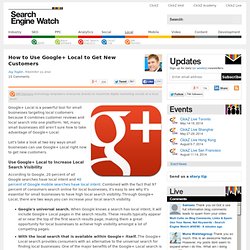 Yet, many small businesses still aren't sure how to take advantage of Google+ Local. Let's take a look at two key ways small businesses can use Google+ Local right now to get new customers. Use Google+ Local to Increase Local Search Visibility According to Google, 20 percent of all Google searches have local intent and 40 percent of Google mobile searches have local intent. What is Google+? | The Ultimate Guide for Businesses. Readers Tip: If you have a specific question about Google+ that isn't answered in this ultimate guide or if you'd just like to keep up to date with some of the latest Google+ and digital marketing developments, we'd recommend adding the author of this guide, +Paul Goldston, to your Google+ circles: UPDATE #3 – Jun 20, 2013 - While most of the strategies and tactics in this article will not really change too much over time, the actual Google+ interface has already been re-imagined three times since the original version of this article was written.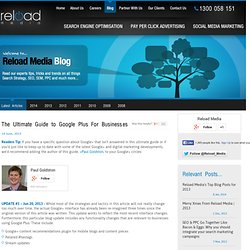 This update works to reflect the most recent interface changes. Furthermore, this particular blog update includes any functionality changes that are relevant to businesses using Google Plus. These include: Google+ content recommendations plugin for mobile blogs and content piecesRelated #hastagsStream updates. 3 Google+ Power Users Reveal their Secrets. I recently wrote an article about Google+ vs Facebook and a tribe turned up from Google+ and became rather engaged!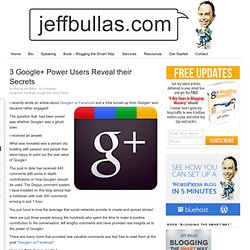 The question that had been posed was whether Google+ was a ghost town. I received an answer. What was revealed was a vibrant city bustling with passion and people that were happy to point out the real value of Google+ The post to date has received 440 comments with some in depth contributions on how Google+ should be used. Google+ Adds Content Recommendations For Mobile Websites. Website owners with a Google+ page will soon be able to add content recommendations to the user experience on their mobile websites.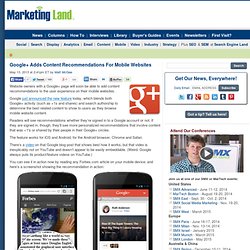 Google just announced the new feature today, which blends both Google+ activity (such as +1s and shares) and search authorship to determine the best related content to show to users as they browse mobile website content. Readers will see recommendations whether they're signed in to a Google account or not. Authorship. 8 Reasons Why You Need to Establish Authority on Google+ How to Increase Your Google+ Followers. Bloggers and marketers are always aiming to weave magic by placing their brand in front of as many people as possible without having to show up.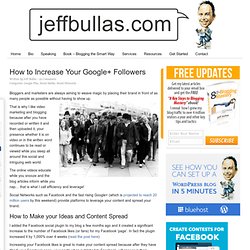 That is why I like video marketing and blogging because after you have recorded or written it and then uploaded it, your presence whether it is on video or in the written word continues to be read or viewed while you sleep all around this social and intriguing web world. The online videos educate while you snooze and the blog articles inform while you nap… that is what I call efficiency and leverage! Social Networks such as Facebook and the fast rising Google+ (which is projected to reach 20 million users by this weekend) provide platforms to leverage your content and spread your brand. How to Make your Ideas and Content Spread. Syncing Your Google Plus and +Local Pages: Plusses and Minuses. MIHMORANDUM NO. 1577 | September 17th, 2012 I'm not necessarily saying anyone should do this right now, as the implications of syncing / switching over completely to a Google +Local page are still unclear.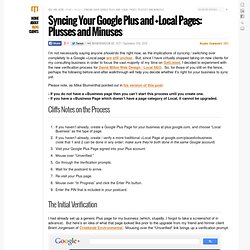 But, since I have virtually stopped taking on new clients for my consulting business in order to focus the vast majority of my time on GetListed, I decided to experiment with the new verification process for David Mihm Web Design / Local SEO. So, for those of you still on the fence, perhaps the following before-and-after walkthrough will help you decide whether it's right for your business to sync yet. Please note, as Mike Blumenthal pointed out in his version of this post: - If you do not have a +Business page then you can't start this process until you create one.- If you have a +Business Page which doesn't have a page category of Local, it cannot be upgraded.
Homepage - Who to follow on Google Plus? Google+ Suggested Users. Badge - Google+ Platform. Page Badge Tag The Google+ badge allows visitors to engage with your brand directly from the badge itself.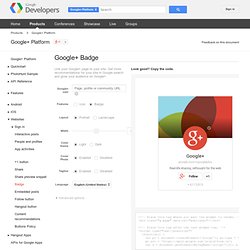 The minimum code required to render a Google+ badge on your website is one JavaScript include and a badge tag. Www.jeffbullas.com/2012/06/20/5-google-insights-resources-and-tips-for-business-plus-infographic/ Social networks are evolving before our eyes.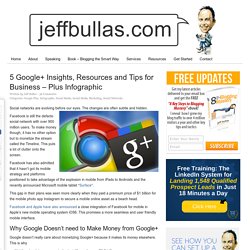 The changes are often subtle and hidden. Facebook is still the defacto social network with over 900 million users. Local SEO with Google+ It's not exactly surprising that Google recently made the widely-expected announcement that it plans to convert all existing Google Places pages into Google+ Local pages.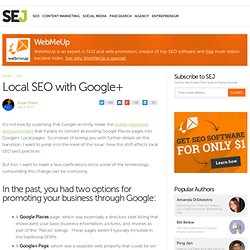 So instead of boring you with further details on this transition, I want to jump into the meat of the issue: how this shift affects local SEO best practices. But first, I want to make a few clarifications since some of the terminology surrounding this change can be confusing. In the past, you had two options for promoting your business through Google: Replay: Google plus Training. PLUS Local Ranking Factors You Need to Know.
Shortly after writing about Why Small Businesses Shouldn't Be Afraid of Google+ Local, which focused on "best practices" that are still highly relevant in light of the new +Local/Places merger, I began to wonder what other helpful Local ranking tips the average local businessman is missing out on. When I say average, I simply mean those who don't have time to worry about changes in an algorithm because they're focused (and rightfully so) on their clients. To find these tips, I decided to dive deep into the most recent Local Search Ranking Factors. This annual report is compiled by David Mihm and a handful of the best and brightest Local marketers. It shows what the experts deem to be the most important Local ranking factors, and it also provides comments to support their ideas.
40+ Tips on How to Become a Social Media Rock Star on Twitter, Facebook, and Google+ There are a several kinds of people in social media. There are the people that enjoy a nice, quiet existence with their family and close friends. There are the bots. There are the people that have a massive following on one network, but you really don't see them anywhere else. And then there are the people that no matter where you find them, they have (or are currently building) a massive audience. The latter are social media rock stars. Why I Love Google+ The following article is based on an excerpt from the author's recently published e-book, What the Plus!
Google+ for the Rest of US (Version 2.0). The e-book is free to the first 600 MarketingProfs readers who download it by July 12. How To Get Started With Google+ Hangouts On Air. Google has announced today that Hangouts On Air are going worldwide. That means any Google+ user who wants to stream live video to the whole world can do so. Hangouts have always been the killer app for Google+, and this announcement makes them into a truly new broadcast medium.
Here's how to get started. Section 1: Getting Started | SocioloG+ Quick Start Cheat Sheet #1 by Simon Laustsen (1-page infographic)Cheat Sheet #2 by Simon Laustsen (1-page infographic)Longer cheat sheet by Technostreak.com (2-page infographic)Infographic comparing features of FB, G+, & Twitter by Blogging InnovationGoogle+ Terms and Translations by Dain BinderSet Your Google+ Profile SettingsOfficial Google+ Help Forum Overview. 4 Ways to Boost Your SEO With Google+ 10 Productive Tasks You Should Be Doing On Google+ Right Now. How to Create an Effective Google+ SEO Content Strategy. Real-Life Examples Of How Google's "Search Plus" Pushes Google+ Over Relevancy. How To Implement Rel=Author. 11 Ways To Build A Community Around Your Google+ Page. How To Implement Rel=Author. How to Hold a Google+ Hangout and Why You Should.
SEO for Google+ Profiles and Pages. Link your Google+ page to your site - Google+ Platform. Google+ Pages Can Now Be Managed With Third-Party Apps. How Google+ Could One-Up Facebook's Brand Pages | Share on LinkedIn. Guy Kawasaki & Chris Brogan Talk Google Plus For Business @guykawasaki @chris brogan #BWELA | Get closer to your customers with Google+ Five Things Small Businesses Should Know About Google+ SEO Tip: Rank Higher by Linking Your Google Profile.
---