Google Apps
Drop A Pin, Tell A Story With Google's New 'Tour Builder' Tool. Today Google launched a new experimental feature for crafting and sharing stories using Google Earth.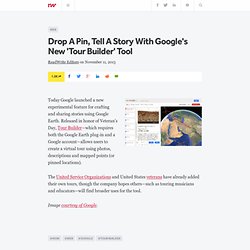 Released in honor of Veteran's Day, Tour Builder—which requires both the Google Earth plug-in and a Google account—allows users to create a virtual tour using photos, descriptions and mapped points (or pinned locations). The United Service Organizations and United States veterans have already added their own tours, though the company hopes others—such as touring musicians and educators—will find broader uses for the tool. Image courtesy of Google. Top 10 Google Chrome Extensions That Enhance Student Learning. This post was co-authored by Beth Holland and Tracy Sockalosky.
Being 1:1 is fantastic, and if you are fortunate enough to have constant access to your own device in the classroom, then the benefits – especially in terms of efficiency – are tremendous: stored passwords, saved bookmarks, familiar file structure, and more. However, even if you don't have the advantage of always being in possession of your own device, thanks to the versatility of Google Chrome extensions available through the Chrome Store, the web experience has become customizable and productive in completely new ways. About - ISB Google Apps Ninja Training Center. Professional Growth Journal: Master Schedule System Using Google Apps. Skip all of the intro stuff and see the System: Copy to your own Google Drive and use it.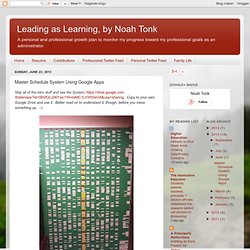 Better read on to understand it, though, before you mess something up. :-) Apps For Educators: Geo. Set an Expiration Date for Shared Folders on Google Drive with a Google Script. Google Sites Training Page. Google Docs, the forms revealed. How secure? | smartassess. Google Docs and Explain Everything - Explain Everything. Launch Cacoo for Google+ Hangouts. GDrive Automator Turns Your Google Drive Into a Machine. You might remember Wappwolf from its previously released product, which was crazy successful.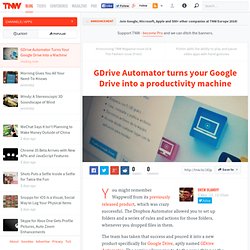 The Dropbox Automator allowed you to set up folders and a series of rules and actions for those folders, whenever you dropped files in them. The team has taken that success and poured it into a new product specifically for Google Drive, aptly named GDrive Automator. The service allows you to do the same thing as the Dropbox service does, with some added features since we last took a look. By connecting your Google Drive account with Wappwolf's GDrive Automator, you can do things like create a folder called "Books", and each time you drop a PDF into that folder, Wappwolf will convert the documents into a Kindle-friendly format and send it to your device, automatically: Search Education – Google.
Safety Center – Google+ Youpd. Top 10 Clever Tricks Built Right Into Gmail. One possible issue with google contacts and iOS is that google sync does not support contact groups.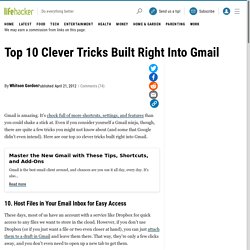 They're supported on android, but not iOS, for some reason. Note that this is a strange google limitation and not an iOS one. Google Apps Experts: Advanced Google Sites Tip -- Create Announcements from Calendar Events. Save the date! Announcing Geo Teachers Institutes for Ireland and England. Educators all over the world have used Google's geo products to help students conceptualize, visualize, share and communicate information about the world around them.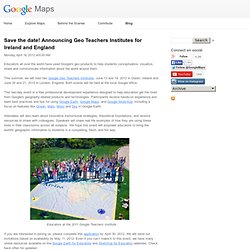 This summer, we will host two Google Geo Teachers Institutes: June 13 and 14, 2012 in Dublin, Ireland and June 20 and 21, 2012 in London, England. Both events will be held at the local Google office. This two-day event is a free professional development experience designed to help educators get the most from Google's geography-related products and technologies. Participants receive hands-on experience and learn best practices and tips for using Google Earth, Google Maps, and Google SketchUp, including a focus on features like Ocean, Mars, Moon and Sky in Google Earth. Attendees will also learn about innovative instructional strategies, theoretical foundations, and receive resources to share with colleagues. Five Google Apps tweaks to improve your web work. Kevin Purdy reveals five little advantageous tweaks that you may not have noticed are currently available in the Google-verse lately.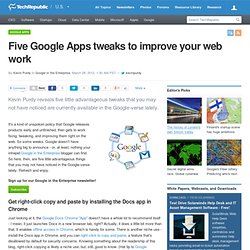 It's a kind of unspoken policy that Google releases products early and unfinished, then gets to work fixing, tweaking, and improving them right on the web. So some weeks, Google doesn't have anything big to announce - or, at least, nothing your intrepid Google in the Enterprise blogger can find. So here, then, are five little advantageous things that you may not have noticed in the Google-verse lately. Refresh and enjoy. About – Google in Education.
At Google, we believe in the power of the web to help people discover, connect, and learn.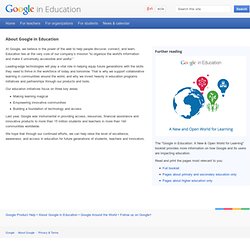 Education lies at the very core of our company's mission "to organize the world's information and make it universally accessible and useful." Leading-edge technologies will play a vital role in helping equip future generations with the skills they need to thrive in the workforce of today and tomorrow. That is why we support collaborative learning in communities around the world, and why we invest heavily in education programs initiatives and partnerships through our products and tools. Our education initiatives focus on three key areas: Making learning magical Empowering innovative communities Building a foundation of technology and access. How to make learners authors on a shared class blog : Tech ELT Blog. Posted on | March 7, 2012 | No Comments Blogger: Adding authors, specifying readers | Click image to enlarge Here are two things I can highly recommend: that you use Blogger.com as your blogging platform, and that you make all your learners authors on the same shared class blog.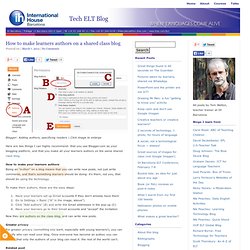 Killing the FUD & dispelling the myths around GAFE. Top 10 Google Docs Annoyances (and How to Fix Them) Google Docs is convenient, cheap, and compatible with just about any platform, making collaboration incredibly simple.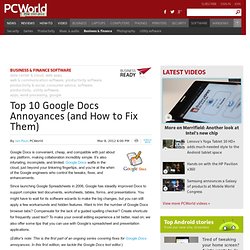 It's also infuriating, incomplete, and limited. Google Docs wafts in the cloud, just beyond your tinkering fingertips, and you're at the whim of the Google engineers who control the tweaks, fixes, and enhancements. How to Get Google Docs Form Data in an Email Message. This video tutorial explains how you can send form data from Google Docs in an email message using the very useful Send Mail function of Google Docs. Whether you are looking to add a simple "Contact Me" form on your website or need to create a complex online poll, Google Forms are an excellent tool. They offer a variety of themes, the form data is save in a spreadsheet that can be easily exported and, unlike other polling software, your Google Forms can accept any number of responses and they're absolutely free.
There's one limitation though. Apps for the iPad. Discover Yourself! Tips for Living in the Cloud. I live and work in the cloud, and over the past few years, many people have joined me there. There has also been a lot of reluctance to move into cloud computing from people who are afraid of turning over control of their data to companies with giant server farms. Understandable. For the most part, though, cloud computing is just as safe and secure as your local machine, and the benefits far outweigh the concerns for me.
If you are reluctant, though, or are new to the cloud and still trying to find your footing, here are a few tips to help you. 1. Chromebook and the Future of Educational Computing « Abromitis Online Learning Blog. Chromebook First, what is a "Chromebook"? Google's answer: A Chromebook is a mobile device designed specifically for people who live on the web. With a comfortable full-sized keyboard, large display and clickable trackpad, all-day battery life, light weight, and built-in ability to connect to Wi-Fi and mobile broadband networks, Chromebooks are ideal for anytime, anywhere access to the web.
They provide a faster, safer, more secure online experience for people who live on the web, without all the time-consuming, often confusing, high level of maintenance required by typical computers. Chromebook Information - Leyden Google Apps. Internet Browsers - Technology Resources for Teachers. Matt Cutts: Here's a simple script to... Sowash Ventures, LLC » Free Resources. This is the most comprehensive guide to all of the features and tools included with Google Apps for education. This is the place to find the answer to even the most obscure questions you might have.
Google App Regional Support Groups These groups were created to build a community of Google Apps for Education users to support and share ideas related to the integration of Google Apps in the classroom. 2011-10-28 Google Workshop for Educators - Google Workshop for Educators. Using Google Scripts to Move Data Like a Bulldozer - Forms to Documents. Good to Know – Google. Get Your Google Toolkit.
Sort items in your Documents List - Google Docs Help. App Inventor EDU. Your First Days - Apps Learning Center. 3 Problems with Chromebooks.
---