Global Warming / Climate Change
Welcome everyone!
This pearltree is for everything related to global warming: articles, organizations, events, scientific data etc.

You might also want to check out my Environment pearltree. dontshootme May 19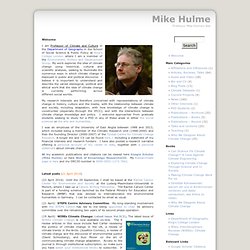 Mike Hulme
I am Professor of Climate and Culture in the Department of Geography in the School of Social Science & Public Policy at King's College London where I am a member of the Environment, Politics and Development Group. My work explores the idea of climate change using historical, cultural and scientific analyses, seeking to illuminate the numerous ways in which climate change is deployed in public and political discourse. I believe it is important to understand and describe the varied ideological, political and ethical work that the idea of climate change is currently performing across different social worlds. My research interests are therefore concerned with representations of climate change in history, culture and the media; with the relationship between climate and society, including adaptation; with how knowledge of climate change is constructed (especially through the IPCC); and with the interactions between climate change knowledge and policy.
Video: Earth from Space | Watch NOVA Online | PBS Video
Global Warming / Climate Change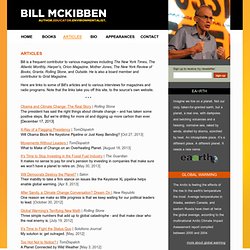 Bill is a frequent contributor to various magazines including The New York Times, The Atlantic Monthly, Harper's, Orion Magazine, Mother Jones, The New York Review of Books, Granta, Rolling Stone, and Outside. He is also a board member and contributor to Grist Magazine. Here are links to some of Bill's articles and to various interviews for magazines and radio programs.
Bill McKibben Articles on Global Warming, Local Economies, Alternative Energies and Renewable Resources, Self-Sufficiency
Refuel on Nuclear Power – the Silver Bullet!!! | Eclipse Now
Carla Garrison Japan's recovery and crisis management since the March 11 earthquake and tsunami has been nothing short of miraculous, though the clean-up has just begun. This week the U.K. Telegraph reported discovery of radioactive water leaks by employees at Fukushima Daiichi nuclear plant reactor two. South Korean environmentalists rally to demand halt of expansion of nuclear power plants in Seoul, South Korea, Tuesday, March 29, 2011 (Photo: Associated Press)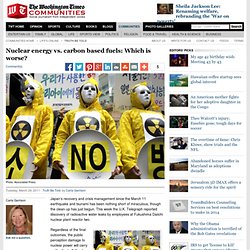 Nuclear energy vs. carbon based fuels: Which is worse?
Climate Change Affects Food
Climate Change Photography
Tech and gadgets interest
Climate Change By Country
Climate Change Extreme Weather
Action to Prevent Climate Change
Young People and Climate Change