Global Warming / Climate Change
Welcome everyone!
This pearltree is for everything related to global warming: articles, organizations, events, scientific data etc.

You might also want to check out my Environment pearltree.
The Turning Point: New Hope for the Climate | Politics News. The Turning Point: New Hope for the Climate | Politics News. Mike Hulme. Video: Earth from Space | Watch NOVA Online | PBS Video. Visible Earth: Browse by Sensor.
Climate Change Forums. Geoengineering. Global Warming / Climate Change. Bill McKibben Articles on Global Warming, Local Economies, Alternative Energies and Renewable Resources, Self-Sufficiency. Bill is a frequent contributor to various magazines including The New York Times, The Atlantic Monthly, Harper's, Orion Magazine, Mother Jones, The New York Review of Books, Granta, Rolling Stone, and Outside.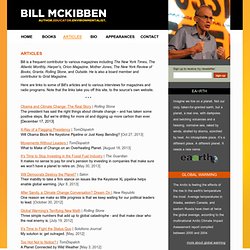 He is also a board member and contributor to Grist Magazine. Here are links to some of Bill's articles and to various interviews for magazines and radio programs. Refuel on Nuclear Power – the Silver Bullet!!! | Eclipse Now. Nuclear energy vs. carbon based fuels: Which is worse? Carla Garrison Japan's recovery and crisis management since the March 11 earthquake and tsunami has been nothing short of miraculous, though the clean-up has just begun.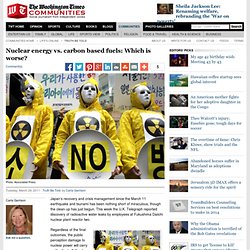 This week the U.K. Telegraph reported discovery of radioactive water leaks by employees at Fukushima Daiichi nuclear plant reactor two. South Korean environmentalists rally to demand halt of expansion of nuclear power plants in Seoul, South Korea, Tuesday, March 29, 2011 (Photo: Associated Press) Renewable Energy.
Solar
Climate Change. Climate Change Science. Climate Change Affects Food. Climate Change Photography. Tech and gadgets interest. Climate Change Maps. Climate Change By Country. Climate Change Extreme Weather.
Climate Change Denial. Action to Prevent Climate Change. Young People and Climate Change.
---
pdk117 Aug 5 2012

Thanks for choosing me. We eill grow together

1buzz Apr 9 2012

$25 billion British budget blowout in black hole F-35 project
I think we have our work cut out. Buzz Knapp-Fisher geting off TOXIC oil

dinno Apr 7 2012

thanks yaaaaarrrrr, you can be part of these satisfying and important work, best of all, you know that your hard-earned and generous contribution is taken seriously to the purpose for which you intend it , good luck , actually all humman being who are ALIVE must have a space to deep breath , we are just trying for that, = Dinno=

lucky1 Apr 7 2012

Your idea for organizing this tree sounds good. Hopefully I'll have something worthwhile to add soon.

ourinfinitefuture Apr 7 2012

Thanx Dinno. It doesn't take very long to learn how to use this site and start building a heap of interesting pearl trees. I'm sure you'll be just as helpful also.

dinno Apr 6 2012

you ppls are so kind and active, I believe , I may have discovered what's going there, care fully study what I receive and watch and share with you all and ofcourse try to work out particulars , so we can draw up a clear picture on the way , thanks a lot.... = dinnody=

ourinfinitefuture Apr 4 2012

Amit2k12, Thanks for asking me to join the team. Considering Ostarr's comment I suggest that we slightly change the structure of the tree. Climate Change News, Climate Change Prevention, Climate Change Politics, Climate Change Extreme Weather, Climate Change Forum, Climate Change Science, Climate Change Maps, Climate Change By Country.

amit2k12 Mar 28 2012

thank you !! Yes will take of those unnecessary pearls too !!

ostarr Mar 28 2012

Hi, I'm Oliver, the Chief Evangelist for Pearltrees. This is a great example of a team pearltree that has the potential become very popular. I just wanted to let thank you for building a wonderful resource on climate change and to encourage you to keep building it.There are a couple of pearls here the don't seem to belong – would someone please make sure to prune those out from the tree?Also, if you need any help with the product or would like to stay in touch with me, you can follow me on twitter: @owstarr or email me: oliver.starr@pearltrees.comThanks!
---