U.S. PRESS
NewsFeed | Breaking news and updates from Time.com. News pictures, video, Twitter trends. Swampland | Political insight from the Beltway and beyond. The Seattle Times. The Atlantic — News and analysis on politics, business, culture, technology, national, international, and food – TheAtlantic.com. Stanford News. MediaShift. 1.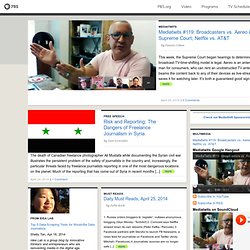 Russia orders bloggers to 'register'; outlaws anonymous blogging (Glyn Moody / Techdirt) 2. Comcast says Netflix slowed down its own streams (Peter Kafka / Re/code) 3. Facebook partners with Storyful to launch FB Newswire, a news feed for journalists on Facebook and Twitter (Andy Mitchell / Facebook) 4 Journalists' sources are no longer safe [...] more » 1. Columbia student paper plans to drop daily print edition (Peter Sterne / Capital New York) 2. Slate Magazine.
Breaking News and Opinion on The Huffington Post. The Week Magazine: Political News and Cartoons, Current Events and Entertainment Online. Breaking News, Analysis, Politics, Blogs, News Photos, Video, Tech Reviews - TIME.com. International Herald Tribune. NPR : National Public Radio : News & Analysis, World, US, Music & Arts. Washington Post - Politics, National, World & D.C. Area News and Headlines - washingtonpost.com.
Los Angeles Times - California, national and world news. The New York Times - Breaking News, World News & Multimedia.