LAW
Legal Market Business Intelligence - ALM Legal Intelligence Online. Legal News, Technology, In-House Counsel, & Small Firms Legal Resources. Quest - Publications & Events - Amster Rothstein & Ebenstein, LLP - Intellectual Property Law. November 30, 2012 On November 30, 2012, the U.S.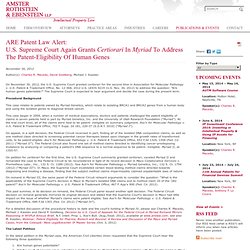 Supreme Court granted certiorari for the second time in Association for Molecular Pathology v. U.S. Patent & Trademark Office, No. 12-368, 2012 U.S. LEXIS 9219 (U.S. IBA - International Bar Association home. Www.arbitration-icca.org/media/0/12880897681770/emmanuel_gaillard_introduction_-_english.pdf. Homepage - online legal information and training from specialists at Baker & McKenzie. LawInContext Helpdesk login. Conflict of laws. Conflict of laws or Private international law (both terms are used interchangeably)[1] concerns relations across different legal jurisdictions between persons, and sometimes also companies, corporations and other legal entities.[2][3] Choice of laws[edit] Courts faced with a choice of law issue have a two-stage process: Private international law on marriages and legal dissolutions of marriages (divorce)[edit]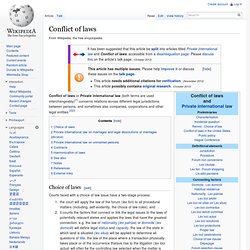 About — Conflict of Laws .net. Event Schedule | lawtechfutures.com. Berkman Center. The Oyez Project | U.S. Supreme Court Oral Argument Recordings, Case Abstracts and More. PLC Which lawyer? (PLCWhichLawyer) PLC Which lawyer? We're sorry, we closed our Which lawyer?
Directory in April 2013. Practical Law still works closely with leading lawyers around the world to provide our subscribers with answers. The End of Lawyers revised edition. Richard Susskind ILTA09. Richard Susskind on the Transformative Power of Technology. Legal OnRamp - Clients Driving Change. The End of Lawyers?
Richard Susskind - IT Law Justice. Dictionary of Law. Define Legal Terms at FindLaw. S Legal Dictionary. Introduction "The dictionary definition of a term is frequently the mere air of the music which the accused has attempted to execute with variations.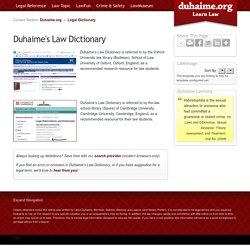 Frequently, too, the variations are so luxuriant and ingenious that the air is much disguised, and to hum it over from the bench is but little assistance to the jury in following the real performance. "It is somewhat easier for an offender to baffle the dictionary than the penal code, for the former is perplexed with verbal niceties and shades of meaning, while the later grasps in a broad, practical way at the substantial transactions of men.
" Oh, c'mon Justice Beckley of the Supreme Court of Georgia in Minors v Georgia (1879 Ga. 318) - stop spoiling all the fun! Ain't no-one gonna mess with dem dar legal words 'round dese here parts. Legal Dictionary. LEGAL DICTIONARY at Legal-Dictionary.org. Legal Dictionary | Law.com. Homepage - online legal information and training from specialists at Baker & McKenzie. LawInContext Helpdesk login. An Experienced Law Firm Concentrating in EmergingTechnologies. Table of Contents - Proskauer on International Litigation and Arbitration.
---