INFOTENTION
Lucerne - IKM - Events - keynote conversation with Howard Rheingold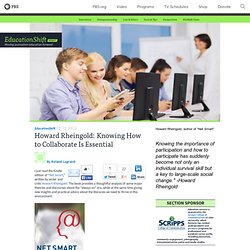 Howard Rheingold: Knowing How to Collaborate Is Essential | Mediashift
I just read the Kindle edition of "Net Smart," written by writer and critic Howard Rheingold.
howard rheingold's | the virtual community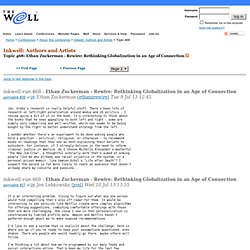 The WELL: Ethan Zuckerman - Rewire: Rethinking Globalization in an Age of Connection
Jon, Krebs's research is really helpful stuff. There's been lots of research on left/right polarization around media and US politics - I review quite a bit of it in the book. It's interesting to think about the books that he sees appealing to both left and right - some are simply very compelling and well-written, while one seems to be being bought by the right to better understand strategy from the left.
How can we use digital media so that they help us become empowered participants rather than passive consumers? In Net Smart, I show how to use social media intelligently, humanely, and, above all, mindfully. Download the introductory chapter (PDF) here . Mindful use of digital media means thinking about what we are doing, cultivating an ongoing inner inquiry into how we want to spend our time. I outline five fundamental digital literacies, online skills that will help us do this: attention, participation, collaboration, critical consumption of information (or "crap detection"), and network smarts. I explain how attention works, and how we can use our attention to focus on the tiny relevant portion of the incoming tsunami of information.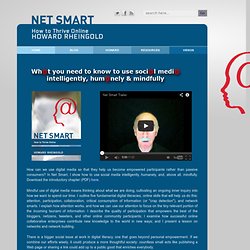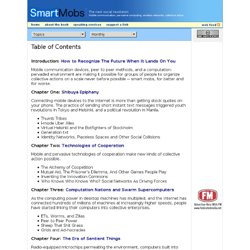 Smart Mobs » Page not found
Introduction: How to Recognize The Future When It Lands On You Mobile communication devices, peer to peer methods, and a computation-pervaded environment are making it possible for groups of people to organize collective actions on a scale never before possible -- smart mobs, for better and for worse. Chapter One: Shibuya Epiphany
Tools for Thought: The History and Future of Mind-expanding Technology (1985) Full text
Books | Howard Rheingold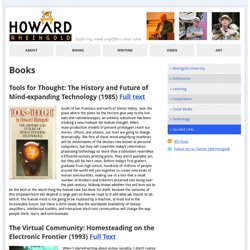 Smart Mobs » Page not found
The chapters of Smart Mobs, including summaries of each chapter and weblog entries for that chapter.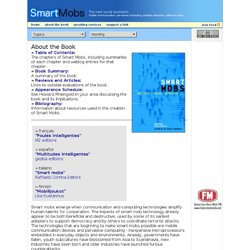 Main Page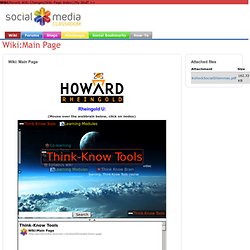 (Mouse over the webbrain below, click on nodes) June 19 - July 26 A six week course using asynchronous forums, blogs, wikis, mindmaps, social bookmarks, concept maps, Personal Brain, and synchronous audio, video, chat, and Twitter
Public Sphere In The Internet Age | Howard Rheingold
Network Literacy Mini-Course | Howard Rheingold
Howard Rheingold
Mind Amplifier: Howard Rheingold And The Value Of Convivial Tools
Connect@NMC_41
Zeynep Tufekci, a sociologist who uses, as well as studies, social media, offers a refreshingly rigorous and empirically-scaffolded perspective amid the frenzy of armchair social science regarding the impact of Twitter, Facebook, YouTube, Reddit and other participatory media. Too often, public discourse about the influence of social media, both positive and negative, devolves into a Manichaean rhetoric of utopia-or-apocalypse.… more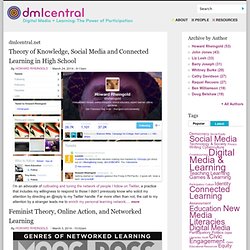 | DMLcentral
Net Smart: How To Thrive Online
ted newcomb Twitter | ted newcomb Trending
Howard Rheingold on cooperation, technology, and social dynamics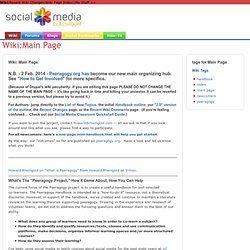 Peeragogy
(Because of Drupal's wiki peculiarity: if you are editing this page PLEASE DO NOT CHANGE THE NAME OF THE MAIN PAGE -- it's like going back in time and killing your ancestor. It can be reverted to a previous version, but please try to avoid it.) For Authors: jump directly to the List of New Topics , the initial Handbook outline , our "2.0" version of the outline , the Recent Changes page, or the Recent Wiki Comments page. (If you're feeling confused... Check out our Social Media Classroom Quickstart Guide .)
Peeragogy Lit Review - Google Docs
Howard Rheingold Paragogy Links
Howard Rheingold on "What is Peeragogy" on Vimeo
Haystack Group
Haystack Blog
This is a message in a bottle. I've got an idea for addressing a problem in Zimbabwe and no idea how to reach the people I'd like to share it with, so I'm going to see if perhaps it can propagate to them. A couple days ago, the New York Times had an article on an unusual problem in Zimbabwe: lack of coinage.
"Every man should have a built-in automatic crap detector operating inside him." Ernest Hemingway, 1954 The answer to almost any question is available within seconds, courtesy of the invention that has altered how we discover knowledge – the search engine.
Infotention is a word I came up with to describe the psycho-social-techno skill/tools we all need to find our way online today, a mind-machine combination of brain-powered attention skills with computer-powered information filters. The inside and outside of infotention work best together: Honing the mental ability to deploy the form of attention appropriate for each moment is an essential internal skill for people who want to find, direct, and manage streams of relevant information by using online media knowledgeably.
I stumbled into cyberspace a long time ago and have been a participant observer ever since . I write books and blogs and teach and speak . On my way to doing all that communicating, I seem to do a fair amount of hunting, gathering, and alchemy -- that is, transforming what I hunt and gather into something of value to someone else. In the olden days, I wrote about a slice of life in my virtual community , so now I am reslicing my life by trying to capture some of the intertwingled online and offline stuff via video. I'm definitely still in amateur mind, which is where I think most of us are in the video vernacular that seems to be bubbling up.
Infotention Part One: Dashboards, Radars, Filters - HowardRheingold - blip.tv
A mini-course on infotention - howardrheingold's posterous
(91) The Infotention Network
The infotention network story 03132012