Documentation manuals and tuts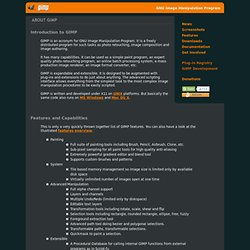 Introduction to GIMP GIMP is an acronym for GNU Image Manipulation Program. It is a freely distributed program for such tasks as photo retouching, image composition and image authoring. It has many capabilities. It can be used as a simple paint program, an expert quality photo retouching program, an online batch processing system, a mass production image renderer, an image format converter, etc. GIMP is expandable and extensible.
Introduction
Dutch (Nederlands)
German (Deutsch)
Italian (Italiano)
Norwegian (Norsk, nynorsk)
Russian (Pусский)
Авторские права © 2002, 2003, 2004, 2005, 2006, 2007, 2008, 2009, 2010 Команда авторов документации GIMP Авторские права © 2005, 2006, 2007 Роксана Черноголова (mavka@justos.org) Авторские права © 2006, 2007, 2008 Виталий Ломов (lomovv@gmail.com) Авторские права © 2005, 2006, 2007, 2008, 2009, 2010 Александр Прокудин (alexandre.prokoudine@gmail.com)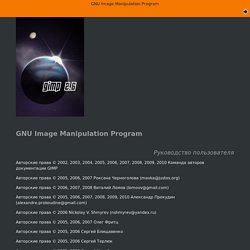 Spain (Español)
Swedish (Svenska)
GNU Image Manipulation Program Skip to page contents [ News | Screenshots | Features | Downloads | Documentation | Get Involved ][ Plug-in Registry | GIMP Development ] [ Donations ] [ Tutorials [Beginner | Intermediate | Expert | Photo Editing | Web | Script Authoring] Beginner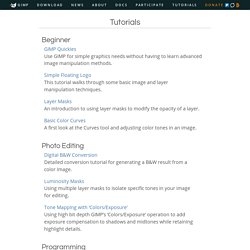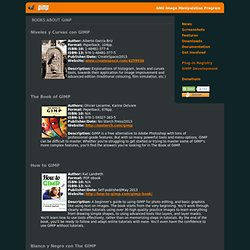 Niveles y Curvas con GIMP Author: Alberto García Briz Format: Paperback, 104pp. ISBN-10: 1-48481-377-4 ISBN-13: 978-1-48481-377-5 Publisher/Date: CreateSpace/2013 Website: www.createspace.com/4259936 Description: Explanations of histogram, levels and curves tools, towards their application for image improvement and advanced edition (traditional colouring, film simulation, etc.) The Book of GIMP Authors: Olivier Lecarme, Karine Delvare Format: Paperback, 676pp.
Books about GIMP
This FAQ is still a work in progress. Some sections are very outdated, other sections should probably be removed, and some new questions and answers should be added. Please contact us if you can improve it. General Information
GIMP User FAQ - Frequently Asked Questions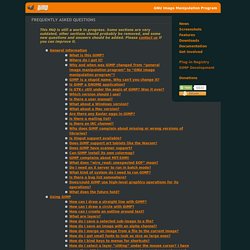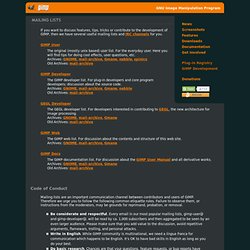 Mailing Lists
If you want to discuss features, tips, tricks or contribute to the development of GIMP, then we have several useful mailing lists and IRC channels for you. GIMP User The original (mostly unix based) user list. For the everyday user. Here you will find tips for doing cool effects, user questions, etc.
Several IRC channels and mailing lists are available for discussing GIMP-related topics. IRC offers real-time communication, but be aware that there may be long periods of silence in the channels when other users are busy or away from their keyboards. When you join the GIMP IRC channels, please do not ask if somebody can help you. If you have a question, ask directly and then wait patiently to see if someone answers.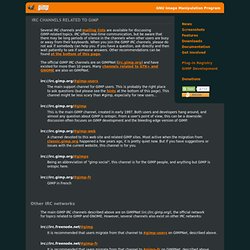 IRC Channels