24hr learning
Koini - A Safe Kids Browser and Facebook For Kids. One of the hardest things for kids these days is the lack of access to a social network of their very own - like a Facebook for kids.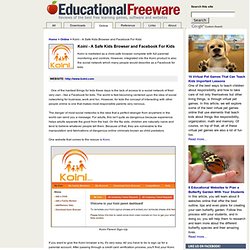 The world is fast becoming centered upon the idea of social networking for business, work and fun. However, for kids the concept of interacting with other people online is one that makes most responsible parents very nervous. The danger of most social networks is the idea that a perfect stranger from anywhere in the world can send you a message. The Best of the Web, For Kids. Interesting Ways. The Interesting Ways series continues to be a great example of crowdsourcing good quality classroom ideas and it has been a privilege connecting with all of the people who have taken time to add an idea.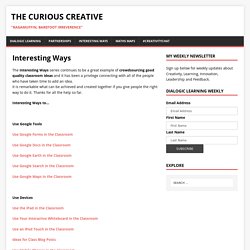 It is remarkable what can be achieved and created together if you give people the right way to do it. Thanks for all the help so far. Interesting Ways to… Use Google Tools. Backchanneling101.wikispaces. Secure Social Learning Network for Teachers and Students.
19Pencils - Quick and Easy Tools for Learning. Quizzes, Games, Websites and More! Access your bookmarks anywhere. Meporter: The beat on the street.
---