Info Sites
Organic & Heirloom Seeds from Heirloom Organics
Some general considerations for growing vegetables: Sowing Tips When sowing seeds, a good general rule of thumb is to sow to a depth of approximately twice the thickness of the seed.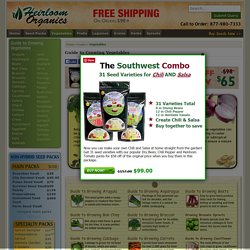 Soil Amendment & Nutrient Deficiency Chart
The first chart shows some NPK percentage comparisons of various elements and rates of applications. We feel it is an interesting chart so we are including it here. We have had a copy of this chart for many years and the source is unknown. The second chart shows nutrient deficiency symptoms . It is a good diagnostic tool if your plants are showing physical signs you can't explain.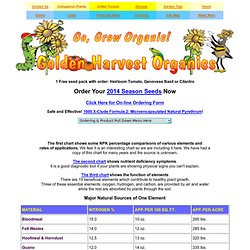 Many plants have natural substances in their roots, flowers, leaves etc. that can alternately repel (anti-feedants) and/or attract insects depending on your needs. In some situations they can also help enhance the growth rate and flavor of other varieties. Experience shows us that using companion planting through out the landscape is an important part of integrated pest management.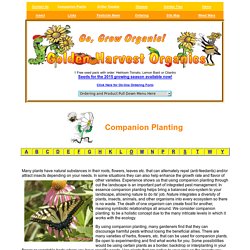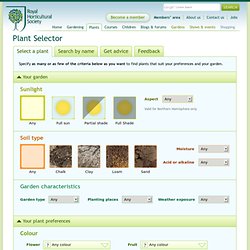 Colour Flower Black Blue / Glaucous
Organic Gardening – How to Start an Organic Garden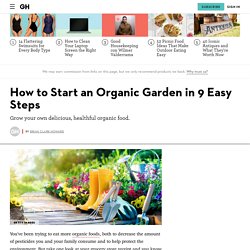 All gardens benefit from compost -- and preferably you can make your own on site. Hey, it's free! Compost feeds plants, helps conserve water, cuts down on weeds, and keeps food and yard waste out of landfills (where it produces methane), instead turning garbage into "black gold."
Tips for Gardening - Garden Vegetable Tips - How to Vegetable Garden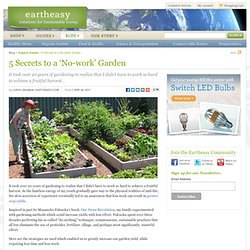 It took over 20 years of gardening to realize that I didn't have to work so hard to achieve a fruitful harvest. As the limitless energy of my youth gradually gave way to the physical realities of mid-life, the slow accretion of experience eventually led to an awareness that less work can result in greater crop yields . Inspired in part by Masanobu Fukuoka's book, One Straw Revolution , my family experimented with gardening methods which could increase yields with less effort.
If your thumb is even slightly green, a home garden can go a long way to cutting your grocery bills. The National Gardening Association estimates you'll get a half-pound of vegetables for each square foot in your garden, or roughly $600 in produce over the course of a season for the average 600-square-foot plot. Growing it all could take as little as $70, they estimate.
Life Blog | Personal Finance News & Advice | Spring Gardening on the Cheap
March 24, 2011 at 11:28 AM by Leslie Land | Originally published January 2009 Or is it the Seven Pillars of Horticultural Wisdom ?