Project management
Confluence - Pricing. It's All Included Your subscription includes software updates, technical support, hosting costs, bandwidth and system administration. 24 x 7 Support Our staff of engineers works around the clock to fully maintain, manage and support every aspect of your instance.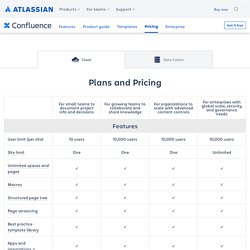 Get Two Months Free. Project Management & Planning Software | Free Online Collaboration Software. Work Better Together Unlock your team's potential by giving them the freedom to collaborate when and how they want—using Wiki, Forums and Chat.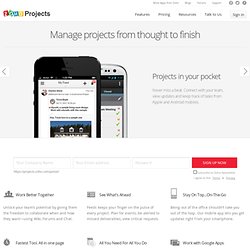 See What's Ahead Feeds keeps your finger on the pulse of every project. Plan for events, be alerted to missed deliverables, view critical requests. Stay On Top...On-The-Go. Teamwork Features Page - Features Index. Taking advantage of Twproject's project planning tools, not only you get effective time recording software at your service, but also easier and quicker project tracking.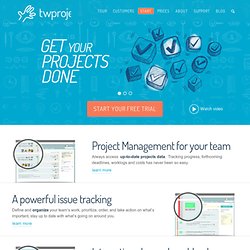 Twproject is business management software that combines the functionality of project planning, time tracking software, bug tracking software, task management and document management software in one software only. Project Management – Each project can be structured as a task tree / Gantt or as a business process. Each task can be associated to users through assignments.
Assignments made, Twproject start working for you. The social productivity platform for managing projects and tasks, with Google Apps integration. About Huddle - work more efficiently by managing projects, files and people in the cloud. Product overview Huddle is a remarkably simple, yet powerful way to collaborate on content.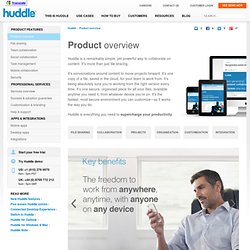 It's more than just file sharing. It's conversations around content to move projects forward. It's one copy of a file, saved in the cloud, for your team to work from. Thymer - Super easy Planning, Task and Project Management. Project management and online collaboration. Simplified. Todo list, task manager, online, fast, easy to use: Todoist.
Project management software, online collaboration: Basecamp. ActiveCollab - Project Management and Collaboration Tool. Extreme Programming. Planning and feedback loops in Extreme Programming.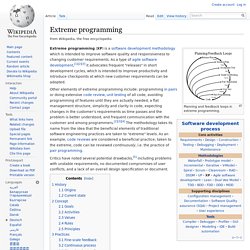 Extreme Programming (XP) is a software development methodology which is intended to improve software quality and responsiveness to changing customer requirements. As a type of agile software development,[1][2][3] it advocates frequent "releases" in short development cycles, which is intended to improve productivity and introduce checkpoints at which new customer requirements can be adopted. Videos. Opinion: Students, Version Control! [Insomniac Games designer Lisa Brown presents an informative primer on version control software for students, offering a crash course, tips, and useful resources, in this #altdevblogaday-reprinted opinion piece.]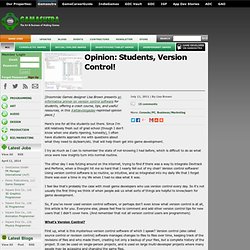 Here's one for all the students out there. Since I'm still relatively fresh out of grad school (though I don't know when one starts ripening, honestly), I often have students approach me with questions about what they need to do/learn/etc. that will help them get into game development. I try as much as I can to remember the state of not-knowing I had before, which is difficult to do as what once were new insights turn into normal routine. The other day I was futzing around on the internet, trying to find if there was a way to integrate Devtrack and Perforce, when a thought hit me so hard that I nearly fell out of my chair! Version control software! Git - Fast Version Control System.
Mantis Bug Tracker | Download. Features - Game Design Methods: A 2003 Survey. At the Game Developers Conference this week in San Jose, two roundtable discussions [20] will be dedicated to the topic of "game design methods" - that is, methods for planning and defining gameplay.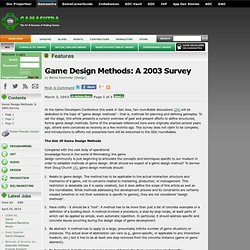 To set the stage, this article presents a cursory overview of past and present efforts to define structured, formal game design methods. Some of the proposals referenced here were originally started several years ago, others were conceived as recently as a few months ago. This survey does not claim to be complete, and introductions to efforts not presented here will be welcomed to the GDC roundtables. Do Ocracy. A do-ocracy (also sometimes do-opoly, which is a more obvious pun on "duopoly") is an organizational structure in which individuals choose roles and tasks for themselves and execute them.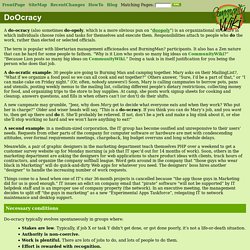 Responsibilities attach to people who do the work, rather than elected or selected officials. The term is popular with libertarian management afficionados and BurningMan participants. Cross-functional team. A cross-functional team is a group of people with different functional expertise working toward a common goal.[1] It may include people from finance, marketing, operations, and human resources departments.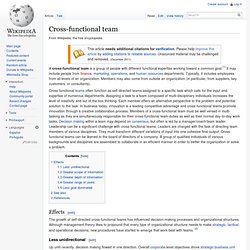 Typically, it includes employees from all levels of an organization. Members may also come from outside an organization (in particular, from suppliers, key customers, or consultants). Cross-functional teams often function as self-directed teams assigned to a specific task which calls for the input and expertise of numerous departments. Assigning a task to a team composed of multi-disciplinary individuals increases the level of creativity and out of the box thinking.
Each member offers an alternative perspective to the problem and potential solution to the task. The Scrum Tool Agilo™, Scrum Tools. Downloads - Jazz.net Community Site. Methodenbasierte Tools - Method-Based Tools - Successful in Practice. Improved project planning and management.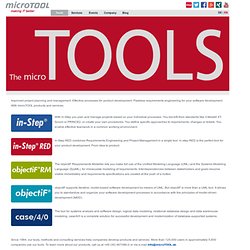 Effective processes for product development. Flawless requirements engineering for your software development. With microTOOL products and services. With in-Step you plan and manage projects based on your individual processes.
Review Game Project Ideas
---