Gagets
THE Pelican, a small, remotely controlled helicopter drone weighing less than a kilogram, is powered by a battery that provides about 20 minutes' flying. And yet, one evening last October, the Pelican took off, rose ten metres and hovered throughout the night. It was brought down in the morning only because the exhibition hall near Seattle where it was airborne was about to open for business.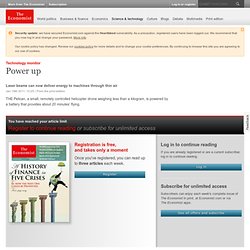 Technology monitor: Power up
To Our Faithful Current.com Users:
GadgetSpeak - Latest gadget reviews, technology news and views!
Tech gadgets from around the world
Shiny Shiny: Gadgets, Web Stuff, Tech Reviews and Geeky LOLs