Gagets
Technology monitor: Power up. Japanese Scientists Create Touchable Holograms // Current. To Our Faithful Current.com Users: Current's run has ended after eight exciting years on air and online.
The Current TV staff has appreciated your interest, support, participation and unflagging loyalty over the years. Your contributions helped make Current.com a vibrant place for discussing thousands of interesting stories, and your continued viewership motivated us to keep innovating and find new ways to reflect the voice of the people. We now welcome the on-air and digital presence of Al Jazeera America, a new news network committed to reporting on and investigating real stories affecting the lives of everyday Americans in every corner of the country. Gadget reviews and video reviews, technology news – Stuff.tv. GadgetSpeak - Latest gadget reviews, technology news and views! Tech gadgets from around the world. Shiny Shiny: Gadgets, Web Stuff, Tech Reviews and Geeky LOLs.
Pocket-lint - Gadget Reviews, Product News, Electronic Gadgets. Engadget. Technology News and Gadget Reviews | T3 magazine Online. Major breakthrough in tractor beam technology. @CoffinDodger (If the typos crap.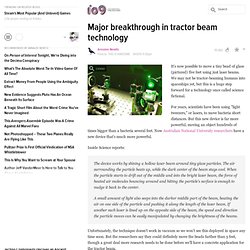 Blame my keyboard): Reminds me of the movie "The Forgotten " When people got yanked into the sky. It was awesome..I screamed lol. Kinda like the Skyline trailer but extremely faster and one person at a time. Gizmodo, the Gadget Guide.
---