Funbilder auf der Welt
12 of the World's Most Mysterious Monuments & Ruins. 12 of the World's Most Mysterious Monuments & Ruins Article by Steph, filed under Abandoned Places in the Architecture category.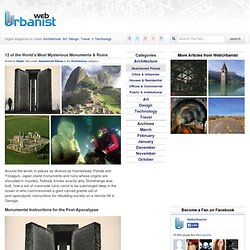 Around the world, in places as diverse as Homestead, Florida and Yonaguni, Japan stand monuments and ruins whose origins are shrouded in mystery. 65 verrückte Bilder auf Google Street View (Update) - Witzig & skurril - Online. Wenn Google mit seinen Autos für Google Street View durch die Straßen fährt, fangen die Kameras auch oft witzige oder skurrile Szenen ein.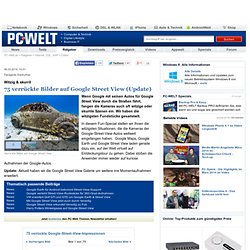 Wir haben die witzigsten Fundstücke gesammelt. In diesem Fun-Special stellen wir Ihnen die witzigsten Situationen, die die Kameras der Google-Street-View-Autos weltweit eingefangen haben. The Big Picture. Many indigenous groups, including the Huni Kui, Ashaninka, and Madija, live in villages in the Brazilian rainforest near the border with Peru.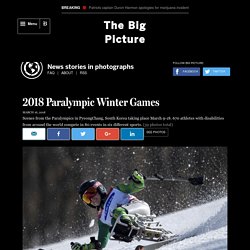 Over the past three years, the Ashaninka and Madija say that they have seen more and more incursions on their territory from uncontacted tribes, defined by Survival International as groups who have no peaceful contact with mainstream society. The "Bravos," or "Braves," as uncontacted Indians are called in the region, carry out raids on other villages, putting the communities along the Envira River on permanent alert. Leaders of the Ashaninka tribe have asked the government and NGOs for help in controlling what they consider an encroachment on their area by these uncontacted indigenous groups, stating that the movement of these other tribes is the result of pressure caused by illegal logging across the border in Peru.
All photos by Lunae Parracho. Tag Galaxy. Fotos aus aller Welt. Picasa 3: Free download from Google. Weltbilder Community. Bizarre Google Streetview findings. Flickrvision. Ten Strange Places. At the summit of Mount Teide, one of the largest Island volcanoes in the World is the Las Cañadas caldera.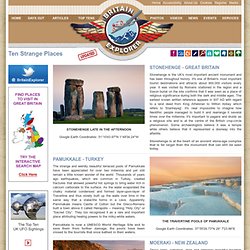 The crater, which is an enourmous sixteen kilometres across, is a picture of what Hell might look like if it cooled a little. Sheer walls that formed when the caldera first collapsed encircle this dry and alien place. And, with an arrogance than can only be accepted as typical, humanity has built roads and observatories across this no mans land that is little more than a plug over a sleeping yet still active and very large volcano. Travel Photography | earth-photography.com. Without borders... The 100 most beautiful places in the world. The 100 most beautiful places in the world (click a screenshot to enlarge it) - 1 - The inca city of Machu Picchu country : Peru place : near Cuzco - 2 - The Iguazu waterfalls country : Argentina - Brazil place : borders between the two countries - 3 - The Tadj Mahall country : India place : Agra, south-west of Delhi - 4 - The pyramids and the sphinx country : Egypt place : Giseh, south-west of Cairo.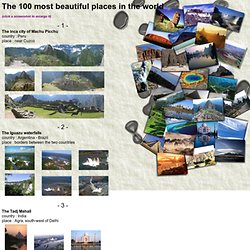 LiteFlick. Underground New York Public Library. A Daily Dose of Interesting Photographic Inspiration from Flickr. Earth album alpha - a slicker google maps + flickr mash-up. Home Jump to or earth album - earth album earth album is a simpler, slicker Flickr mash-up that allows armchair tourists to explore some of the most stunning photos in the world courtesy of Google maps and Flickr.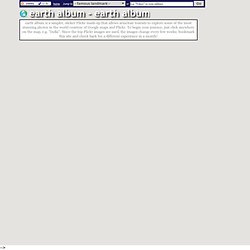 To begin your journey, just click anywhere on the map, e.g. "India". View.stern.de | Bilder zeigen und anschauen. MyPicsMap - Photos of the World.
Panorama.
---