Trading Academic Freedom for Foreign Markets?
Dangerous Liaisons
Coke Hug Me Machine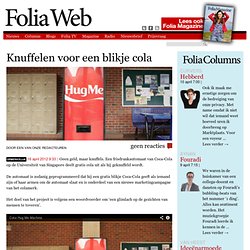 Knuffelen voor een blikje cola
Opmerkelijk16 april 2012 9:33 |Geen geld, maar knuffels.
The Learning Lab
Studenten18 oktober 2011 17:37 |De nieuwe cateraar Eurest is nog niet eens aan de UvA begonnen of studenten dagen hem nu al uit toch vooral met nieuwe en vernieuwende ideeën te komen voor de catering. UvA-studente natuur- en sterrenkunde Charlotte van Leeuwen en VU-studente religiestudies Maaike de Reuver hebben het nieuwe cateringconcept Yeswecanteen bedacht dat binnenkort een week lang zal worden uitgeprobeerd aan de UvA. 'Je kunt het zien als een hint aan de nieuwe cateraar, maar ook als tip voor andere universiteiten,' zegt Charlotte.
Nieuwe cateraar nu al uitgedaagd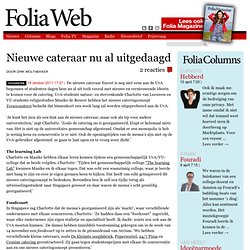 Nieuw educatief platform ontwerpers HvA wint internationale competitie
Wetenschap21 september 2011 11:59 |Een team van medewerkers en studenten van HvA Open BIM Lab dat deelnam aan de Design Asia Live@Singapore competitie, heeft de eerste prijs gewonnen. Het Open BIM Lab is een nieuw educatief platform aan de HvA dat studenten van het domein Techniek laat werken met het Bouw Informatie Model (BIM).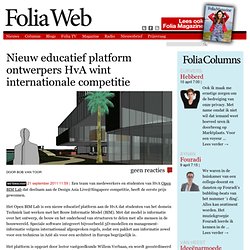 Organisatie30 augustus 2012 10:54 |In de UB is op de tweede verdieping een nieuwe zaal geopend, die bedoeld is om samen te kunnen werken.
* Praten, bellen en skypen in nieuwe samenwerkingszaal UB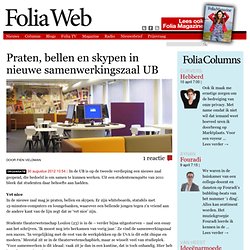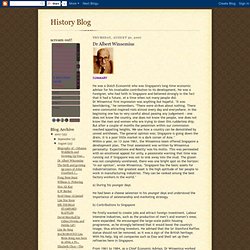 SUMMARY He was a Dutch Economist who was Singapore's long-time economic advisor for his invaluable contribution to its development. He was a foreigner, who had faith in Singapore and believed strongly in the fact that it had a future, at a time when not many people did.Dr Winsemius' first impression was anything but hopeful.
Dr Albert Winsemius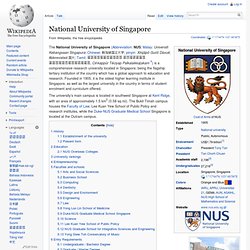 National University of Singapore
University Cultural Centre The National University of Singapore (Abbreviation: NUS; Malay: Universiti Kebangsaan Singapura; Chinese: 新加坡国立大学; pinyin: Xīnjiāpō Guólì Dàxué; Abbreviated 国大; Tamil: சிங்கப்பூர் தேசியப் பல்கலைக்கழகம், Ciṅkappūr Tēciyap Palkalaikkaḻakam ?)
Yale-NUS College
paid for entirely by the authoritarian city-state of Singapore and its National University of Singapore by notpicnic Aug 3
Trading Academic Freedom for Foreign Markets | Academe Blog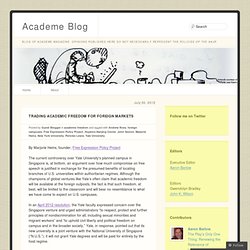 By Marjorie Heins, founder, Free Expression Policy Project
Concerns over political freedoms at Yale-NUS College resurfaced this week after a Monday article in the Wall Street Journal quoted Pericles Lewis, the college's president, as saying political parties and political protests will not be allowed on campus.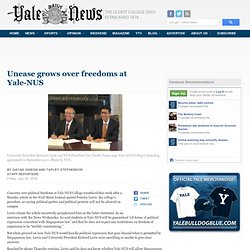 YaledailyNews: Unease grows over freedoms at Yale-NUS
YaledailyNews: Yale-NUS students deserve free speech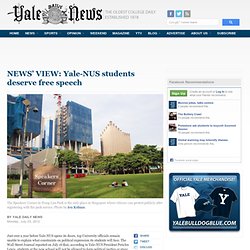 Just over a year before Yale-NUS opens its doors, top University officials remain unable to explain what constraints on political expression its students will face.
YaledailyNews: Miller: Yale's principles for sale in Singapore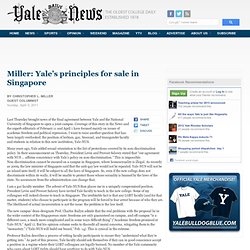 Last Thursday brought news of the final agreement between Yale and the National University of Singapore to open a joint campus. Coverage of this story in the News and the superb editorials of February 11 and April 1 have focused mainly on issues of academic freedom and political repression.
Two staff reporters for the News, Ava Kofman and Tapley Stephenson, traveled to Singapore over spring break, interviewing more than 80 sources on the founding of Yale-NUS College — how Singaporeans view the project, how the liberal arts function in Singapore and how the country's values differ from those on Yale's campus. This is the final part of the three-part series. (Read part 1 and part 2.)
Yale values to be tested in Singapore | Yale Daily News
Yale-Singapore Venture to Forbid Political Protest
" The college, which is wholly funded by the Singapore government and private donors, " by notpicnic Aug 3
Response from Pericles Lewis, Yale-NUS President, to July 16th, 2012 WSJ article "Singapore's Venture With Yale to Limit Protests" « The Liberal Arts in Singapore
WSJ article: http://online.wsj.com/article /SB100014240527023039337 04577530524046581142.html Dear All, I have written to the Wall Street Journal to express my dissatisfaction with their summary of my interview last week.
TR EMERITUS: Yale to ensure students in Singapore have freedom of expression «
Thank you for considering our VMS membership.
You could have heard a pin drop among the 150 professors -- three times more than usual -- in attendance at a closed-door, March 1 meeting of the Yale College Faculty as one of them told president Richard Levin something he didn't want to hear.
Jim Sleeper: How Yale's Singapore Venture Imperils Liberal Education
Jim Sleeper: Yale Steps Into the Authoritarian Abyss
In "Quarrels With Providence," his magisterial and, to my mind, unforgettable essay of 2001 about his alma mater's past glories and contemporary travails, Lewis Lapham noted a bit impishly that "Institutions as venerable as Yale ordinarily arrange [their announcements] with considerable care, the press releases staged in a sequence indicative of sound judgment, good feeling, and the dawn of a bright new day."
Jim Sleeper: Yale Has Gone to Singapore, But Can It Come Back?
Yale faculty raise governance questions about decision to open branch in Singapore
Yale-NUS panel mulls student life | Yale Daily News
insideHE: Deterritorializing Academic Freedom: Reflections Inspired by Yale-NUS College (and the London Eye)
Yale under fire for new campus in restrictive Singapore
@yalenus
Yale University
Singapore Meets the Ivy League: Blurring Disciplines, Crossing Borders
nieuwe Censuurregels Singapore bedreigen persvrijheid
Singapore beknot persvrijheid
Liberal Education in Authoritarian Places
U.S. Colleges in Less Open Societies
UT gaat samenwerken met Singapore
Charter 08
Hopkins-Nanjing Center | Home
China Halts U.S. College Freedom at Class Door
China Scholarship Council
The University of Chicago Center in Beijing
NYU & Shanghai Partner to Create NYU Shanghai
Delft University of Technology - Beijing Research Centre
TU Delft breidt uit naar China
Delft University of Technology: TU Delft eerste Nederlandse universiteit met dependance in China
Bits&Chips: TU Delft opent led-dependance in China
Delft University of Technology: Curriculum Vitae Drs. D.J. van den Berg
TU Delft behoudt Van den Berg
TU'ers positief over Chinese afdeling
TU opent drie centra voor onderzoek in China
Chinese led-onderzoekers vestigen zich op TU-campus
The liberation of light
Tweede led-vestiging TU in China
Erasmus University China Center
EM: Moet de EUR zich bemoeien met mensenrechten?
Erasmus School of Law: Erasmus China Law Centre
AI: 'Parallel schrijvers en wetenschap'
DUB: Leer het echte China kennen | Blog
DUB: China geeft geen garanties voor academische vrijheid | Blog
DUB: China blog
Een land van uitersten | Blog
The Xinjiang 13: China Blacklists Leading American Academics While Universities Remain Silent
No Academic Freedom for China
Academic Freedom Cannot Be Guaranteed - Room for Debate
China Banning U.S. Professors Elicits Silence From Colleges Employing Them
China zet volledig in op kennis
Op weg naar China
Europese universiteiten op het spel
Flux 6 - Rathenau Instituut - Powered By Publitas.com
Salaris berekenen / Voorbeeld contract? Loon vergelijken / arbeidscontract | Nobiles
Nobiles magazine - Azie - Powered By Publitas.com
Peking University
Chinese human rights activist Liu Xiaobo sentenced to 11 years in jail | World news
Outspoken Chinese Professor Says He Was Dismissed
Chinese professor sacked amid free speech crackdown | World news
DUB: UU haalt banden met Azië aan
Mensenrechten Vandaag » Blog Archive » Chinese werkkampen verdwijnen, maar de gedachtenpolitie niet
China court sentences Xu Zhiyong to four years in jail
Conviction of Xu Zhiyong
China's war on thought is being waged in Western universities
The WSJ's Weekend Interview With Xia Yeliang: The China Americans Don't See
De rode adel gaat offshore - Buitenland
Leaked Records Reveal Offshore Holdings of China's Elite
offshorechina
Academic freedom concerns may jeopardize Wellesley-Peking partnership
ScienceGuide: Vaak "down- graden" Europese uni's acd's standrdn om met China te kunnen samenwerken.
China move may open floodgates
NYU booting blind Chinese dissident Chen Guangcheng amid Shanghai expansion: sources
China Dissident Says He's Being Forced From N.Y.U.
Chinese Dissident Says NYU Is Forcing Him to Leave Over His Activism - The Ticker
WP: Jackson Diehl: Yale, NYU sacrifice academic freedom
Chris Smith, NYU Spar Over 'Control' Of Chinese Dissident Chen Guangcheng
Wellesley College - Wellesley College
About the Partnership | Wellesley College
Image OqFI