Foundations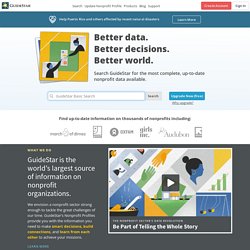 Interview with GuideStar's President Jacob Harold spoke with Alliance magazine about his first year at GuideStar and GuideStar's plans for the future. Read the interview Discounted Event Fees for GuideStar Exchange Silver and Gold Participants Nonprofits that have updated to the top two levels of the GuideStar Exchange can get deeply discounted event fees, thanks to our partnership with Eventbrite.
The Mary Robinson Foundation - Climate Justice is a centre for thought leadership, education and advocacy on the struggle to secure global justice for those people vulnerable to the impacts of climate change who are usually forgotten - the poor, the disempowered and the marginalised across the world. It is a platform for solidarity, partnership and shared engagement for all who care about global justice, whether as individuals and communities suffering injustice or as advocates for fairness in resource-rich societies. The Foundation provides a space for facilitating action on climate justice to empower the poorest people and countries in their efforts to achieve sustainable and people-centred development. Principles of Climate Justice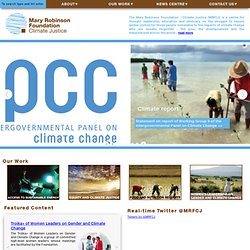 Mary Robinson Foundation - Climate Justice
ERSTE Foundation NGO Academy Non-governmental organisations (NGOs) operate in a dynamic environment. Changes in society and in the political and financing landscape require everyone [...] more At Your Service - Art and Labour Together with Technisches Museum Wien, we have explored new ground, engaging technology and art in dialogue, which materialised in the [...] more PATTERNS Lectures The programme focuses on the visual arts and culture of the 1960s until today. As an addition to projects already [...] more Balkan Fellowship for Journalistic Excellence Journalists from the Balkans did not have many opportunities to travel abroad or to participate in appropriate training. Hence, they [...] more
ERSTE Stiftung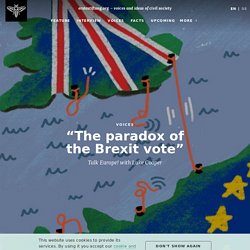 Heinrich Böll Foundation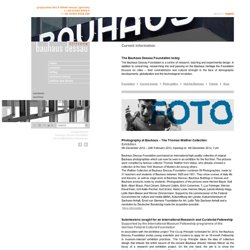 The Bauhaus Dessau Foundation today The Bauhaus Dessau Foundation is a centre of research, teaching and experimental design. In addition to conserving, researching into and passing on the Bauhaus heritage the Foundation focuses on cities – their contradictions and cultural strength in the face of demographic developments, globalisation and the technological revolution. Foundation | Current events | Photo gallery | Visit the Bauhaus | Friends | Shop Bauhaus in Calcutta. An Encounter of cosmopolitian Avant-Gardes
Home - ch Stiftung für eidgenössische Zusammenarbeit
Konrad-Adenauer-Stiftung - Policy Expertise Worldwide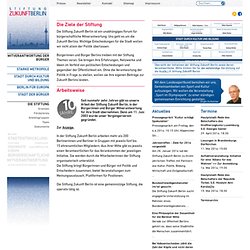 Die Stiftung Zukunft Berlin ist ein unabhängiges Forum für bürgerschaftliche Mitverantwortung. Uns geht es um die Zukunft Berlins. Wichtige Entscheidungen für die Stadt wollen wir nicht allein der Politik überlassen.
Stiftung Zukunft Berlin
AVINA STIFTUNG
Homepage
Welcome!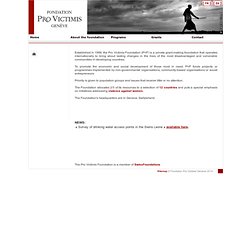 Fondation Pro Victimis Genève
Established in 1988, the Pro Victimis Foundation (PVF) is a private grant-making foundation that operates internationally to bring about lasting changes in the lives of the most disadvantaged and vulnerable communities in developing countries. To promote the economic and social development of those most in need, PVF funds projects or programmes implemented by non-governmental organisations, community-based organisations or social entrepreneurs. Priority is given to population groups and issues that receive little or no attention. The Foundation allocates 2/3 of its resources to a selection of 12 countries and puts a special emphasis on initiatives addressing violence against women.
Anna Lindh Foundation
Home - Syngenta Foundation For Sustainable Agriculture (SFSA)
ACBF - The African Capacity Building Foundation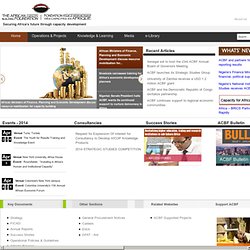 ACBF participates in the Effective Institutions Platform (EIP) Meeting Seoul, Korea: 4-5 December 2013 The African Capacity Building Foundation participated in the Effective Institutions Platform (EIP) Meeting hosted by the government of South Korean in Seoul on 4-5 December 2013. Barassou Diawara, PhD., of the Knowledge and Learning Department represented the Foundation in this very strategic EIP meeting.
"Protection of our natural resources and working towards justice and equity between us in industrial countries and "poor" people in the so called "developing countries" are many times two sides of the same coin". Michael Opitz, Chairman of the Board of Management of Hanns R. Neumann Stiftung. As a private foundation we do both: we support environmental programmes at our doorstep and run grassroots projects with smallholder coffee farmers all over the world. Our aim: helping to establish a more level playing field, improving working and living conditions and addressing the challenges on our planet associated with protecting natural resources, climate change and biodiversity. Our approach: we are partners, we provide know-how and support self-help.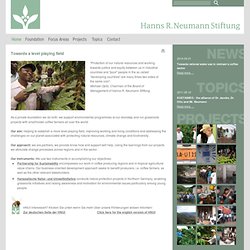 Home - Hanns R. Neumann Stiftung | International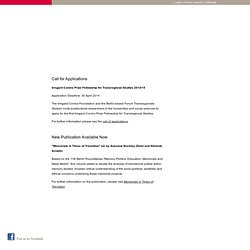 "After the Change: 1989 and the Social Sciences in the post-Cold War Era"18th Berlin Roundtables on Transnationality The 18th Berlin Roundtables, conducted by the Irmgard Coninx Foundation, the Social Science Research Centre Berlin (WZB) and Humboldt-University Berlin, will be held on the topic "After the Change: 1989 and the Social Sciences in the post-Cold War Era" from 18 – 21 June 2014 at the WZB. For further information on the conference and presenters, please visit After the Change.
Irmgard Coninx Stiftung: Home
Gerda Henkel Stiftung | Home
European Foundation for the Improvement of Living and Working Conditions
World Federation of Development Financing Institutions-WFDFI
The Aga Khan Development Network (AKDN) is a group of development agencies with mandates that include the environment, health, education, architecture, culture, microfinance, rural development, disaster reduction, the promotion of private-sector enterprise and the revitalisation of historic cities. AKDN agencies conduct their programmes without regard to faith, origin or gender. Expanding Academic Activities According to the European Community's INE PEA programme, "Worldwide there are 11 million deaths of children under five each year. As many as 65 percent of these could be prevented by known and affordable interventions.
Aga Khan Development Network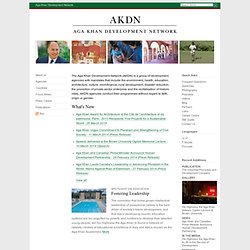 ONG Cesal - ONG de cooperación al desarrollo en África, Latinoamérica y Europa
Donner Foundation
Nathan Cummings Foundation - Welcome!
Siemens Stiftung : Siemens Stiftung
The Elsevier Foundation | Grants for Innovative Libraries in Developing Countries
Engineering Information Foundation - Program Areas/Fields of Interest
Program Areas/Fields of Interest What we focus on: Enhancing Communication and Use of Information in Engineering Problem Statement: New engineering accreditation standards recognize the importance of incorporating communication skills in engineering education. Studies of working engineers show that communication – including writing, speaking, group interaction, listening, information seeking, and understanding – are essential components of their work. Yet educational programs and research projects do not seem to be effective in this area.
Russell Sage Foundation-RSF
European Commission - Grants of the European Union
Bismarck Ramu Group
Funding Opportunities
The Grantsmanship Center
Financial Access Initiative
www.caribank.org - Home
Al-Hakim Foundation
Friedrich Ebert Stiftung
Funding Opportunities - Duke University
International Grants and Funding
The Nand & Jeet Khemka Foundation — The Nand & Jeet Khemka Foundation
UK university guide & HE institutions - Information from HERO
Institute for Research and Innovation in Social Services - IRISS
Home Page | NED
CLEEN FOUNDATION..
Draper Richards Foundation
The GLIN Foundation
Resources for Grantseekers
Fridtjof Nansen Institute
Foundation Funds « fundsforngos.org
Oak Foundation: Home
Sustainability - Supporting Communities - Foundations - Global