Foundations
Mary Robinson Foundation - Climate Justice
ERSTE Stiftung
Heinrich Böll Foundation
Home - ch Stiftung für eidgenössische Zusammenarbeit
Konrad-Adenauer-Stiftung - Policy Expertise Worldwide
Stiftung Zukunft Berlin
AVINA STIFTUNG
Homepage
Welcome!
Fondation Pro Victimis Genève
Anna Lindh Foundation
Home - Syngenta Foundation For Sustainable Agriculture (SFSA)
ACBF - The African Capacity Building Foundation
Home - Hanns R. Neumann Stiftung | International
Irmgard Coninx Stiftung: Home
Gerda Henkel Stiftung | Home
European Foundation for the Improvement of Living and Working Conditions
World Federation of Development Financing Institutions-WFDFI
Aga Khan Development Network
ONG Cesal - ONG de cooperación al desarrollo en África, Latinoamérica y Europa
Donner Foundation
Nathan Cummings Foundation - Welcome!
Siemens Stiftung : Siemens Stiftung
The Elsevier Foundation | Grants for Innovative Libraries in Developing Countries
Engineering Information Foundation - Program Areas/Fields of Interest
Program Areas/Fields of Interest What we focus on: Enhancing Communication and Use of Information in Engineering Problem Statement: New engineering accreditation standards recognize the importance of incorporating communication skills in engineering education. Studies of working engineers show that communication – including writing, speaking, group interaction, listening, information seeking, and understanding – are essential components of their work. Yet educational programs and research projects do not seem to be effective in this area.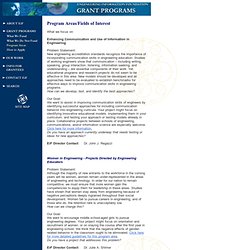 Russell Sage Foundation-RSF
Contracts The Commission uses public contracts to buy in goods and services – studies, technical assistance and training; consultancy, conference and publicity services; books and IT equipment etc. Beginners' guide to EU public contracts How to tender for a Commission contract – with guidance on the different types of contract, finding a contract that's relevant to your business and filling out the forms.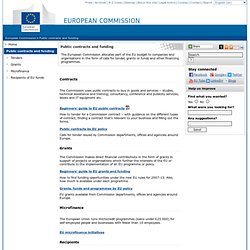 European Commission - Grants of the European Union
Bismarck Ramu Group
Funding Opportunities
The Grantsmanship Center
Financial Access Initiative
www.caribank.org - Home
Al-Hakim Foundation
Friedrich Ebert Stiftung
Funding Opportunities - Duke University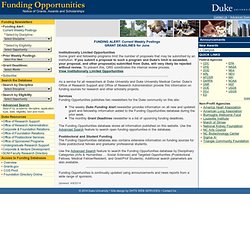 Institutionally Limited Opportunities Some grant and fellowship programs limit the number of proposals that may be submitted by an institution. If you submit a proposal to such a program and Duke's limit is exceeded, your proposal, and other proposal(s) submitted from Duke, will very likely be rejected without review. To prevent this, ORS coordinates the internal review process. View Institutionally Limited Opportunities As a service for all researchers at Duke University and Duke University Medical Center, Duke's Office of Research Support and Office of Research Administration provide this information on funding sources for research and other scholarly projects.
International Grants and Funding
The Nand & Jeet Khemka Foundation — The Nand & Jeet Khemka Foundation
UK university guide & HE institutions - Information from HERO
The web site you are accessing has experienced an unexpected error. Please contact the website administrator. The following information is meant for the website developer for debugging purposes.
Institute for Research and Innovation in Social Services - IRISS
Home Page | NED
CLEEN FOUNDATION..
Draper Richards Foundation
The GLIN Foundation
Resources for Grantseekers
Fridtjof Nansen Institute
Foundation Funds « fundsforngos.org
Oak Foundation: Home
Between 2002 and 2010, our Foundation gave a total of $273 million.
Sustainability - Supporting Communities - Foundations - Global