Plateformes artistiques
Artfox | Connecting creatives in the Arts, Media & Entertainment
Artilinki
Artilinki, a project innovative and independent, responsible and united. Artilinki is, at first, a great initiative which has for goal to relate all the actors of culture and current creativity. In one word, the project opens a lot of international perspectives through internet by creating links, inventing an universal way of culture and crossing creative spheres. Association in 2005 then, company in 2009, Artilinki.com makes its entrance on internet in 2010 at Shanghai World Expo.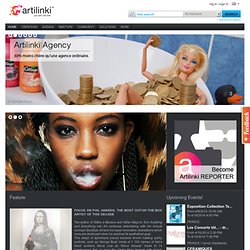 dance-tech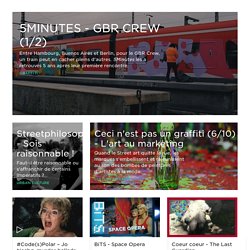 Aujourd'hui l'art a 1 000 051 ans! En ce 17 janvier nous célébrons l'anniversaire de l'art conceptualisé par Robert Filliou. Qu'est-ce que Art's birthday ? ARTE Creative vous en dit plus sur sa création et tous les bons plans à ne pas [...] lire la suite
Cafe Neu Romance 2013: France Cadet: InterviewCafe Neu Romance is the first international robot performance festival in the World which took place for the second time at Galerie NTK in Prague November 27-30 2013. It was organized by Danish robot event & marketing company Vive Les Robots! and co-…- 9 days ago, 31 Dec 13, 4:34pm -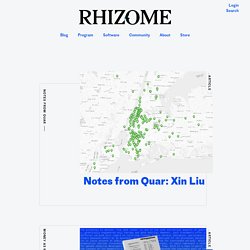 Ben Aqua, NEVER LOG OFF, 2013 (Limited edition t-shirt designed for #FEELINGS)We are no longer mostly dealing with information that is transmitted form a source to a receiver, but increasingly also with informational dynamics—that is with the relation between noise and signal, including fluctuations and microvariations, entropic emergences and negentropic emergences, positive feedback and chaotic processes. If there is an informational quality to contemporary culture, then it might be not so much because we exchange more information than before, or even because we buy, sell or copy informational commodities, but because cultural processes are taking on the attributes of information—they are increasingly grasped and conceived in terms of their informational dynamics.- Tiziana Terranova, Network Culture: Politics for the Information Age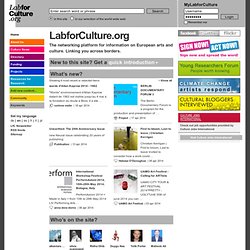 The networking platform for information on European arts and culture. Linking you across borders. New to this site? Get a quick introduction About Us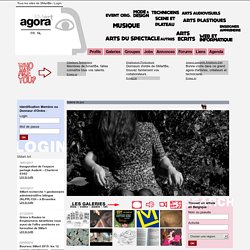 Smart Agora
Tous les sites de SMartBe / Login Alle Categorieën Evenementen Mode en Design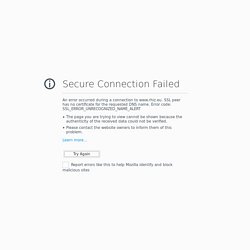 Rhiz.eu
We have a new online tool to apply for the ECF STEP Beyond Travel grant. The STEP Beyond Lab makes applying easy and it also brings you closer to others applying. The Lab is an online community - sharing project ideas and stories. There is no deadline for this grant scheme, it operates on a rolling basis, so you can apply at any time. The selection process takes up to one month. Check if your travel plans are eligible and join.
WOOLOO
Artists2artists
Artshow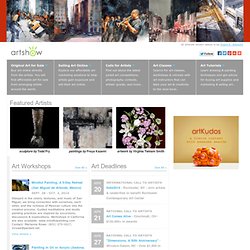 National Artist Conference & Awards (French Lick, Indiana) May 16-18, 2014 Join artists, gallery owners and publishers for an all-inclusive weekend of education and relaxation at the world-class French Lick resort in Indiana. Revamp your business with powerful courses and one-on-one consultations with industry leaders.
VIRTUALART
Contemporary Performance Network
artcitizens
artacademia
citizensofculture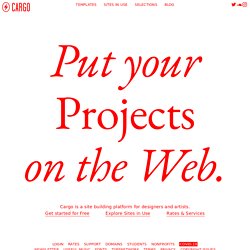 Cargo is a personal publishing platform aimed at creating accessible tools and a networked context to enhance the exposure of talented individuals on the Interne...t.more To achieve this, we offer our members free-standing websites; a wide variety of customizable design templates; simple but sophisticated tools to control the way content is displayed, and a unique user interface built entirely around the work itsel...f.more Thanks to the consistent quality of our members' work, we like to think of Cargo as a creative community participating in a constantly evolving visual culture, as demonstrated by this daily updated exhibition of featured images and websites.