Outils de visualisation graphique de l'information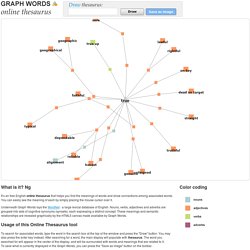 What is it? It's an free English online thesaurus that helps you find the meanings of words and show connections among associated words. You can easily see the meaning of each by simply placing the mouse cursor over it. Underneath Graph Words lays the WordNet - a large lexical database of English.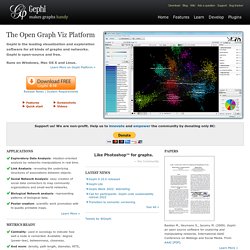 Applications Exploratory Data Analysis: intuition-oriented analysis by networks manipulations in real time. Link Analysis: revealing the underlying structures of associations between objects, in particular in scale-free networks. Social Network Analysis: easy creation of social data connectors to map community organizations and small-world networks.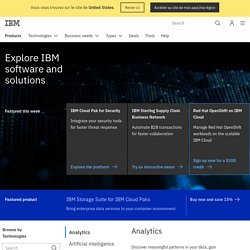 Try out the newest version of IBM Many Eyes! New site design and layout Find visualization by category and industry New visualization expertise and thought leadership section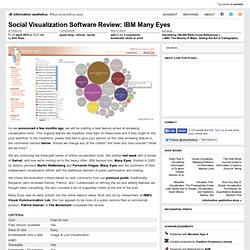 As we announced a few months ago, we will be starting a new feature aimed at reviewing visualization tools. This ongoing feature will hopefully shed light on these tools and if they might fit into your workflow. In the meantime, please feel free to give your opinion on this new reviewing feature in the comments section below. Should we change any of the criteria? Are there any inaccuracies?
Social Visualization Software Review: IBM Many Eyes
AquaBrowser Library ® - SKEMA Library
Popular Tags | Diigo - tagcloud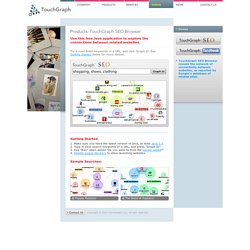 Use this free Java application to explore the connections between related websites. Try it now! Enter keywords or a URL, and click 'Graph it!'
Centre National de Ressources Textuelles et Lexicales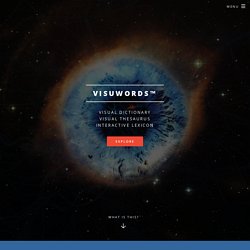 Visuwords™ online graphical dictionary — Look up words to find their meanings and associations with other words and concepts. Produce diagrams reminiscent of a neural net. Learn how words associate. Enter words into the search box to look them up or double-click a node to expand the tree. Click and drag the background to pan around and use the mouse wheel to zoom. Hover over nodes to see the definition and click and drag individual nodes to move them around to help clarify connections.