Food and Nutrition
SUPPLEMENTS SHOWN TO HELP PREVENT EFFECTS OF RADIATION FALL-OUT | COLLAPSENET
by Dr.
The modern prescription of high carbohydrate, low fat diets and eating snacks between meals has coincided with an increase in obesity, diabetes, and and increase in the incidence of many mental health disorders, including depression, anxiety, and eating disorders. In addition, many of these disorders are striking the population at younger ages. While most people would agree that diet has a lot to do with the development of obesity and diabetes, many would disagree that what we eat has much to do with our mental health and outlook. I believe that what we eat has a lot to do with the health of our brains, though of course mental illness (like physical illness) has multifactorial causes, and by no means should we diminish the importance of addressing all the causes in each individual. But let's examine the opposite of the modern high carbohydrate, low fat, constant snacking lifestyle and how that might affect the brain.
Your Brain On Ketones: How a High-fat Diet Can Help the Brain Work Better -- Health & Wellness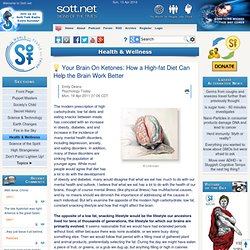 Paul Whiteley *, I believe, originally posted to the comments concerning some very interesting studies on diets and violence. Over the past 10 years, several groups of researchers have done some decent work in this area, and (for once in the nutritional-type literature) I can actually look at a randomized controlled trial of good size and design that was actually replicated . The modern era of good studies begins with Oxford nutrition and criminology researcher, Bernard Gesch ( 1 ). Back in 2002, he published a (full free text) study entitled " Influence of supplementary vitamins, minerals, and essential fatty acids on the antisocial behavior of young adult prisoners ."
Diet and Violence: Positive Effects of Nutritional Supplementation on Aggression -- Health & Wellness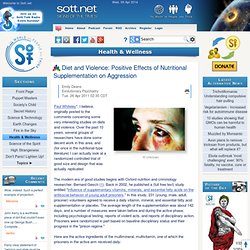 (NaturalNews) (Note: This true but humorous article contains mildly offensive language.
Oh snap! 72 percent of grocery shopping carts contaminated with fecal matter (satire)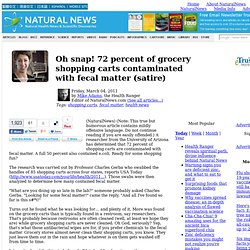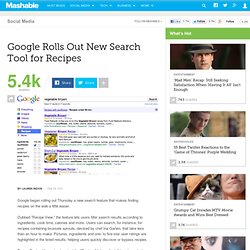 Google began rolling out Thursday a new search feature that makes finding recipes on the web a little easier. Dubbed "Recipe View," the feature lets users filter search results according to ingredients, cook time, calories and more.
Google Rolls Out New Search Tool for Recipes
The Hidden Weakness of Natural Health Laws in America, Part 1
The ignorance of the vast majority of Americans toward Codex Alimentarius , unfortunately including most natural health advocates, is one reason Codex is not currently a major source of popular concern. However, another more disturbing reason is that even those who are aware of the dangers of Codex are convinced that its decisions will have no impact on the laws of the United States.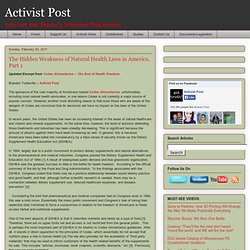 Wholeshare - Home
DIET soda drinkers are probably doing their waistlines a favor, but may also be boosting their risk of having a stroke, according to research released by researchers from the University of Miami Miller School of Medicine. The study monitored the health of more than 2500 patients over nearly a decade. They answered lengthy questionnaires about nutrition along the way and were monitored for several conditions.
Diet soda may be tied to heightened risk of stroke, study claims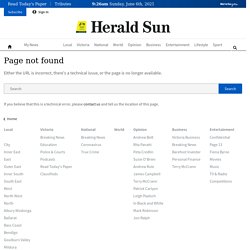 Food for thought – diet does boost your intelligence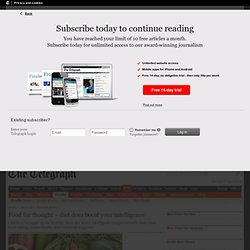 Parents were quizzed about the types and frequency of the food and drink their children consumed when they were three, four, seven and eight and a half years old.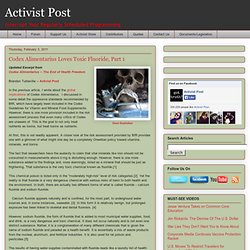 Codex Alimentarius Loves Toxic Fluoride, Part 1
In the previous article, I wrote about the global implications of Codex Alimentarius. I discussed in some detail the oppressive standards recommended by BfR, which have largely been included in the Codex Guidelines for Vitamin and Mineral Food Supplements. However, there is one more provision included in the risk assessment process that even many critics of Codex are unaware of.
It is difficult to express how disappointed we are by the USDA's decision to completely deregulate genetically engineered (GE) alfalfa without restrictions. This news means farmers will now be able to plant Roundup Ready GE alfalfa without restrictions, beginning as soon as this spring.
USDA Disappoints: No Regulations on GE Alfalfa
A deficiency of dietary omega-3 may explain depressive behaviors
[ Print | E-mail | Share ] [ Close Window ]
Organic Consumers Association: What a difference a day makes
Imagine my surprise, after promoting this organization on my site, recommending it to so many others and believing this group would be instrumental in the fight against oppressive government regulations and unnecessary legislation that will cause undue hardship on organic farmers, ranchers and anyone devoted to natural food and traditional farming and ranching…..I find this alert from OCA calling the efforts to stop these egregious bills from being passed "internet myths". (See Alert below)
Organic Consumers Association Funded by Big Pharma! By Barbara H. Peterson
Food Freedom Betrayal!
Future of Food Could Be Bright
Future of Food Could Be Bright Image:
(NaturalNews) Italian researchers have confirmed that diets rich in leafy green vegetables and olive oil are vital for heart health. Dr. Domenico Palli from the Cancer Research and Prevention Institute in Florence and his colleagues discovered that women who eat at least one serving of leafy greens a day are 46 percent less likely to develop heart disease than women who eat less.
Olive oil, green leafy vegetables prevent heart disease
Wholegrains reduce stroke by as much as drugs: research
Nutrients for Better Mental Performance
The History of Health Tyranny: Codex Alimentarius, part 1
S 510 is hissing in the grass
The Food Issue - Michael Pollan's Favorite Food Rules - Interactive Feature
The Omnivore's Dilemma: My Review « Say what, Michael Pollan?
10-Year Study Finds Women Who Eat Chocolate Have Healthier Hearts
'Staff of life' wavers under weight of humanity
Farmageddon – New Movie Coming | Live Free
Wholesale food prices soar as commodity costs rise | Business
How Credit Card Payments Increase Unhealthy Food Purchases: Visceral Regulation of Vices by Manoj Thomas, Kalpesh Desai, Satheeshkumar Seenivasan