FLIP:Concepts and Uses
Flipped Classroom - digitalsandbox. Flipped Classroom 2.0: Competency Learning With Videos. The flipped classroom model generated a lot of excitement initially, but more recently some educators — even those who were initial advocates — have expressed disillusionment with the idea of assigning students to watch instructional videos at home and work on problem solving and practice in class.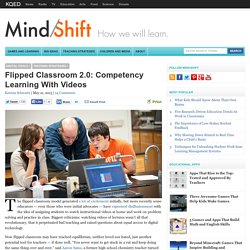 Biggest criticisms: watching videos of lectures wasn't all that revolutionary, that it perpetuated bad teaching and raised questions about equal access to digital technology. Now flipped classroom may have reached equilibrium, neither loved nor hated, just another potential tool for teachers — if done well. "You never want to get stuck in a rut and keep doing the same thing over and over," said Aaron Sams, a former high school chemistry teacher turned consultant who helped pioneer flipped classroom learning in an edWeb webinar.
TED-Ed Website Tour. EduClipper. Five Best Practices for the Flipped Classroom. Ok, I'll be honest.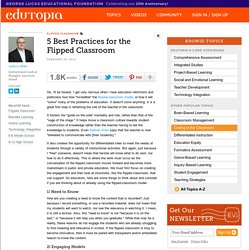 I get very nervous when I hear education reformists and politicians tout how "incredible" the flipped classroom model, or how it will "solve" many of the problems of education. It doesn't solve anything. The Flipped Classroom: Turning the Traditional Classroom on its Head. Introduction to Classroom Flipping — Teaching and Learning with Technology. The Flipping Literature Class | a place to exchange ideas on "flipping" classrooms. - 30 Online Multimedia Resources for PBL and Flipped Classrooms by Michael Gorman. 1 Comment May 28, 2012 By: Michael Gorman May 28 Written by: 5/28/2012 12:30 AM ShareThis Welcome to the another in a series of PBL Mania Posts here at Tech & Learning.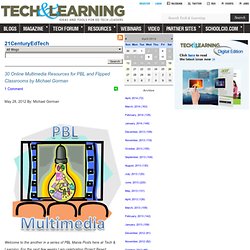 Lessons Worth Sharing. 8 Crucial Resources For Flipped Classrooms. Have you "flipped" yet?
My colleagues have this week; it's PSSA week in Pennsylvania (PSSAs are standardized tests.). That's not the flipped I meant, however. I meant, have you flipped your classroom yet? FlipYourClass. Flip your classroom with Voicethread. In this webinar, community college instructor, Michelle Pacansky-Brock, will demonstrate how she used VoiceThread to flip her lecture-based art history class.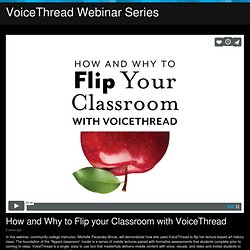 The foundation of the "flipped classroom" model is a series of mobile lectures paired with formative assessments that students complete prior to coming to class. VoiceThread is a single, easy to use tool that masterfully delivers mobile content with voice, visuals, and video and invites students to participate in engaging assessment activities. How to Flip Your Classroom.mp4. Five Ways to Flip Your Classroom With The New York Times. Jim Wilson/The New York TimesSalman Khan in the offices of his company, Khan Academy, in Mountain View, Calif.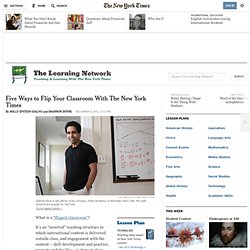 His math lessons are popular on YouTube.Go to related article » What is a "flipped classroom"? It's an "inverted" teaching structure in which instructional content is delivered outside class, and engagement with the content – skill development and practice, projects and the like – is done in class, under teacher guidance and in collaboration with peers. A flipped class swaps explanation and lecture, which are usually given in the classroom, with homework activities like math problem sets or writing practice activities. Homework becomes classwork and vice versa.
---