Online Flash Knobelspiele
It's tricky X)
Entanglement - von Gopherwood Studios. Welcome to Flow in Games. TGC » Games. Doodle God. Take Control of Your Casual Gaming. Gambolio.com - Take Control of Your Casual Gaming. Mushroom Life. Curvy in HTML5. Curvy is a HTML5 puzzle game using the canvas element.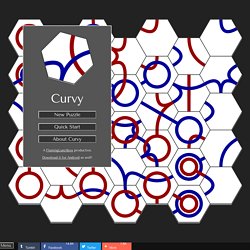 Just rotate the tiles so that like colors connect. Modernizr tells me you don't have canvas support in your browser. Sadly, this game uses technology that's only in browsers with HTML5 support. We've tested Chrome 12, Firefox 4 and Opera 11. Scrabble, Mastermind, Puzzle. Let It Glow 2 - Demonically - Flash Online Games. Free Online Games, Puzzle Games and Crosswords - Goobix.com. Gravity Grid. Hit the "m" key to mute the music!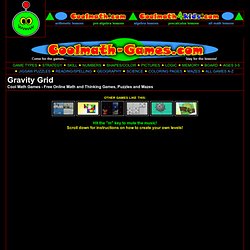 Scroll down for instructions on how to create your own levels! Ï¿½ Mindless-Games If this Flash game doesn't work on your computer, go here for help. Get a teacher or parent to help! Gravity Grid Game Instructions: Play Fantastic Contraption. Check your security settings Connection issues are typically caused by security settings on your network or computer.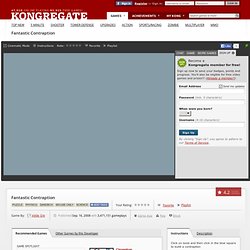 Check that your firewall or router has port 5222 open and allowing traffic. If you are on a school or office network, you may need to contact your network administrator to make the necessary changes. Is your version of Flash current? Hi-games.net - Free online games. ! Hapland — foon.co.uk. Hapland 3. Hapland 3 by *kakbarnf. Hapland 2 by *kakbarnf. Hapland by *kakbarnf. Kakbarnf on deviantART. Christmas Tree Light Up! Perform stunts to earn points, but beware of hazards!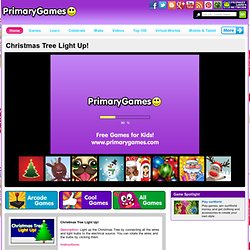 Stickman loves sticky cycling situations. Win races by beating the target times and unlock new vehicles and tracks! Use Nitro for an extra boost and drift the rally street turns, but be careful not to overheat your engine. Drive as fast as possible! MARBLE RUN. MARBLE RUN is a collaborative attempt to build the longest marble run on earth!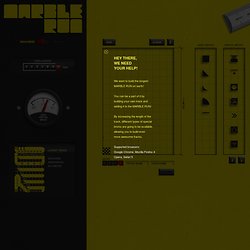 There are different types of bricks available to build tracks with. Every user-built track that is added to the marble run increases the total length of the over all track. With increasing length more and more special bricks get unlocked to allow you to build even more tracks! This game was developed by students of the Salzburg University of Applied Science for the Game On 2010 challenge hosted by Mozilla.
Marble Run. In "Marble Run" erstellen Sie in einem vorgegebenen Feld mit der Hilfe von acht verschiedenen Bausteinen einen Parcours.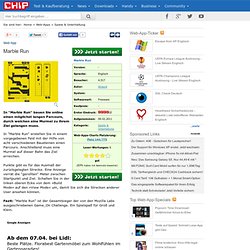 Anschließend muss eine Murmel auf dieser Bahn das Ziel erreichen. Punkte gibt es für das Ausmaß der zurückgelegten Strecke. Eine Anzeige verrät die "gerollten" Meter zwischen Startpunkt und Ziel. The Worlds Hardest Game. The Worlds Hardest Game - Free Online Arcade Games from AddictingGames. The Worlds Hardest Game. Sie sind tot.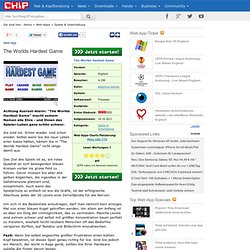 Schon wieder. Und schon wieder. Worlds Hardest Game 2 - Zweiter Teil - Spiele-Zone. Worlds Hardest Game - The Hardest Game In The World - Ever!
---
schenz Jan 23 2012

Puzzling and Riddling stuff browser Flashgames
---