Add-ons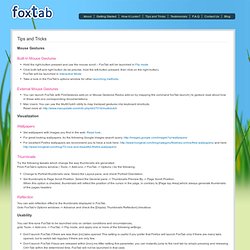 Tips and Tricks
Mouse Gestures Built-In Mouse Gestures Hold the right-button pressed and use the mouse scroll – FoxTab will be launched in Flip mode Click both left and right button (to be precise, hold the left-button pressed, then click on the right button). FoxTab will be launched in Interactive Mode Take a look in the FoxTab's options window for other launching methods . External Mouse Gestures You can launch FoxTab with FireGestures add-on or Mouse Gestures Redox add-on by mapping the command foxTab.launch() to gesture read about how in these add-ons corresponding documentations Mac Users: You can use the MultiClutch utility to map trackpad gestures into keyboard shortcuts.
Twitter
Gmail Instant Search Extension
QuickDrag Firefox Extension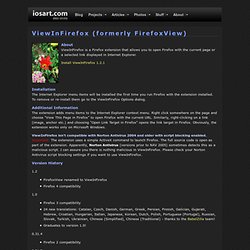 ViewInFirefox (formerly FirefoxView) Firefox Extension
About ViewInFirefox is a Firefox extension that allows you to open Firefox with the current page or a selected link displayed in Internet Explorer. Install ViewInFirefox 1.2.1 Installation The Internet Explorer menu items will be installed the first time you run Firefox with the extension installed. To remove or re-install them go to the ViewInFirefox Options dialog.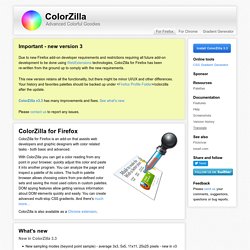 ColorZilla for Firefox is an add-on that assists web developers and graphic designers with color related tasks - both basic and advanced. With ColorZilla you can get a color reading from any point in your browser, quickly adjust this color and paste it into another program. You can analyze the page and inspect a palette of its colors. The built-in palette browser allows choosing colors from pre-defined color sets and saving the most used colors in custom palettes. DOM spying features allow getting various information about DOM elements quickly and easily. You can create advanced multi-stop CSS gradients.
Open With Photoshop is a new companion for web and graphic designers to open up any web image with Adobe Photoshop via a single and quick mouse click. For web and graphic designers getting the web images ready to be worked on inside Photoshop is time taking process especially for transparent PNG images . You need to save the image and then switch to the download folder and send the image to Photoshop via operating system context menus.
Open With Photoshop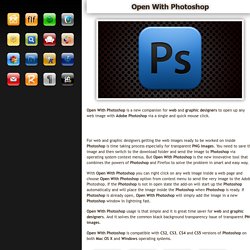 GBookmarks (Google Bookmarks for Firefox)
British English Dictionary
Stylish
AddThis
LinkChecker
bigscreen
Search Engines
The Paranoid Kit :: Collections
Search Engines
Dictionaries & Language Packs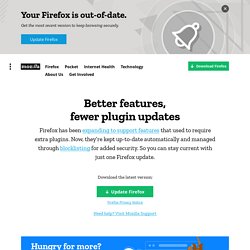 Warning, a newer version of your browser is available. Please upgrade your browser. This page works best with the latest browsers: Firefox 3.6+, Opera 10.5, Safari 4, Chrome 4, or IE 8 Plugin Check support for Internet Explorer is limited . Also use Tools > Manage Addons Step 1: Click Update to update a plugin. Step 2: Complete all recommended updates before restarting your browser.
Fox Splitter (formerly Split Browser)