Add-ons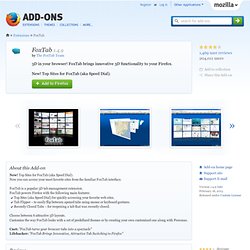 Launch Your Top Sites:To open the top sites view, open FoxTab and select [My Top Sites] from the top bar.To add pages to the top sites panel, just press the mouse right click button on the page you would like to add and click [Add to Top Sites]. While in top sites mode, on the bottom-left corner you can find the "Edit" button.The edit mode let you rearrange the thumbnails using a simple drag and drop gestures. You can also set the size of the top sites panel. Opened Tabs:To flip between the currently opened tabs, open FoxTab and select [Opened Tabs] from the top bar.By clicking on a given thumbnail, the selected tab will be focused. Recently Closed Tabs:To view recently closed tabs, open FoxTab and select [Recently Closed Tabs] from the top bar.By clicking on any thumbnail, the corresponding page will be reopened (use middle click to reopen in new tab).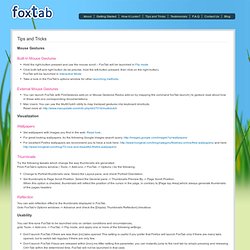 Tips and Tricks
Mouse Gestures Built-In Mouse Gestures Hold the right-button pressed and use the mouse scroll – FoxTab will be launched in Flip modeClick both left and right button (to be precise, hold the left-button pressed, then click on the right button). FoxTab will be launched in Interactive ModeTake a look in the FoxTab's options window for other launching methods. External Mouse Gestures You can launch FoxTab with FireGestures add-on or Mouse Gestures Redox add-on by mapping the command foxTab.launch() to gesture read about how in these add-ons corresponding documentationsMac Users: You can use the MultiClutch utility to map trackpad gestures into keyboard shortcuts.
Twitter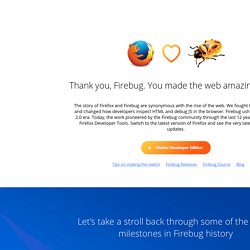 getfirebug.com has Firebug 2.0 alpha 1 Firebug 2.0a1 fixes 172 issuesFirebug 2.0a1 is compatible with Firefox 30-31 Update: an issue with Firefox 30 compatibility fixed
QuickDrag Firefox Extension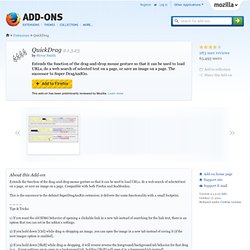 Extends the function of the drag-and-drop mouse gesture so that it can be used to load URLs, do a web search of selected text on a page, or save an image on a page. Compatible with both Firefox and SeaMonkey. This is the successor to the defunct SuperDragAndGo extension; it delivers the same functionality with a small footprint. -- -- -- --Tips & Tricks: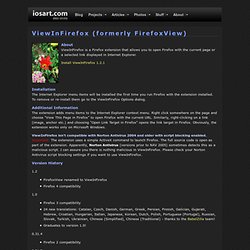 ViewInFirefox (formerly FirefoxView) Firefox Extension
About ViewInFirefox is a Firefox extension that allows you to open Firefox with the current page or a selected link displayed in Internet Explorer. Install ViewInFirefox 1.2.1 Installation The Internet Explorer menu items will be installed the first time you run Firefox with the extension installed. To remove or re-install them go to the ViewInFirefox Options dialog.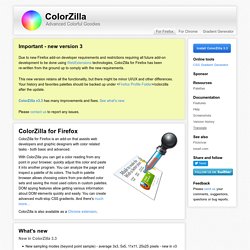 ColorZilla for Firefox is an add-on that assists web developers and graphic designers with color related tasks - both basic and advanced. With ColorZilla you can get a color reading from any point in your browser, quickly adjust this color and paste it into another program. You can analyze the page and inspect a palette of its colors. The built-in palette browser allows choosing colors from pre-defined color sets and saving the most used colors in custom palettes. DOM spying features allow getting various information about DOM elements quickly and easily. You can create advanced multi-stop CSS gradients.
Open With Photoshop is a new companion for web and graphic designers to open up any web image with Adobe Photoshop via a single and quick mouse click. For web and graphic designers getting the web images ready to be worked on inside Photoshop is time taking process especially for transparent PNG images. You need to save the image and then switch to the download folder and send the image to Photoshop via operating system context menus.
Open With Photoshop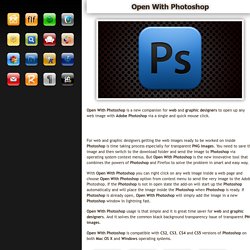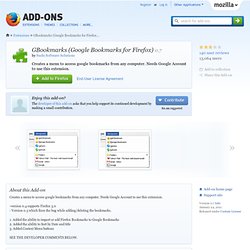 PLEASE EMAIL ME IF YOU GET ANY ERRORS. PLEASE DO NOT POST HERE AS I DON'T KNOW THE EXACT ERROR AND CANNOT RESOLVE IT. You can find my email id on the home page. Before Installation:LEGAL ISSUES:* THIS IS NO WAY AFFILIATED WITH GOOGLE AND GOOGLE DOESN'T ENDORSE IT.
GBookmarks (Google Bookmarks for Firefox)
British English Dictionary
The Development Channel lets you test an experimental new version of this add-on before it's released to the general public. Once you install the development version, you will continue to get updates from this channel. To stop receiving development updates, reinstall the default version from the link above. Install development version
Stylish
With one click, AddThis enables you to instantly share and bookmark web pages, blogs, news, photos, videos, and any other content to the most popular destinations. And it's totally free! CHOOSE YOUR SHARING OPTIONS:AddThis for Firefox provides several ways to share, allowing you to choose the method that best fits your style. Each option can be enabled or disabled separately from the add-on preferences.• Sharing toolbar• Navigation toolbar button• Context menu• URL bar icon HUNDREDS OF SUPPORTED SERVICES:AddThis for Firefox is customizable, so you can share the way you want. We currently support hundreds of services, including: AIM, Blogger, Delicious, Digg, Facebook, FriendFeed, Friendster, Google Bookmarks, LinkedIn, Live, Mixx, MySpace, Orkut, Plaxo, StumbleUpon, Tumblr, Twitter, TypePad, WordPress, Yahoo Bookmarks, and many more.
AddThis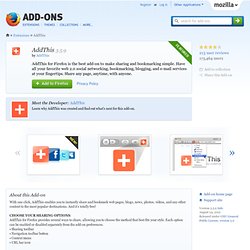 Q: I notice that when I go to the Flash Player settings manager site I still get a list of visited pages. A: In default configuration BetterPrivacy does *not* delete the Flash-Player-default cookie. Some users consider the default cookie as important since it keeps Flash-Player update settings as well as some camera or microphone settings. The default cookie also keeps a complete list of all visited LSO pages.
LinkChecker
Search Engines
Must Have - lacking some features ! Rated 5 out of 5 stars by j74 on December 20, 2013 · permalink · translate
The Paranoid Kit :: Collections
Search Engines
Dictionaries & Language Packs
How can Firefox help me? In the future, Firefox will update plugins for you. Until then, you should regularly check this page and update your plugins to stay safe. Which Plugins do I have?
Fox Splitter (formerly Split Browser)