File Hosting
PackUpload
UltraMegaBit
Gazup!
You can upload files via your choice of FTP client. Address: ftp.gazup.com port 21 Username: your Gazup! username in lowercase (not UPPERCASE). Password: your Gazup!
Upload Mirrors
Uploadtubes
Your files are safe! Thanks to DepositStorage you can no longer worry about losing your family photos or video, work papers and s.o. Available everywhere! Wherever you are, your files are always at hand. Now you can not worry about forgeting some stuff at home or at work. All you need is - DepositStorage.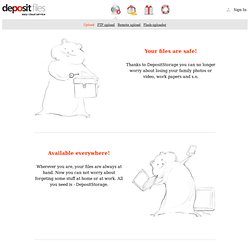 Your File Link
If you're interested in visiting one of the sponsors during your upload, please "right click" on the ad to avoid disrupting your upload. Copyright © 2013 YourFileLink.com. All rights reserved.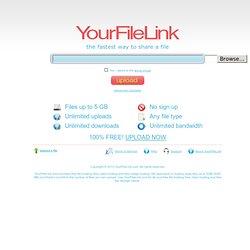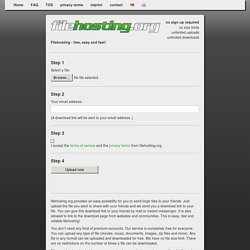 Filehosting.org
filehosting.org provides an easy possibility for you to send large files to your friends. Just upload the file you want to share with your friends and we send you a download link to your file. You can give this download link to your friends by mail or messanger.