DAM - Digital Asset Managment Systems
ResourceSpace: Open Source Digital Asset Management (DAM)
IV
NotreDAM - Open Source Digital Asset Management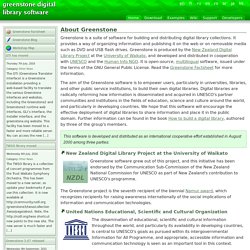 Greenstone is a suite of software for building and distributing digital library collections. It provides a new way of organizing information and publishing it on the Internet or on CD-ROM. Greenstone is produced by the New Zealand Digital Library Project at the University of Waikato, and developed and distributed in cooperation with UNESCO and the Human Info NGO.
As part of their support of the open source community, InMotion Hosting, a professional web hosting service provider, rolled up their sleeves and worked with the Gallery team to help with some outstanding issues with Gallery 3. InMotion developers learned the Gallery environment and worked on five different bug fixes, getting the new code to us via GitHub pull requests. They fixed things like a PHP 5.3.13 incompatibility, a parallel upload timeout problem and more. Their fixes will all be included in the next release of Gallery 3.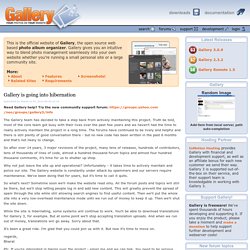 FocusOPEN - Open Source Digital Asset Management
EnterMedia utilizes modern features and a client-based development model. EnterMedia develops according to the needs of clients, which is why EnterMedia is at the forefront of digital asset management innvovation. EnterMedia 15 Day Deployment Plan Hire EnterMedia to remotely deploy and train you on your EnterMedia server. EnterMedia empowers our clients to use EnterMedia tools to centralize, manage and process all of their digital files.
EnterMedia: Open Source Digital Asset Management, Media Asset Management (DAM)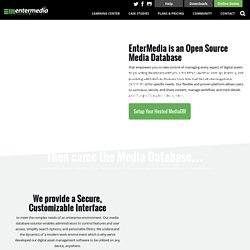 Cenatic Activae
Bienvenido a Activae Plataforma Profesional de Gestión y Consumo de Activos Digitales, es un sistema modular orientado a servicios que soportará y facilitará el seguimiento, control y ciclo de vida, asi como la organización sistemática de contenidos digitales, y posteriormente su explotación. Dec 12 Participar en el proyecto Activae es un proyecto abierto a todo el mundo. Sin embargo, toda contribución incorporada en la forja del proyecto en CENATIC debe cumplir con la política de contribuciones de Activae, que se especifican a continuación, así como las directrices, y las condiciones de concesión de licencias.
In this article, we introduce the main open source DAM solutions that are currently available (16 at the latest count). Most products mentioned here are primarily web based. In some cases desktop clients may also be provided as an alternative mode of interaction also. Based on feedback received, we have recently changed the order of the products so that pure web DAM systems are shown first, followed by ECM suites and then preservation oriented solutions.
Open Source Digital Asset Management (DAM) Software Reviews
Open Source Digital Asset Management (DAM) - About ResourceSpace
Secure & reliable The Razuna DAM will store your digital assets securely. The system is build with security in mind. You can safely store on your network, use SSL encryption, setup user permissions and/or deploy your digital asset management system in the cloud.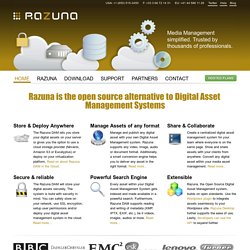 Digital asset management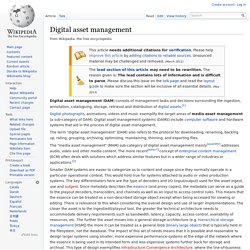 Digital asset management (DAM) consists of management tasks and decisions surrounding the ingestion, annotation, cataloguing, storage, retrieval and distribution of digital assets. Digital photographs, animations, videos and music exemplify the target areas of media asset management (a sub-category of DAM).[1] Digital asset management systems (DAMS) include computer software and hardware systems that aid in the process of digital asset management. The term "digital asset management" (DAM) also refers to the protocol for downloading, renaming, backing up, rating, grouping, archiving, optimizing, maintaining, thinning, and exporting files. The "media asset management" (MAM) sub-category of digital asset management mainly[quantify] addresses audio, video and other media content. The more recent[when?]