Europe
Welcome | UKeiG
European Association of Development Research and Training Institutes
ESDN | European Sustainable Development Network
European Systemic Risk Board
ECDPM Linking policy and practice
ESIL: European Society of International Law
EuroAfrica-ICT.org project website | Euro-African Cooperation on ICT Research |
European Centre for Minority Issues: Enriched Links
European Union documents
The European Parliament's Register of Documents has references to documents produced or received by the European Parliament since 3 December 2001, the date on which Regulation (EC) No 1049/2001 came into effect. The public has direct access to the vast majority of these documents in their electronic form. Electronic access is free and no justification is necessary.
Join-MED
EAI | " Be Part of the Innovation Revolution "
Belgian Presidency of the Council of the European Union
European Judicial Network (EJN)
ICST: Institute for Computer Sciences, Social Informatics and Telecommunications Engineering
BILAT-USA & Link2US
Entitypedia - Coming soon...
Living Knowledge : Home
ESASTAP | European - South African scientific and technological (S&T) cooperation
EULARINET (7FP) Project (European Union - Latin American Research and Innovation NETworks)
LarKC: the Large Knowledge Collider
Istituto di Chimica e Tecnologia dei Polimeri
Health insurance
Human Rights Brief - Center for Human Rights and Humanitarian Law - Washington College of Law
Fondazione Europea Dragan
Business & Finance Division | Connecting People With Information
Caast Net
European project about mitigation and management of the water stress problem in Mediterranean areas
Projects INCO-NET: strengthening bi-regional (INCO-NET) and bilateral dialogues INCO-NET projects aim at supporting bi-regional dialogues in order to :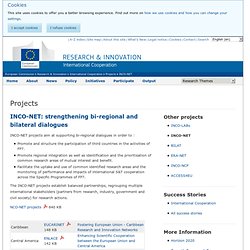 Projects INCO-NET - International Cooperation - Research & Innovation - European Commission
Home - EDCTP