Europe
Welcome | UKeiG
In 2014 European Association of Development Research and Training Institutes (EADI) has the honour of partnering with the City of Bonn. During this year, EADI will also hold its 40th anniversary celebrations. Every year since the year 2000, the City of Bonn partners with an international organization with its headquarters in Bonn showcasing Bonn as a hub of international organizations and giving the limelight to an organization to present its causes and concerns.
European Association of Development Research and Training Institutes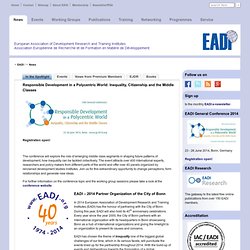 This website serves as a one-stop-shop for SD strategies in Europe, and is the communication platform of the ESDN. The activities of the ESDN are guided by a Steering Group with representatives from eight European countries. Since early 2006, the networking activities have been supported by the ESDN Office . The ESDN Office also maintains and updates this website regularly. For further information about the ESDN, the Steering Group, the ESDN Office, the network members and associated partners, please visit the section " About us " and read the ESDN Joint Understanding .
ESDN | European Sustainable Development Network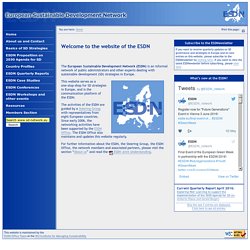 European Systemic Risk Board
Safeguarding financial stability in Europe On 1 January 2014 new EU prudential rules for banks entered into force. These rules give the macro-prudential authorities in the EU a new set of policy instruments to address financial stability risks more effectively.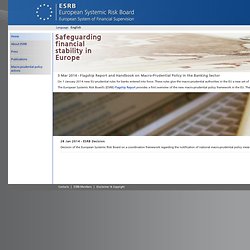 ECDPM Linking policy and practice
EuroAfrica-ICT.org project website | Euro-African Cooperation on ICT Research |
European Centre for Minority Issues: Enriched Links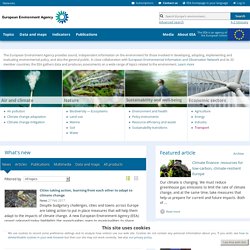 The start of the year is often a time for new projects and change. At the European Environment Agency, 2014 marks the start of a new 5-year work programme and a new set of environmental policy priorities. In 2013 Europe's air was a central theme of work at the European Environment Agency (EEA), with several assessments looking at issues related to the gases, liquid droplets and solid particles polluting the atmosphere in many parts of Europe. There are several methods for accounting for carbon dioxide (CO2) emissions. The European Environment Agency (EEA) explains the key characteristics of different emissions accounting methods, highlighting the need for methodological improvements as well as better data coverage and quality. In 2012, the average new van sold in the European Union emitted 180.2 g of carbon dioxide for every kilometre travelled, which is close to the 175 g CO2/km target to be gradually phased in between next year and 2017.
Join-MED
EAI | " Be Part of the Innovation Revolution "
I. General Conditions These terms and conditions of use apply to the main website of the European Alliance for Innovation (EAI) at http://www.eai.eu/, EAI administered tools, sites and services – hereinafter referred to collectively as EAI portals and websites of EAI sponsored events and publications.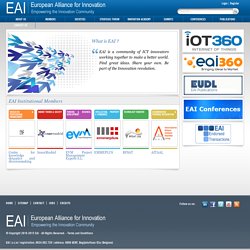 Belgian Presidency of the Council of the European Union
European Judicial Network (EJN)
Draft a rogatory letterYou will be directed to the MLA Compendium, a tool which facilitates the creation of a rogatory letter by local judicial authorities in a standardised and uniform manner within the European Union You will be directed to the MR Compendium, a tool which helps the issuing judicial authorities to fill in the forms provided for in the MR legal instruments (Freezing orders, Financial Penalties, Confiscation Orders, etc.) and to facilitate their translation. You will be directed to the EAW Compendium wizard, a tool which helps the issuing judicial authorities to fill in the EAW form and to facilitate its translation You will be directed to the MLA Atlas, a tool which helps the requesting judicial authorities to identify the coordinates of the competent requested judicial authority, in accordance with the legal requirements applicable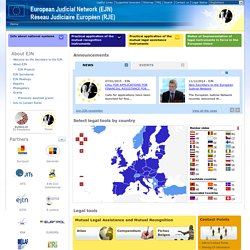 What is AGORA? In keeping with ICST Regulations and Governance Model, the Institute is the first professional society that applies principles of direct democracy to the definition of member participation and the entire range of its activities through the AGORA framework. Developed by EAI, AGORA is an open, democratic platform that embraces the principles of participative membership, objectivity, transparency and quality. It is both a marketplace of ideas and an open forum that enables ICST members to collectively shape and form the Society and its wide spectrum of scientific activities in a direct and active manner.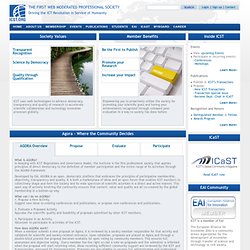 ICST: Institute for Computer Sciences, Social Informatics and Telecommunications Engineering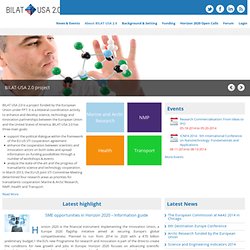 BILAT USA 2.0 is a project funded by the European Union under FP7. It is a bilateral coordination activity to enhance and develop science, technology and innovation partnerships between the European Union and the United States of America. BILAT-USA 2.0 has three main goals: • support the political dialogue within the framework of the EU-US STI cooperation agreement
BILAT-USA & Link2US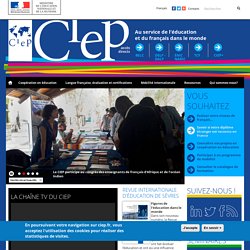 Publications La Lettre du CIEP n° 35 est en ligne La Lettre du CIEP a vocation à donner l'essentiel de l'actualité de l'établissement dans ses deux principaux champs d'activité, les langues et l'éducation. Chaque numéro propose des entretiens filmés avec des partenaires, des stagiaires ou des visiteurs ainsi que de nombreuses rubriques présentant l'actualité du CIEP et l'agenda de l'établissement. Abonnez-vous à "La Lettre du CIEP". Courriel européen des langues, n° 29, novembre 2013 Au sommaire de ce numéro, vous trouverez en première page un article de Richard Rossner, membre fondateur de l'association de labellisation EAQUALS (Evaluation and Accreditation of Quality in Language Services) concernant la grille de compétences EPG pour les enseignants de langues, les formateurs de formateurs et les instituts de langues.
Entitypedia - Coming soon...
Living Knowledge : Home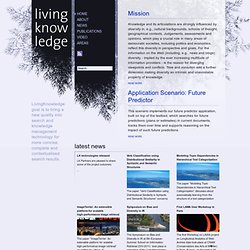 Mission Knowledge and its articulations are strongly influenced by diversity in, e.g., cultural backgrounds, schools of thought, geographical contexts. Judgements, assessments and opinions, which play a crucial role in many areas of democratic societies, including politics and economics, reflect this diversity in perspective and goals. For the information on the Web (including, e.g., news and blogs) diversity - implied by the ever increasing multitude of information providers - is the reason for diverging viewpoints and conflicts. Time and evolution add a further dimension making diversity an intrinsic and unavoidable property of knowledge. Application Scenario: Future Predictor
ESASTAP | European - South African scientific and technological (S&T) cooperation
The EULARINET (7FP) Project (European Union - Latin American Research and Innovation NETworks) is a 4 years Coordination Action (INCO.Net) (March 2008- February 2012) whose main goal is to strengthen the bi-regional dialogue on S&T between EU Member States (MS) (Austria, France, Finland, Germany, Portugal and Spain) , Associated States (AS) (Norway) and Latin American Partner Countries (LAPC) (Argentine, Brazil, Colombia, Chile, Mexico, Nicaragua and Uruguay) at policy, programme and institutional (research entities) level, thus contributing to a three fold objective: a) Promote the joint identification, setting up, implementation and monitoring of mutual interest priorities of future work programmes across the Specific Programmes of FP7. b) Joint definition of S&T co-operation policies c) Support and stimulate the participation of LAPC in FP7
EULARINET (7FP) Project (European Union - Latin American Research and Innovation NETworks)
The aim of the EU FP 7 Large-Scale Integrating Project LarKC is to develop the Large Knowledge Collider (LarKC, for short, pronounced "lark"), a platform for massive distributed incomplete reasoning that will remove the scalability barriers of currently existing reasoning systems for the Semantic Web. This will be achieved by: Enriching the current logic-based Semantic Web reasoning methods with methods from information retrieval, machine learning, information theory, databases, and probabilistic reasoning, Employing cognitively inspired approaches and techniques such as spreading activation, focus of attention, reinforcement, habituation, relevance reasoning, and bounded rationality. Building a distributed reasoning platform and realizing it both on a high-performance computing cluster and via "computing at home". LarKC Workflow Challenge 2011 The LarKC consortium is inviting you to take part in the 2011 LarKC Workflow Challenge.
LarKC: the Large Knowledge Collider
UITP is the international network for public transport authorities and operators, policy decision-makers, scientific institutes and the public transport supply and service industry. It is a platform for worldwide cooperation, business development and the sharing of know-how between its 3,500 members from 92 countries. UITP is the global advocate of public transport and sustainable mobility, and the promoter of innovations in the sector. UITP and KMK organise an online press conference on 4 December. This will will be the ideal opportunity to get an exclusive preview of some of the IT solutions that will be unveiled at IT-TRANS 2014 and that are helping to transform the urban mobility landscape. This press conference is also open to delegates and exhibitors.
Via Campi Flegrei, 34c/o Comprensorio "Adriano Olivetti" - Building 7080078 Pozzuoli NA ITALIA Phone +39 081 867 5111Fax +39 081 867 5230e-mail: segreteria@ictp.cnr.itThis e-mail address is being protected from spambots. You need JavaScript enabled to view it pec ICTP: ictp@pec.cnr.itThis e-mail address is being protected from spambots. You need JavaScript enabled to view it "... chè forza unita tutto vince", Omero – Iliade (lib. XII, v. 516)
Istituto di Chimica e Tecnologia dei Polimeri
Health insurance
Human Rights Brief - Center for Human Rights and Humanitarian Law - Washington College of Law
Fondazione Europea Dragan
Business & Finance Division | Connecting People With Information
Caast Net
European project about mitigation and management of the water stress problem in Mediterranean areas
Projects INCO-NET - International Cooperation - Research & Innovation - European Commission
Home - EDCTP