Europe
European Union. Russia. Network of the Heads of Environment Protection Agencies. European Forest Institute - Frontpage. We carry out, strengthen and mobilise forest research and expertise to address policy-relevant needs with regard to forests and their governance.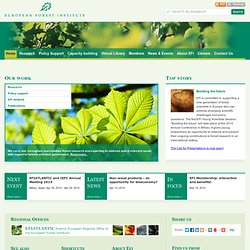 Read more.. We provide support for decision-takers, policy makers and institutions, acting as the voice of European forest science and providing policy-relevant research and advice. Read more..
UITP - International Association of Public Transport. European Association of Development Research and Training Institutes. ESDN | European Sustainable Development Network. European Systemic Risk Board. European Environment Agency — EEA. European Centre for Minority Issues: Enriched Links. Europeana pensez culture. France. ECDPM Linking policy and practice. English) | The best of the European press. EuroAfrica-ICT.org project website | Euro-African Cooperation on ICT Research | Join-MED. EAI | " Be Part of the Innovation Revolution " Accueil - CIEP. Entitypedia - Coming soon...
EULARINET (7FP) Project (European Union - Latin American Research and Innovation NETworks) LarKC: the Large Knowledge Collider. European Judicial Network (EJN)
Ireland. Lithuania. Macedonia. The Netherlands. Norway. Serbia. Spain. Turkey. ICST: Institute for Computer Sciences, Social Informatics and Telecommunications Engineering. BILAT-USA & Link2US. Living Knowledge : Home.
ESASTAP | European - South African scientific and technological (S&T) cooperation. United Kingdom. Fondazione Europea Dragan. Business & Finance Division | Connecting People With Information. Istituto di Chimica e Tecnologia dei Polimeri. Health insurance. Human Rights Brief - Center for Human Rights and Humanitarian Law - Washington College of Law. Europe.
Ukraine
Hungary. Greece. Denmark. Finland. Italy. Sweden. Portugal. Czeck Republic. Germany. Austria. Switzerland. Projects INCO-NET - International Cooperation - Research & Innovation. INCO-NET projects aim at supporting bi-regional dialogues in order to : Promote and structure the participation of third countries in the activities of FP7.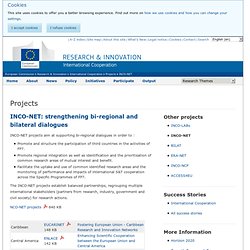 Promote regional integration as well as identification and the prioritisation of common research areas of mutual interest and benefit. European project about mitigation and management of the water stress problem in Mediterranean areas. Home - EDCTP. Caast Net.
---
stenomast May 13 2011

Enjoy the West coast then and if you are interested in social media issues linked to development give a look to the KM4dev site you can find a lot of interesting resources best Stefano

europa May 11 2011

Excellent, thanks for your reply. I was myself working in the European Parliament before I decided to travel the world with my girlfriend. I think about coming back in the next months in Brussels and I'd like to shift my activity from politics to Social medias. It is why I'm gaining an interest in Pearltrees. So hope we can build a big network of bookmarks on the topic :-) PS: I like Brussels a lot also, but I am now in San Francisco and I cannot imagine coming back in the rainy weather of the european capital :-) Ciao

stenomast May 11 2011

Hi Charlelie. I saw you just registered to Peartrees few days ago. Benvenuta. My name is Stefano and I work in a small international organization in Rome. I really like Brussels. I just have been there in December...Happy to share and develop with you the collection of websites salut à +

europa May 10 2011

hi, I saw your work on the European Union. I will be keen on developing it more with you. I was working previously in the domain and I would like to aggregate as much datas as possible and curate it in a user-friendly way. Btw my name is Charlelie, I am french and I can speak english and spanish. Thanks Hope to work with you
---