Europe
Network of the Heads of Environment Protection Agencies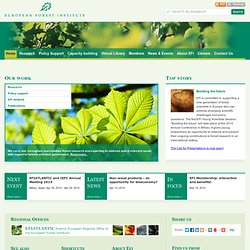 European Forest Institute - Frontpage
We carry out, strengthen and mobilise forest research and expertise to address policy-relevant needs with regard to forests and their governance. Read more.. We provide support for decision-takers, policy makers and institutions, acting as the voice of European forest science and providing policy-relevant research and advice. Read more..
European Association of Development Research and Training Institutes
ESDN | European Sustainable Development Network
European Systemic Risk Board
European Centre for Minority Issues: Enriched Links
ECDPM Linking policy and practice
EuroAfrica-ICT.org project website | Euro-African Cooperation on ICT Research |
Join-MED
EAI | " Be Part of the Innovation Revolution "
Entitypedia - Coming soon...
EULARINET (7FP) Project (European Union - Latin American Research and Innovation NETworks)
LarKC: the Large Knowledge Collider
European Judicial Network (EJN)
ICST: Institute for Computer Sciences, Social Informatics and Telecommunications Engineering
BILAT-USA & Link2US
Living Knowledge : Home
ESASTAP | European - South African scientific and technological (S&T) cooperation
Fondazione Europea Dragan
Business & Finance Division | Connecting People With Information
Istituto di Chimica e Tecnologia dei Polimeri
Health insurance
Human Rights Brief - Center for Human Rights and Humanitarian Law - Washington College of Law
INCO-NET projects aim at supporting bi-regional dialogues in order to : Promote and structure the participation of third countries in the activities of FP7. Promote regional integration as well as identification and the prioritisation of common research areas of mutual interest and benefit.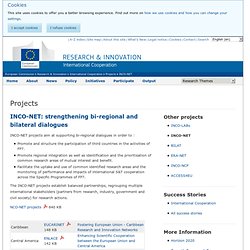 Projects INCO-NET - International Cooperation - Research & Innovation
European project about mitigation and management of the water stress problem in Mediterranean areas
Home - EDCTP
Caast Net