Other interesting things
F1000 Research (squeee!), Higgs hyping and string theory | misc.ience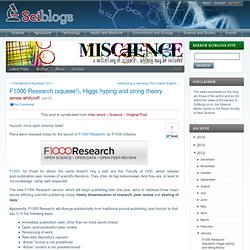 Huzzah, more open science news! Plans were released today for the launch of F1000 Research , an F1000 initiative. F1000 , for those for whom the name doesn't ring a bell, are the 'Faculty of 1000, which release post-publication peer reviews of scientific literature.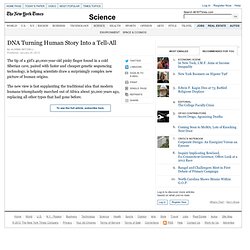 Gains in DNA Are Speeding Research Into Human Origins
The new view is fast supplanting the traditional idea that modern humans triumphantly marched out of Africa about 50,000 years ago, replacing all other types that had gone before.
Introducing a new blog: The Cosmic Engine | misc.ience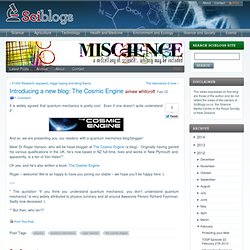 It is widely agreed that quantum mechanics is pretty cool.
Functional Silk: Colored and Luminescent - Tansil - 2012 - Advanced Materials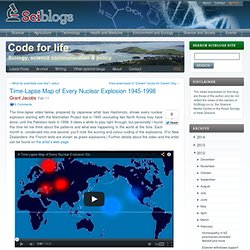 The time-lapse video below, prepared by Japanese artist Isao Hashimoto, shows every nuclear explosion starting with the Manhattan Project test in 1945 (excluding two North Korea may have done) until the Pakistani tests in 1998.
Time-Lapse Map of Every Nuclear Explosion 1945-1998 | Code for Life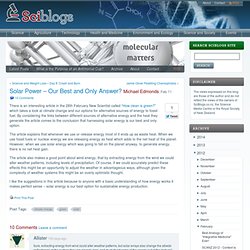 Solar Power – Our Best and Only Answer? | Molecular Matters
There is an interesting article in the 28th February New Scientist called "How clean is green?"
Toxic barbs on a cucumber's skin, nanoscopic flakes of metal and a mouse's technicolor eyeball (above) are just a few of 2011′s top science visualizations.
The 16 Best Science Visualizations of 2011 | Wired Science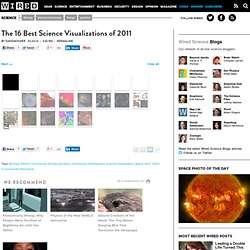 Scientists close to entering Vostok, Antarctica's biggest subglacial lake
To prevent a sudden release of gas, the Russian team will not push the drill far into the lake but just deep enough for a limited amount of water — or the slushy ice on the lake's surface — to flow up the borehole, where it will then freeze.
wonderful quotes about science | BioBlog
Futurist Thomas Frey recently blogged about a talk he gave at a TEDx event — claiming 2 billion jobs will disappear by 2030 .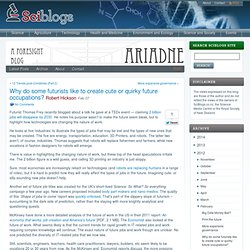 Why do some futurists like to create cute or quirky future occupations? | Ariadne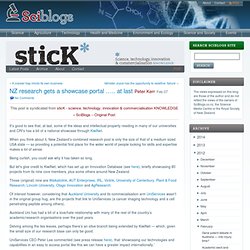 It's good to see that, at last, some of the ideas and intellectual property residing in many of our universities and CRI's has a bit of a national showcase through KiwiNet . When you think about it, New Zealand's combined research pool is only the size of that of a medium sized USA state — so providing a potential first place for the wider world of people looking for skills and expertise makes a lot of sense. Being curlish, you could ask why it has taken so long.
NZ research gets a showcase portal ….. at last | Stick
Gene-Z: A Device for Point of Care Genetic Testing using a Smartphone
It's the reason why parents tolerate Axe Body Spray.
The Long, Strange Quest to Find a Substance that Kills Sexual Desire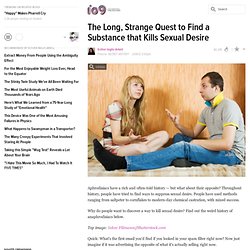 Victoria News Article
Bubbly tastes best in a slim glass
Univ. of Reims / PLoS ONE A false-color infrared image shows gaseous carbon dioxide escaping from a coupe glass of champagne after being poured.