Episode iii: 21st-27th August 2011
Sciblogs Podcast Episode 2 Draft by kaiwhata on SoundCloud
design | The World by National Geographic is live
Aug 18 , 2011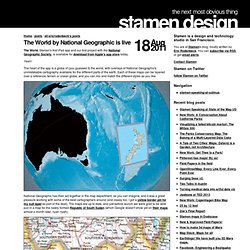 Space entrepreneurs may hold fate of ISS - space - 23 August 2011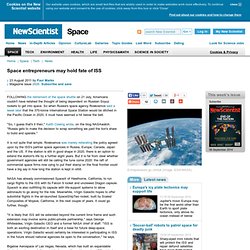 FOLLOWING the retirement of the space shuttle on 21 July, Americans couldn't have relished the thought of being dependent on Russian Soyuz rockets to get into space. So when Russia's space agency Roskosmos said a week later that the 370-tonne International Space Station would be ditched in the Pacific Ocean in 2020, it must have seemed a hit below the belt.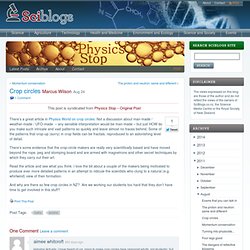 This post is syndicated from Physics Stop – Original Post
Crop circles | Physics Stop
physicsworld.com
Magnetron with section removed to exhibit the cavities. The cathode in the center is not visible.
Cavity magnetron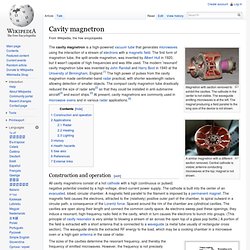 Steve Jobs stands down as CEO of Apple Computer | Code for Life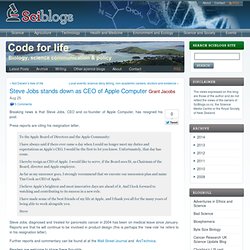 Breaking news is that Steve Jobs, CEO and co-founder of Apple Computer, has resigned his post. Press reports are citing his resignation letter,
Simplicity, Flexibility, Beauty!, Kiwi PyCon 2011, August 27-28, 2011, Wellington, New Zealand
1. Python: What can it do for us scientists? | MESA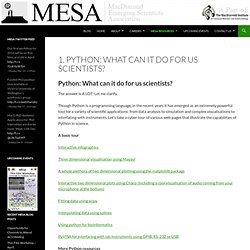 The answer is A LOT! Let me clarify.. Though Python is a programming language, in the recent years it has emerged as an extremely powerful tool for a variety of scientific applications: from data analysis to simulation and complex visualisations to interfacing with instruments.
NZPUG - New Zealand Python User Group
David Jacobs has written a long blog post Ruby is beautiful (but I'm moving to Python) . Here's my summary.
Ruby, Python, and Science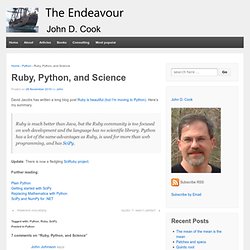 "Should I switch to Python?" | Programming for Scientists
November 17, 2009 – 6:34 pm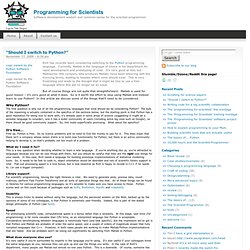 In reaction to several colleagues asking about Python , I thought a webpage would be more useful than giving an exhaustive rundown on Python verbally. Python is a script based language that allows programmers/scientists to get their algorithms and functions working in little or no time.
Python for Scientists
The fundamental library needed for scientific computing with Python is called NumPy.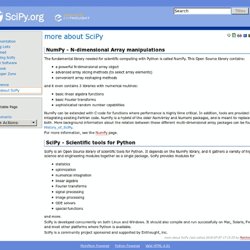 more about SciPy -
Today, August 27th, marks the grim anniversary of one of the most devastating volcanic eruptions in recorded history: the final explosion of the island of Krakatoa in 1883 .
August 27, 1883: The island of Krakatoa blows up
Digital Strategy | Wellington 2040
In response to the opportunities that technology changes provide to a city like Wellington, we have considered how Wellington can become a smart city through development and implementation of a digital strategy. In formulating this strategy, we looked at what the digital sector's perceptions of Wellington as a digital city are, what the current strengths are and what might be changed or better supported to develop it in the future. We asked for ideas about where we, as a city, would like to aim and we asked for ideas about how to get there.
Brewing A Designer Beer
A new discovery has unlocked the secret story of lager beer's South American origins, and is letting scientists piece together the genetic history of the domesticated microbe that keeps lager cool. This final piece of the yeast's genetic family tree could one day help brewers create custom-made designer brews with carefully selected characteristics. The modern-day lager yeast is a hybrid, born from an ancient hookup between a Saccharomyces cerevisiae--a popular ingredient for brewers and bakers--and another yeast that Diego Libkind and his company have identified and named Sacchyromyces eubyanus.
Room-temperature brown dwarf spied just 9 light-years off
Scientists perusing data collected by NASA's Wide-field Infrared Survey Explorer (WISE) have spotted some really cool stars – brown dwarfs with an atmospheric temperature as low as an agreeable 25°C. Dubbed "Y dwarfs", these objects have hitherto eluded astronomers hunting them at visible wavelengths, although WISE has finally nailed six examples within a distance of around 40 light-years from our own Sun. Jon Morse, Astrophysics Division director at NASA's Washington headquarters, explained: "They are 5,000 times brighter at the longer infrared wavelengths WISE observed from space than those observable from the ground."
Short Sharp Science: Coolest brown dwarf discovered
Lisa Grossman, reporter
NASA's humanoid wakes up in space, starts Tweeting
Kass: Of moon men and red cucumbers - chicagotribune.com
Do You Suffer From Decision Fatigue?
Scientists find weakness in deadly Ebola virus