Agroecosystems
How farmers can help fight climate change
The other week, I spent some time interviewing several business leaders for the North Carolina Sustainability CEnter, asking them about their reactions to President Obama's climate speach. Their responses were decidedly mixed, but one discussion stayed with me. When I asked Charles Sydnor, the owner of Braeburn Farm, about the urgency of climate policy for his industry—he had this to say: "As a farmer, when we look at climate change there are two sides to the story – but we only really talk about one – namely the production of greenhouse gases. Yet agriculture should be part of the solution.
hide captionFox Ranch, outside Yuma County, Colo., is a 14,000-acre nature preserve and working commercial cattle ranch. The ranch is used by the Nature Conservancy to put into practice its panned grazing technique. Luke Runyon/Harvest Public Media Fox Ranch, outside Yuma County, Colo., is a 14,000-acre nature preserve and working commercial cattle ranch. The ranch is used by the Nature Conservancy to put into practice its panned grazing technique. The world's soil is in trouble.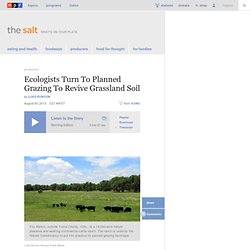 Ecologists Turn To Planned Grazing To Revive Grassland Soil : The Salt
Biocultural Heritage (BCH) refers to the knowledge and practices of indigenous people and their biological resources, from the genetic varieties of crops they develop, to the landscapes they create. As indigenous peoples have adapted to harsh climates over many generations, this heritage is important for food security in the face of climate change. This website shows how the concept of biocultural heritage can be used to protect the bundle of rights that support indigenous peoples and local communities. It provides tools to protect and promote biocultural heritage, such as community protocols and Access and Benefit-Sharing (ABS) partnerships.
Biocultural Heritage
Open Source Seed Initiative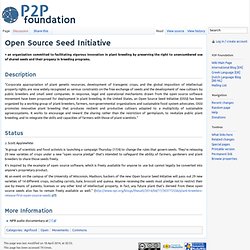 = an organization committed to facilitating vigorous innovation in plant breeding by preserving the right to unencumbered use of shared seeds and their progeny in breeding programs. "Corporate appropriation of plant genetic resources, development of transgenic crops, and the global imposition of intellectual property rights are now widely recognized as serious constraints on the free exchange of seeds and the development of new cultivars by public breeders and small seed companies. In response, legal and operational mechanisms drawn from the open source software movement have been proposed for deployment in plant breeding. In the United States, an Open Source Seed Initiative (OSSI) has been organized by a working group of plant breeders, farmers, non-governmental organizations and sustainable food system advocates.
FUNGI FOR THE PEOPLE | Mushroom Cultivation Research and Education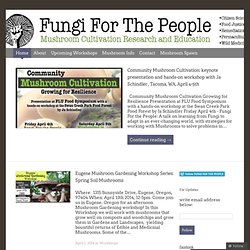 This an area of serious interest to us at Fungi For The People, and we will be offering courses on cultivating and working with beneficial mycorrhizal fungi later in 2014, so stay tuned for that as well. from IRIN News: A matter of urgency JOHANNESBURG, 7 November 2012 (IRIN) – As temperatures soar and droughts… A collection of mushroom related street art from around the globe and around the net. If you have any additions you would like to see here just submit them to the site and we will connect with you about it. Enjoy:
www.centerforfoodsafety.org/wp-content/uploads/2013/02/Seed-Giants_final.pdf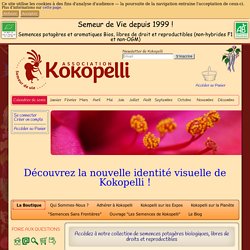 Semences potagères et aromatiques Bios, libres de droit et reproductibles L'équipe de l'Association Kokopelli vous accueille au Mas d'Azil, du lundi au jeudi de 13h à 17h. Dimensions: 15cm de diamètre pour le rond et 15cm sur 8cm pour le rectangle "Vendu 1 euro dans notre boutique en ligne et sur les salons" 11ème édition, couleur: 848 pages, 1300 photos ! Ce site est une création de Étienne Samson, de Ananda Guillet avec l'aide d'Ivan Thé pour la mise en page des articles ~ Contactez un Webmaster ~
New Feature - January 14, 2014 I Was a Covert Agent in the War on Poverty In Frances' newest blog post for the Huffington Post, I Was a Covert Agent in the War on Poverty, she writes about the beginning of her fight against poverty almost fifty years ago. New Feature - January 7, 2014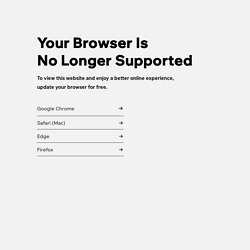 Small Planet Institute | Living democracy, feeding hope
Introducing Our New Logo, Name, and Tagline After more than 25 years with our previous logo, we felt the time was right to create a fresh image to reflect the current work and vision of the Biodynamic Association. Our goal was to create a visual identity that conveys the deeper values and spiritual impulses at the heart of our work — an image that could speak both to newcomers who know nothing about biodynamics, as well as to the long-term practitioners who have studied the esoteric mysteries of biodynamics for decades.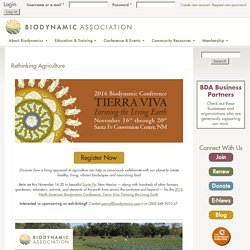 Biodynamic Farming and Gardening Association
Inicio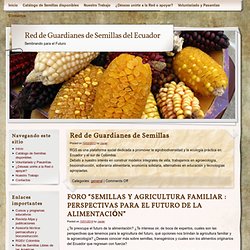 ¿Te preocupa el futuro de la alimentación? ¿Te interesa oir, de boca de expertos, cuales son las perspectivas que tenemos para la agricultura del futuro, qué opciones nos brindan la agricultura familiar y la agroecología? ¿Deseas conocer más sobre semillas, transgénicos y cuales son los alimentos originarios del Ecuador que regresan con fuerza? La Facultad de Ciencias Agrícolas de la Universidad Central del Ecuador, la Red de Guardianes de Semillas, el Colectivo Agroecológico y Swissaid Ecuador te invitan a este importante evento informativo, dirigido a las agricultoras y agricultores, maestros, estudiantes y comunidad científica ecuatoriana.
Read our Mission Statement » Ethnobiology is the scientific study of dynamic relationships among peoples, biota, and environments. Learn more About Ethnobiology!
Society of Ethnobiology
AgriCultures Network
The UMass Permaculture Initiative is changing the way students interact with their food and surroundings with the creation of on-campus permaculture gardens. Started in 2010, this initiative has brought together students from all academic realms, as well as faculty, staff, and community members to convert underutilized grass lawns on the campus into edible, educational, and biodiverse gardens. The Franklin Permaculture Garden, located on a quarter-acre plot adjacent to Franklin Dining Commons, is one of the first student-led permaculture gardens on a public university campus in the nation that supplies food directly to its campus dining services. The UMass Permaculture Initiative in a nutshell
UMass Permaculture | University of Massachusetts, Amherst