Movies&Documentaries
Preistricks beim Strom. Preistricks beim Strom. 39 Grad vom 22. Mai 2013, 18:30 Uhr | Offener Kanal Magdeburg.
Kurioses
Meta. Das grüne Wunder – unser Wald. Die Zukunft pflanzen (DVD) - ARTE EDITION. Gasland: A film by Josh Fox. Waste = Food. Man is the only creature that produces landfills.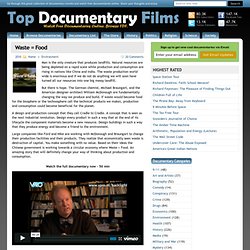 Natural resources are being depleted on a rapid scale while production and consumption are rising in na­tions like China and India. The waste production world wide is enormous and if we do not do anything we will soon have turned all our resources into one big messy landfill. But there is hope. The German chemist, Michael Braungart, and the American designer-architect William McDonough are fundamentally changing the way we produce and build.
If waste would become food for the biosphere or the technosphere (all the technical products we make), produc­tion and consumption could become beneficial for the planet. Home → TASTE THE WASTE. The Zeitgeist Movement. The Zeitgeist Movement. The Zeitgeist Movement describes itself as a grassroots, sustainability advocacy organization.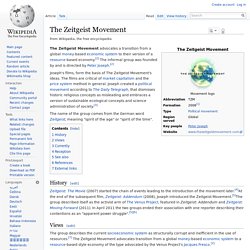 Established in 2008 by Peter Joseph, the organization says it has no official leaders.[2] Zeitgeist group members advocate a transition from money-based economic systems to what they define as a resource-based economy.[3] The alternative action movement was popularized in a series of films critical of market capitalism. The films created a political movement that, according to The Telegraph, assumes future generations will view religious ideas as a misleading method of societal control. [4] The Zeitgeist Movement under Peter Joseph's direction argues that a religious or political ideology is of no value for societal operations but instead the scientific method is the way to develop a system of human equality based on cooperation and a balance of technology and nature.[5] The name of the group comes from the German word Zeitgeist, which refers to the "spirit of the age" or "spirit of the time.
" ENERGIELAND. Plastic Planet - Offizielle Film Website. Bande annonce - Home - Un film de Yann Arthus-Bertrand. Das venus Projekt.
---