Environment
Michael SnyderActivist Post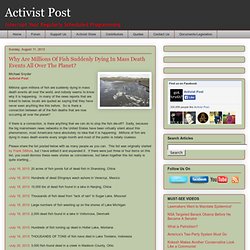 Why Are Millions Of Fish Suddenly Dying In Mass Death Events All Over The Planet?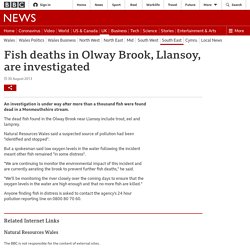 30 August 2013Last updated at 12:22 ET
Fish deaths in Olway Brook, Llansoy, are investigated
Insight: As Congress looks away, U.S. tiptoes toward exporting a gas bounty
Videos
Coral reefs heading for fishing and climate crisis
23 February 2011Last updated at 09:37 ET By Richard Black Environment correspondent, BBC News Healthy coral reefs provide a living for about 275 million people, with many more dependent on them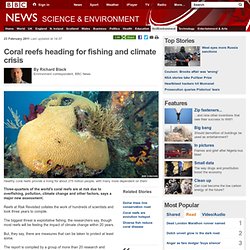 31 May 2011Last updated at 19:47 ET By Richard Black Environment correspondent, BBC News Baby clownfish face a "wall of mouths" when they first arrive at the reef
Acid oceans turn 'Finding Nemo' fish deaf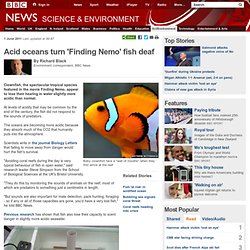 Wind power in the United Kingdom
UK installed wind power capacity 1990–2013 (operational) The UK is one of the best locations for wind power in the world, and is considered to be the best in Europe.[2] [3] Wind power delivers a growing fraction of the energy in the United Kingdom and at the beginning of January 2014, wind power in the United Kingdom consisted of 5,276 wind turbines with a total installed capacity of over 10 gigawatts: 6,831 megawatts of onshore capacity and 3,653 megawatts of offshore capacity.[4] The United Kingdom is ranked as the world's sixth largest producer of wind power, having recently overtaken France and Italy.[5] 2.7 GW of new wind power capacity was brought online during 2013, a 35% increase of the total UK installed capacity. The offshore wind industry continued to develop in 2013 with the largest wind farm in the world, the London Array, becoming operational with over 630 MW of generating capability coming on stream.[6]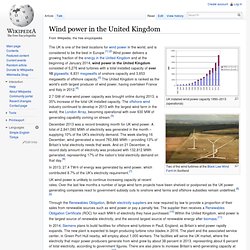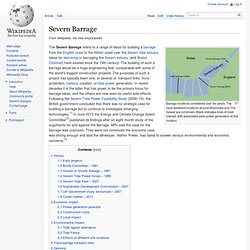 Severn Barrage
Barrage locations considered over the years. The most westward locations around Ilfracombe and The Gower are not shown. Black indicates lines of most interest, with associated peak power generation at that location.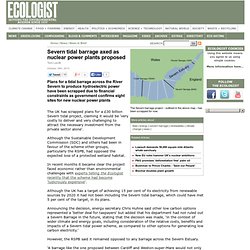 The UK has scrapped plans for a £30 billion Severn tidal project, claiming it would be 'very costly to deliver and very challenging to attract the necessary investment from the private sector alone'. Although the Sustainable Development Commission (SDC) and others had been in favour of the scheme other groups, particularly the RSPB, had opposed the expected loss of a protected wetland habitat. In recent months it became clear the project faced economic rather than environmental challenges with experts telling the Ecologist recently that the scheme had become 'ludicrously expensive'.
Severn tidal barrage axed as nuclear power plants proposed - News
These work rather like a hydro-electric scheme, except that the dam is much bigger. A huge dam (called a "barrage") is built across a river estuary. When the tide goes in and out, the water flows through tunnels in the dam. If one was built across the Severn Estuary, the tides at Weston-super-Mare would not go out nearly as far - there'd be water to play in for most of the time.
Energy Resources: Tidal power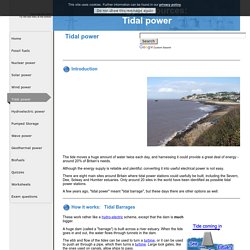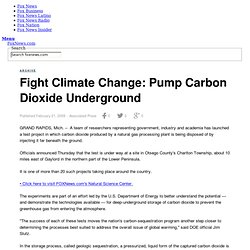 Pump Carbon Dioxide Underground - Science News | Science & Technology | Technology News - FOXNews.com
GRAND RAPIDS, Mich. – A team of researchers representing government, industry and academia has launched a test project in which carbon dioxide produced by a natural gas processing plant is being disposed of by injecting it far beneath the ground. Officials announced Thursday that the test is under way at a site in Otsego County's Charlton Township, about 10 miles east of Gaylord in the northern part of the Lower Peninsula. It is one of more than 20 such projects taking place around the country.
Breathingearth - CO2, birth & death rates by country, simulated real-time
SmartPlanet - We Make You Smarter - People, Business & Technology
‪LISTEN TO YOUR HEART ~ Mike Rowland‬‏
Ecology Drives the Worldwide Distribution of Human Diseases
Ecology Conferences Worldwide Conferences in ecology and related fields
Journey to the Sinking Lands