VCs: light & shadow
My Startup has 30 Days to Live
Almost 2 years ago today, I quit my day job and started building something. After months of customer development, discussions with my wife about my plans, savings and sleepless nights, I finally decided to take the plunge. I'm glad I did That day I quit my job marked the beginning of an epic roller coaster ride. One that saw me hit the top of TechCrunch, hire employees and become a rising star in the technology world.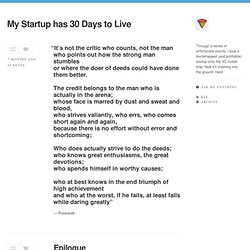 spencerrascoff: Just got this email from a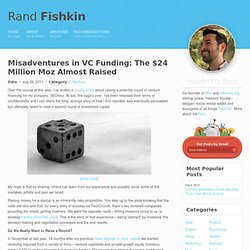 Date / / Category / Startups Over the course of this year, I've written a couple times about raising a potential round of venture financing for my company, SEOmoz. At last, the saga's over, I've been released from terms of confidentiality and I can share the long, strange story of how I first rejected, was eventually persuaded, but ultimately failed to raise a second round of investment capital.
Misadventures in VC Funding: The $24 Million Moz Almost Raised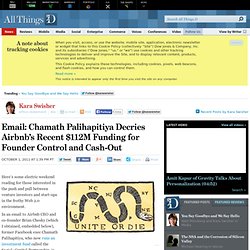 Palihapitiya Decries Airbnb's Recent $112M Funding for Founder Control - Kara Swisher
Here's some electric weekend reading for those interested in the push and pull between venture investors and start-ups in the frothy Web 2.0 environment. In an email to Airbnb CEO and co-founder Brian Chesky (which I obtained, embedded below), former Facebook exec Chamath Palihapitiya, who now runs an investment fund called the Social+Capital Partnership, is passing on participating in the recent $112 million round for the hot online rental site that was announced in July.
My mouth fell open, literally, as I read the extremely private email from investor Chamath Palihapitiya (pictured) to Airbnb CEO Brian Chesky . The message in the email was fine, even reasonable.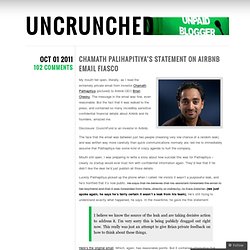 Chamath Palihapitiya's Statement On Airbnb Email Fiasco « UNCRUNCHED
How Pandora Survived More Than 300 VC Rejections
A good echo to Justin Kan's famous post: "startups don't die, they commit suicide" by PED Oct 2
The 12 Worst Train Wreck Meetings Between Startups And VCs You Will Ever Hear