Prepositions
Prepositions: Locators in Time and Place. A preposition describes a relationship between other words in a sentence.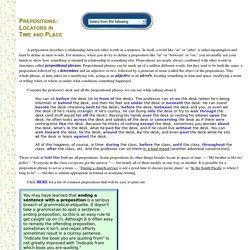 In itself, a word like "in" or "after" is rather meaningless and hard to define in mere words. For instance, when you do try to define a preposition like "in" or "between" or "on," you invariably use your hands to show how something is situated in relationship to something else. Prepositions are nearly always combined with other words in structures called prepositional phrases.
What are Prepositions? - English Grammar The Easy Way. Prepositions have basically 2 functions.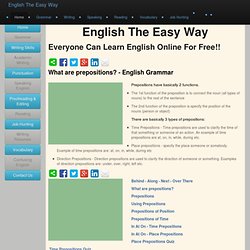 The 1st function of the preposition is to connect the noun (all types of nouns) to the rest of the sentence The 2nd function of the preposition is specify the position of the nouns (person or object) There are basically 3 types of prepositions: Time Prepositions - Time prepositions are used to clarify the time of that something or someone of an action.
An example of time prepositions are at, on, in, while, during etc. Prepositions.pdf (application/pdf Object) The Preposition. Printer Fabulous!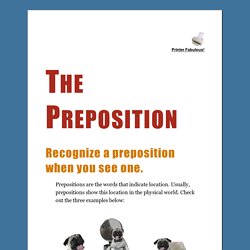 Recognize a preposition when you see one. Prepositions are the words that indicate location. Usually, prepositions show this location in the physical world. Check out the three examples below: On, in, and beside are all prepositions. They are showing where the puppy is. English Grammar: Preposition. Definition: Prepositions are a class of words that indicate relationships between nouns, pronouns and other words in a sentence.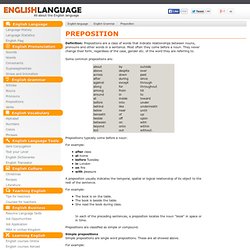 Most often they come before a noun. They never change their form, regardless of the case, gender etc. of the word they are referring to. Prepos.pdf (application/pdf Object)
---