English
TED: Ideas worth spreading. Global from Macmillan Education | Learn English, Learn through English, Learn about English. Elllo | English Listening Online. Aprender inglés y hablar mejor inglés. Traductor.cervantes.es/tradtext.php. Tecnología aplicada a la lengua Lengua y tecnología, tecnología y lengua.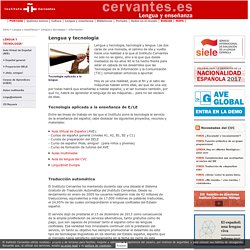 Las dos caras de una moneda, el camino de ida y vuelta hacia una realidad a la que el Instituto Cervantes no solo no es ajeno, sino a la que que desde mediados de los años 90 le ha hecho frente para estar en cabeza de los desarrollos que las Tecnologías de la Información y la Comunicación (TIC) comenzaban entonces a apuntar. Podcast de Vaughan Radio | Vaughan Radio. University of Cambridge ESOL Examinations.
English as 2nd Language - Learn English. New English File. Flo-Joe. English exams preparation. English Exercises. Curso de pronunciación inglesa. Pronunciation. Welcome to EnglishClub Pronunciation for ESL learners.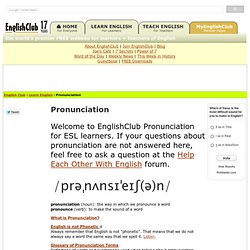 If your questions about pronunciation are not answered here, feel free to ask a question at the Help Each Other With English forum. pronunciation (noun): the way in which we pronounce a wordpronounce (verb): to make the sound of a word. Pronunciation rules in english. English Pronunciation Symbols. Sounds of English. BBC Learning English.
---