Jeux/jouets
MAFALDA : Machine à Fabriquer des Labyrinthes et Dédales Aléatoires. Toupies.
Jonglage
Build with Chrome. Ensemble XXL de briques LEGO®  Construis un monde de créations infinies avec l'ensemble XXL de briques LEGO® !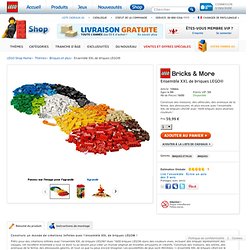 Prêts pour des créations infinies avec l'ensemble XXL de briques LEGO®? Avec 1600 briques LEGO® dans des couleurs vives, incluant des briques représentant des visages, cet excellent ensemble a tout ce dont tu as besoin pour créer un monde original de modèles amusants et créatifs. Jeux vidéos / en ligne.
Cool toys you can buy. Experiments with magnets and our surroundings Cool magnetic toys you can buy Please note: the information at the end of each article refers to the part number of that item at the source indicated.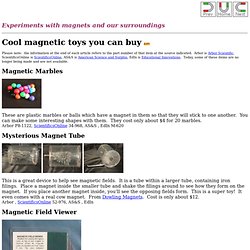 Arbor is Arbor Scientific, ScientificsOnline is ScientificsOnline, AS&S is American Science and Surplus, EdIn is Educational Innovations. Today, some of these items are no longer being made and are not available. Le Spiraculum. Grand Illusions - Toy Collection - Spiraculum. Originally designed and made by Jochen Valett in Germany in the mid to late 1970s, we believe that this toy is still made.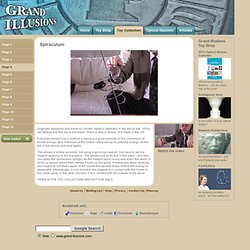 There is also a version of it made in the US. Everyone knows how a child on a swing is a good example of the conversion of kinetic energy (at a maximum at the bottom of the swing) to potential energy (at the top of the swing) and back again. Une forme unique. Des possibilités infinies ! HEXBUG Micro Robotic Creatures - HEXBUG. Assemblage en stop motion d'un Faucon Millennium LEGO de 5195 pièces ! Lego joue la guerre des clones. La brique de plastique jadis conçue par un charpentier danois n'est plus protégée par un brevet depuis 1988.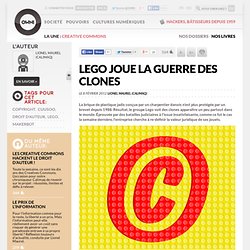 Résultat, le groupe Lego voit des clones apparaître un peu partout dans le monde. Éprouvée par des batailles judiciaires à l'issue insatisfaisante, comme ce fut le cas la semaine dernière, l'entreprise cherche à re-définir la valeur juridique de ses jouets.
Scrabble. Go. Civilisation. Geo Flipper | Trouver un bar avec flippers en France. Serious games. Wellcome Collection: Axon Game.
---