RENEWABLE ENERGY
COMMUNITY RENEWABLE ENERGY
Virgin Green Fund
energy east Search
Visit http:// for further information More than 200 businesses, environmental organizations, and other groups (representing 40 states) released the "Sustainable Energy Blueprint" - a policy paper that outlines a "plausible strategy for achieving a no-nuclear, low-carbon, highly-efficient and sustainable energy future." Submitted on 09/26/07, 11:12 AM 8606 Greenwood Avenue, #2; Takoma Park, MD 20912 301-588-4741; sustainable-energy-network@hotmail.com News Release
200+ GROUPS RELEASE "SUSTAINABLE ENERGY BLUEPRINT" TO PHASE OUT NUCLEAR, END IMPORTS, SLASH CO2 | AltEnergyMag Press Release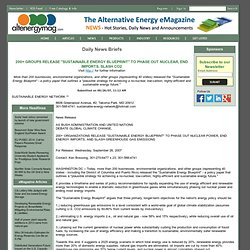 ARCADIS US - Consultancy, design, engineering and management services in the fields of infrastructure, water, environment and buildings.
Gregory N. Juday/US Navy, via Associated Press The Navy has been leading the foray into advanced algae-based fuels. The Riverine Command Boat (Experimental) is run on a blend of algae-based and marine fuels.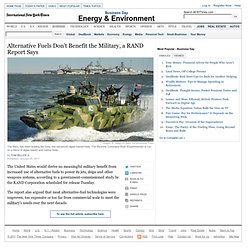 RAND Says Alternative Fuels Don't Benefit Military
Home - BBI International
Burbo Bank Offshore Wind Farm New research has shown that it is possible and affordable for the world to achieve 100 percent renewable energy by 2030, if there is the political will to strive for this goal. Achieving 100 percent renewable energy would mean the building of about four million 5 MW wind turbines, 1.7 billion 3 kW roof-mounted solar photovoltaic systems, and around 90,000 300 MW solar power plants. Mark Delucchi, one of the authors of the report, which was published in the journal Energy Policy, said the researchers had aimed to show enough renewable energy is available and could be harnessed to meet demand indefinitely by 2030.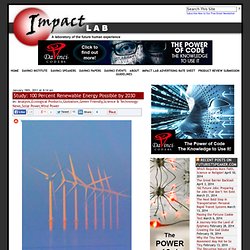 Study: 100 Percent Renewable Energy Possible by 2030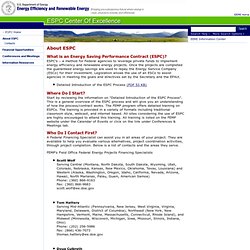 What is an Energy Saving Performance Contract (ESPC)? ESPC's – a method for Federal agencies to leverage private funds to implement energy efficiency and renewable energy projects. Once the projects are completed the guaranteed energy savings are used to repay the Energy Service Company (ESCo) for their investment. Legislation allows the use of an ESCo to assist agencies in meeting the goals and directives set by the Secretary and the EPAct. Detailed Introduction of the ESPC Process (PDF 53 KB)
EERE: ESPC Center Of Excellence About The ESPC
Industrial Our approach to industrial facility construction is simple: deliver the highest quality project at the lowest cost possible to our clients. To support this goal, we have developed a tradition of innovative thinking and creative problem-solving to keep projects on track. Environment
Renewable Energy — Conti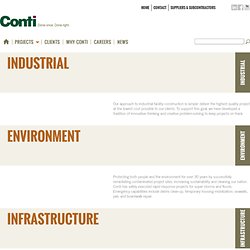 Repower America: Together, We Can Solve It
dailytech power nano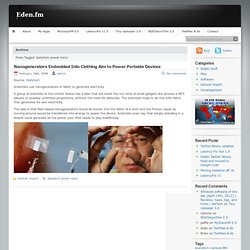 February 19th, 2008admin Source: Dailytech Scientists use nanogenerators in fabric to generate electricity A group of scientists in the United States has a plan that will boost the run time of small gadgets like phones a MP3 players to possibly unlimited proportions, without the need for batteries.
Nuclear Nightmare By Ralph Nader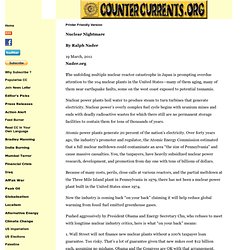 Nuclear Nightmare By Ralph Nader 19 March, 2011Nader.org The unfolding multiple nuclear reactor catastrophe in Japan is prompting overdue attention to the 104 nuclear plants in the United States—many of them aging, many of them near earthquake faults, some on the west coast exposed to potential tsunamis.
CFDC: Clean Fuels Development Coalition
REN21_GSR_2010_full_revised Sept2010.pdf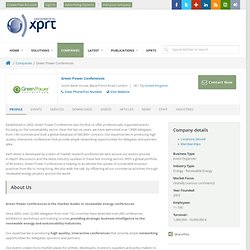 Green Power Conferences is the market leader in renewable energy conferences Since 2003, over 22,000 delegates from over 152 countries have attended over 200 conferences, exhibitions, workshops and training courses providing strategic business intelligence to the renewable energy and sustainability industries. Our expertise lies in producing high quality, interactive conferences that provide ample networking opportunities for delegates, sponsors and partners. Our events create micro-market places for utilities, developers, investors, suppliers and policy makers to meet, do business and develop partnerships.
Green Power Conferences Profile on Environmental Expert
Renewable ENERGY
The Foundation for Renewable Energy Evolution |