RENEWABLE ENERGY
From PESWiki PESWiki is guided by the New Energy Congress, a network of 50+ energy professionals who are dedicated to clean energy technology advancement. More recently, the New Energy Systems Trust (NEST) has been established to help incubate these technologies to market. Pure Energy Systems (PES) Network, the NEC and NEST were founded by Sterling D. Allan. Many others knowledgeable in the industry also help make this site what it is -- a movement for identifying and promoting the best clean energy technologies.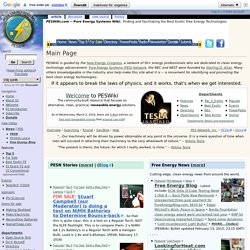 COMMUNITY RENEWABLE ENERGY
Virgin Green Fund
energy east Search
Visit http:// for further information More than 200 businesses, environmental organizations, and other groups (representing 40 states) released the "Sustainable Energy Blueprint" - a policy paper that outlines a "plausible strategy for achieving a no-nuclear, low-carbon, highly-efficient and sustainable energy future." Submitted on 09/26/07, 11:12 AM 8606 Greenwood Avenue, #2; Takoma Park, MD 20912 301-588-4741; sustainable-energy-network@hotmail.com News Release
200+ GROUPS RELEASE "SUSTAINABLE ENERGY BLUEPRINT" TO PHASE OUT NUCLEAR, END IMPORTS, SLASH CO2 | AltEnergyMag Press Release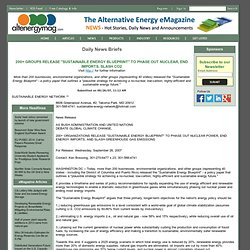 ARCADIS US - Consultancy, design, engineering and management services in the fields of infrastructure, water, environment and buildings.
RAND Says Alternative Fuels Don't Benefit Military
Home - BBI International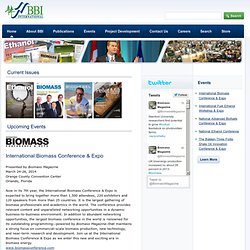 International Biomass Conference & Expo Presented by Biomass MagazineMarch 24-26, 2014Orange County Convention CenterOrlando, Florida Now in its 7th year, the International Biomass Conference & Expo is expected to bring together more than 1,500 attendees, 220 exhibitors and 120 speakers from more than 25 countries. It is the largest gathering of biomass professionals and academics in the world. The conference provides relevant content and unparalleled networking opportunities in a dynamic business-to-business environment. In addition to abundant networking opportunities, the largest biomass conference in the world is renowned for its outstanding programming—powered by Biomass Magazine–that maintains a strong focus on commercial-scale biomass production, new technology, and near-term research and development.
Burbo Bank Offshore Wind Farm New research has shown that it is possible and affordable for the world to achieve 100 percent renewable energy by 2030, if there is the political will to strive for this goal. Achieving 100 percent renewable energy would mean the building of about four million 5 MW wind turbines, 1.7 billion 3 kW roof-mounted solar photovoltaic systems, and around 90,000 300 MW solar power plants. Mark Delucchi, one of the authors of the report, which was published in the journal Energy Policy, said the researchers had aimed to show enough renewable energy is available and could be harnessed to meet demand indefinitely by 2030.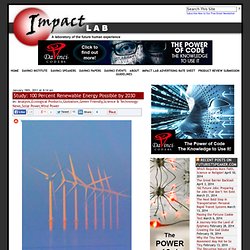 Study: 100 Percent Renewable Energy Possible by 2030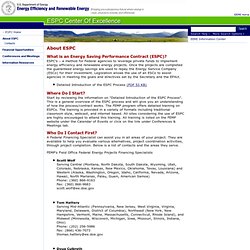 What is an Energy Saving Performance Contract (ESPC)? ESPC's – a method for Federal agencies to leverage private funds to implement energy efficiency and renewable energy projects. Once the projects are completed the guaranteed energy savings are used to repay the Energy Service Company (ESCo) for their investment. Legislation allows the use of an ESCo to assist agencies in meeting the goals and directives set by the Secretary and the EPAct. Detailed Introduction of the ESPC Process (PDF 53 KB)
EERE: ESPC Center Of Excellence About The ESPC
Industrial Our approach to industrial facility construction is simple: deliver the highest quality project at the lowest cost possible to our clients. To support this goal, we have developed a tradition of innovative thinking and creative problem-solving to keep projects on track. Environment
Renewable Energy — Conti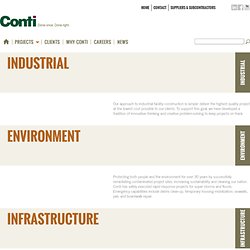 Jim Castillo Jim Castillo received his Bachelor's Degree in Atmospheric Science from the University of Missouri-Columbia where he maintained a position on the Dean's list. He also supported his fellow athletes as a cheerleader for 3 years while he completed his studies. Currently, Jim has the honor of being the first weekend Meteorologist that KTLA has ever hired in the television station's long history. You can watch his forecast on Saturday at 6 & 10pm and Sunday at 6, 8, 9 & 10pm, also the 1pm show Wednesday, Thursday and Friday. Additionally, you might catch him filling in during the weekday evenings and mornings.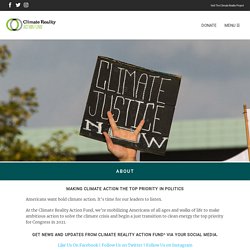 Repower America: Together, We Can Solve It
dailytech power nano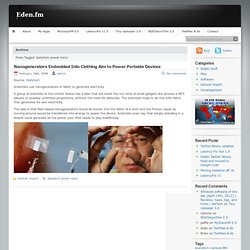 February 19th, 2008admin Source: Dailytech Scientists use nanogenerators in fabric to generate electricity A group of scientists in the United States has a plan that will boost the run time of small gadgets like phones a MP3 players to possibly unlimited proportions, without the need for batteries.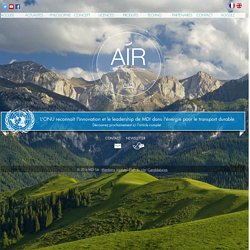 MDI met tout en œuvre pour concevoir, développer et produire des solutions non polluantes, économiques et accessibles à tous. En ne considérant que l'essentiel et le juste nécessaire nous avons créé une philosophie générale basée sur une technologie de pointe bien pensée qui peut servir cet idéal et avoir un réel impact positif sur notre environnement. où le produit est vendu sur son lieu de fabrication, ainsi qu'une recherche systématique de simplification de ses produits (diminution des masses et du nombre de pièces grâce à une méthode d'intégration de fonction) ont permis à MDI de réduire l'ensemble des coûts liés à leur production. En pensant globalement et en agissant localement, MDI révolutionne la fabrication et la distribution de ses produits. hautement technologique et économique a été définie.
Nuclear Nightmare By Ralph Nader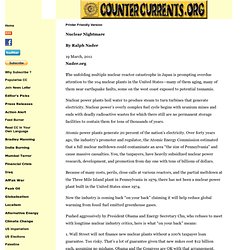 Nuclear Nightmare By Ralph Nader 19 March, 2011Nader.org The unfolding multiple nuclear reactor catastrophe in Japan is prompting overdue attention to the 104 nuclear plants in the United States—many of them aging, many of them near earthquake faults, some on the west coast exposed to potential tsunamis.
CFDC' Executive Director continues to challenge the myth being perpetuated by the petroleum industry and others that the RFS is an ethanol mandate. Durante responded to a recent editorial in The Hill Newspaper with one of his own pointing out that the RFS is a requirement to increase the overall volume of renewable fuels and that ethanol is just one of the options available to the petroleum industry. By painting this as an ethanol-only program they are then able to raise all the old wives' tales about cost, impact on food, auto issues, and countless other myths that have no basis. They do this because they do not want the focus back on the fact that they have failed to meet the requirements of the RFS and begin to free us from our total dependence on oil. Click here to view the facts...
CFDC: Clean Fuels Development Coalition
REN21_GSR_2010_full_revised Sept2010.pdf
Green Power Conferences is the market leader in renewable energy conferences Since 2003, over 22,000 delegates from over 152 countries have attended over 200 conferences, exhibitions, workshops and training courses providing strategic business intelligence to the renewable energy and sustainability industries. Our expertise lies in producing high quality, interactive conferences that provide ample networking opportunities for delegates, sponsors and partners. Our events create micro-market places for utilities, developers, investors, suppliers and policy makers to meet, do business and develop partnerships.
Green Power Conferences Profile on Environmental Expert
Renewable ENERGY
Welcome to the Free Global Energy website, host of the Foundation for Renewable Energy Evolution. FREE is a not-for-profit foundation that has been formed for the purposes of sourcing and expediting the worldwide placement of green energy technologies. We do this by: F acilitating energy, water, air and fuel solutions that are both cost-effective and emissions free R aising public awareness levels around renewable energy technologies and sustainable practices E nsuring that these clean technologies are available to reputable humanitarian organizations E asing the challenges facing humanity around our global energy transition
The Foundation for Renewable Energy Evolution |