EPRs - ePatient Records
Southampton launches My Health Record. 20 September 2012 Lyn Whitfield Southampton General Hospital University Hospital Southampton NHS Foundation Trust has become the first acute trust to launch a personal health record built on Microsoft's HealthVault platform.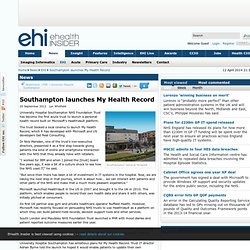 Patient demands should drive PHRs. 20 September 2012 Rebecca Todd Patients value online transactional services above the ability to view their electronic medical record; and patient access portals must be highly usable to succeed, a new report says. 2020health launched its report, 'Personal health records: putting patients in control?'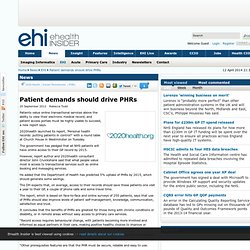 With a round table at Church House in Westminster on Tuesday. AHIMA unveils tool to spur PHR use. Officials at the American Health Information Management Association (AHIMA) announced Tuesday a new online guide to help spur patient understanding of their medical records.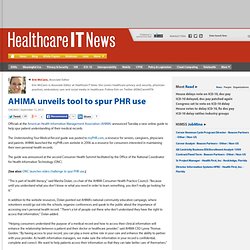 The Understanding Your Medical Record guide was posted to myPHR.com, a resource for seniors, caregivers, physicians and parents. AHIMA launched the myPHR.com website in 2006 as a resource for consumers interested in maintaining their own personal health records. The guide was announced at the second Consumer Health Summit facilitated by the Office of the National Coordinator for Health Information Technology (ONC) Interactive personal health records increase clinical preventive services. Public release date: 10-Jul-2012 [ Print | E-mail Share ] [ Close Window ] Contact: John Wallacewallacej@vcu.edu 804-628-1550Virginia Commonwealth University Richmond, Va.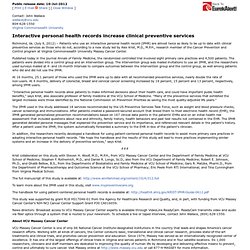 (July 9, 2012) – Patients who use an interactive personal health record (IPHR) are almost twice as likely to be up to date with clinical preventive services as those who do not, according to a new study led by Alex Krist, M.D., M.P.H., research member of the Cancer Prevention and Control program at Virginia Commonwealth University Massey Cancer Center. Maudsley launches HealthVault-based PHR. 15 May 2012 Rebecca Todd Maudsley Hospital South London and Maudsley NHS Foundation Trust is today launching personal online health records for its patients, using Microsoft's HealthVault platform.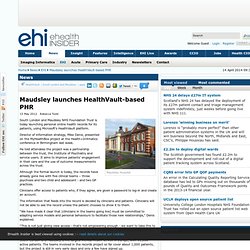 Director of information strategy, Mike Denis, presented on the MyHealthBox project at the Health+In4matics conference in Birmingham last week. He told attendees the project was a partnership between the trust, the Institute of Psychiatry and service users. It aims to improve patients' engagement in their care and the use of outcome measurements across the trust. Despite Flaws, Personal Health Records Are Smart Medicine - Healthcare - The Patient.
Many consumers have concerns about data breaches; others complain about "Big Brother" watching.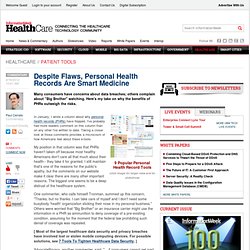 Here's my take on why the benefits of PHRs outweigh the risks. 9 Popular Personal Health Record Tools (click image for larger view and for slideshow) In January, I wrote a column about why personal health records (PHRs) have flopped. I've probably had more readers comment on this column than on any other I've written to date. 5 things CIOs need to know about funding the protection of PHI. With groups recently banding together to demand a tightening of security for protected health information, looking at the financial side of a breach has been put front and center.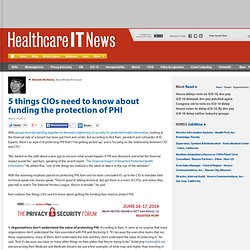 But according to Rick Kam, president and cofounder of ID Experts, there's an aspect of protecting PHI that's "not getting picked up," and is focusing on the relationship between CIO and CFO. "We started on the path about a year ago to uncover what would happen if PHI was disclosed, and what the financial impact would be," said Kam, speaking of the recent report, "The Financial Impact of Breached Protected Health Information. " He added that, "one of the things we realized is the value of data is in the eye of the beholder. " With the wavering emphasis placed on protecting PHI, Kam and his team concluded it's up to the CIO to translate their technical-speak into money-speak. Full text | Designing a patient-centered personal health record to promote preventive care. Technical Advance The IPHR design is based on a conceptual model to make information technology more patient-centered [27].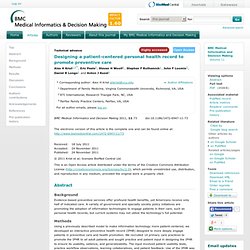 The model specifies five necessary components which include: (1) collecting patient information, (2) integrating existing clinical data, (3) interpreting patient information, (4) providing personalized recommendations, and (5) facilitating patient and clinician action. How these components were operationalized is described in greater detail below. Designing a patient-centered personal health record to promote preventive care. Evidence-based preventive services offer profound health benefits, yet Americans receive only half of indicated care.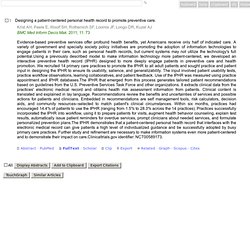 A variety of government and specialty society policy initiatives are promoting the adoption of information technologies to engage patients in their care, such as personal health records, but current systems may not utilize the technology's full potential.Using a previously described model to make information technology more patient-centered, we developed an interactive preventive health record (IPHR) designed to more deeply engage patients in preventive care and health promotion. We recruited 14 primary care practices to promote the IPHR to all adult patients and sought practice and patient input in designing the IPHR to ensure its usability, salience, and generalizability.
The input involved patient usability tests, practice workflow observations, learning collaboratives, and patient feedback. Patients want to read, share their medical records. A global travelers' electronic health record template standard for personal health records -- Li et al. 19 (1): 134. Journal of the American Medical Informatics Associationjamia.bmj.com 2012;19:134-136 doi:10.1136/amiajnl-2011-000323 Brief communication + Author Affiliations Correspondence to Professor and Dean Yu-Chuan Li, Graduate Institute of Biomedical Informatics, College of Medical Science and Technology, Taipei Medical University, Taipei, Taiwan; jaak88@gmail.com Received 21 April 2011 Accepted 6 July 2011 Published Online First 17 August 2011.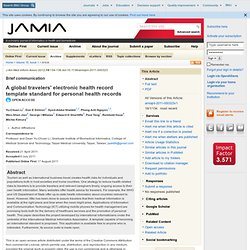 Computer-based safety surveillance and patient-centered health records -- Ohno-Machado 19 (1): 1. Journal of the American Medical Informatics Association jamia.bmj.com 2012; 19 : 1 doi:10.1136/amiajnl-2011-000673 Highlights There is much debate on which types of computer-based systems have the most impact in healthcare delivery and patient outcomes. Safety surveillance systems, which have been around for several years, are probably at the top of the list. The challenges in making electronic health records accessible to patients -- Beard et al. 19 (1): 116. Journal of the American Medical Informatics Associationjamia.bmj.com 2012;19:116-120 doi:10.1136/amiajnl-2011-000261 Perspective. Why Personal Health Records Have Flopped - Healthcare - The Patient. It's not a security, privacy, or data-sharing problem. It's a patient problem. What's holding people back from signing up for a personal health record?
According to Colin Evans, former CEO of the PHR provider Dossia, it's the unwillingness of healthcare providers to give them control over their medical data. I couldn't disagree more. IT Tools Help Patients Cut Prescription, Exam Costs - Healthcare - The Patient. Change Healthcare provides companies' employees with a Web portal, data analytics, personalized text messages, and email alerts to help them find lower-cost healthcare services and prescription drugs.
It's the start of a new benefits year for most employers, and workers are only beginning to tap into their companies' offering of 2012 healthcare coverage. However, they can expect to face rising healthcare costs and be asked to pay larger co-pays and deductibles than ever if recent years are any indication. A September 2011 U.S. OpenNotes project allows patients easy access to their medical records. Recording notes about a patient is standard practice among physicians and has often left patients curious about what is written down about them. While federal law guarantees patients the right to examine and get copies of their medical records, it hasn't always been an easy process to go through. In fact, there has been some reluctance on doctors to reveal this information in a timely manner. Microsoft Bows Out of the Clinical Market. GE, Microsoft launch health IT new company.
---