Effets photos
Color Thief. Create a Subtle Zoom Animation on Images while Scrolling with jQuery.Zoom-Scroller.js. ImgOps - Image Operations - 画. Tiltshiftmaker.com - Transform your photos into tilt-shift style miniatures.
La caricature, c'est fun. Humour en dessin et images de stars. Make a billboard: put your picture on a billboard. Add photos/words to Billboard, by paulfitz The Billboard design is a billboard in a street scene.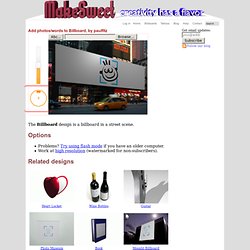 Options Problems? Code couleur. Rollip - Online Photo Effects. Moodstream™ by Getty Images. Comment coller une photo dans une autre avec sumopaint. Posted by THIERRY on Apr 12, 2011 in Tuto | 2 comments Le basic en terme d'édition photo est l'intégration d'une photo dans une autre.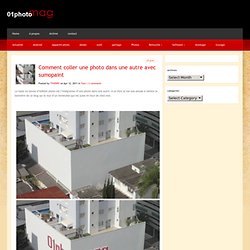 A ce titre je me suis amusé à mettre la bannière de ce blog sur le mur d'un immeuble qui est juste en face de chez moi. J'ai utilisé le logiciel sumopaint pour réaliser ce montage et j'ai utilisé un seul outil qui s'appelle "free transform / rotate tool" avec l'option " comme indiqué dans la copie d'écran ci dessous. Logiciels de retouche photo gratuits. Lorsque l'on manipule des images en vue de les insérer dans des documents, il est parfois intéressant de les retoucher pour qu'elles correspondent à nos attentes.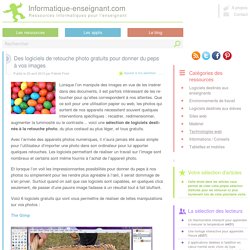 Que ce soit pour une utilisation papier ou web, les photos qui sortent de nos appareils nécessitent souvent quelques interventions spécifiques : recadrer, redimensionner, augmenter la luminosité ou le contraste… voici une sélection de logiciels destinés à la retouche photo, du plus costaud au plus léger, et tous gratuits. Avec l'arrivée des appareils photos numériques, il n'aura jamais été aussi simple pour l'utilisateur d'importer une photo dans son ordinateur pour lui apporter quelques retouches. Les logiciels permettant de réaliser un travail sur l'image sont nombreux et certains sont même fournis à l'achat de l'appareil photo. Rsizr - intelligent image resizing.
Monoface. Mirror effect - Image Mirror Effect - Picture Mirror Effect online. GrafMe : Montage photo en ligne - Montages et création de GIF animés en ligne. WebInpaint FREE online photo restoration tool. Adobe Photoshop Extended. Application. Poladroid project | the easiest and funniest Polaroid Image Maker. Imprimer vos photos d'identité sans logiciel. Ne ratez plus vos .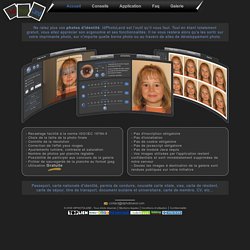 IdPhotoLand est l'outil qu'il vous faut. YoHDR! | Easily Create Great HDR Photos Online. FotoFuze.com is Photography Fused Together - The Picture Revolution. 幕末古写真ジェネレーター -写真を江戸時代〜明治時代の古写真ぽくします- SimpleRetro.com - Awesome retro-look photo in seconds! | SimpleRetro.com. Pixenate - Edit photos online, fast and easily - No plugins required.
VintageJS - add some awesome retro and vintage style to your images with the HTML5 canvas element. Photo effects, vintage, retro, online and free - Pixlr-o-matic.
---