Tools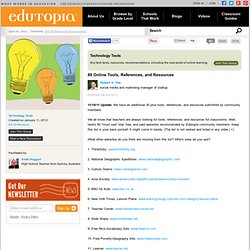 11/10/11 Update: We have an additional 30 plus tools, references, and resources submitted by community members. We all know that teachers are always looking for tools, references, and resources for classrooms. Well, here's 80 "must see" trial, free, and paid websites recommended by Edutopia community members. Keep this list in your back pocket! It might come in handy. (The list is not ranked and listed in any order.) =)
Create Sketch Create Calclet -- History -- Ask Ask a Math Question! Answer A lot of students have difficulty with Math questions.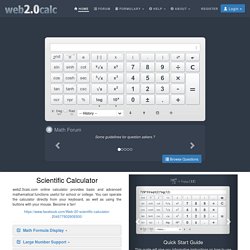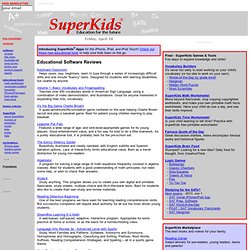 Educational Software Reviews Keyboard Classroom Helps users, esp. beginners, learn to type through a series of increasingly difficult drills and one minute "fluency" tests. Designed for students with learning disabilities, but usable by anyone. Volume 1: Basic Vocabulary and Fingerspelling Teaches over 450 vocabulary words in American Sign Language, using a combination of video demonstration, and illustrations. Good for anyone interested in expanding their ASL vocabulary. It's the Big Game Charlie Brown!
SuperKids Educational Software Review.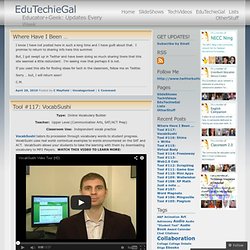 Where Have I Been … I know I have not posted here in such a long time and I have guilt about that. I promise to return to sharing info here this summer. But, I got swept up in Twitter and have been doing so much sharing there that this site seemed a little redundant. I'm seeing now that perhaps it is not.
EduTechieGal
Communication Stuff Teachers.Net Chatboards Great teacher resource for all grades, curricula, & interests CreateSurvey Create your own surveys Zoomerang Create your own surveys IncrediMail For fun - FREE download program to spice up your email with backgrounds, sounds, animations, etc. Calendar.Net Create your classroom online calendar Assign-A-Day Create your own online calendar LoCalendar Add a free calendar to your website LetterPop Free online newsletter with background templates, click & drag images, copy & paste text. Register (FREE) to save and upload own images.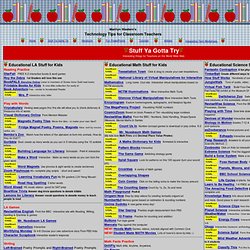 ProQuest K-12 - Online Research Tools for Schools & Libraries
My eCoach Pre-K-12 Technology Scope and Sequence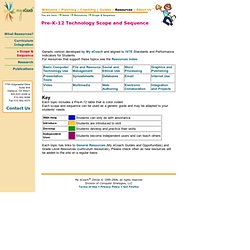 Generic version developed by My eCoach and aligned to ISTE Standards and Performance Indicators for Students For resources that support these topics see the Resources Index Key Each topic includes a Pre-K-12 table that is color coded. Each scope and sequence can be used as a generic guide and may be adapted to your students' needs. Each topic has links to General Resources (My eCoach Guides and Opportunities) and Grade Level Resources (curriculum resources). Please check often as new resources will be added to the site on a regular basis.