Tools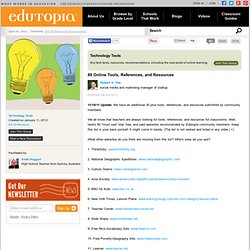 11/10/11 Update: We have an additional 30 plus tools, references, and resources submitted by community members. We all know that teachers are always looking for tools, references, and resources for classrooms. Well, here's 80 "must see" trial, free, and paid websites recommended by Edutopia community members. Keep this list in your back pocket! It might come in handy. (The list is not ranked and listed in any order.) =)
The title of this post is not meant as an insult! It's just that so many of us (educators) are clearly impressed with the brilliance exhibited in the TED Talks, but have trouble sorting through all of the material to discover something appropriate for our disciplines. So, in the interest of preparing for teaching a new course next year, and wanting to sort TED out a bit, I've created the following list based on disciplines (organizing knowledge or research by discipline is, it should be pointed out, in stark contrast to the real objective of TED Talks in general).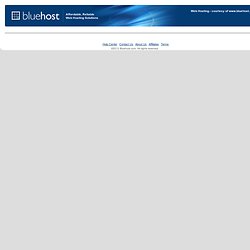 SuperKids Educational Software Review.
EduTechieGal
Communication Stuff Teachers.Net Chatboards Great teacher resource for all grades, curricula, & interests CreateSurvey Create your own surveys Zoomerang Create your own surveys IncrediMail For fun - FREE download program to spice up your email with backgrounds, sounds, animations, etc. Calendar.Net Create your classroom online calendar Assign-A-Day Create your own online calendar LoCalendar Add a free calendar to your website LetterPop Free online newsletter with background templates, click & drag images, copy & paste text. Register (FREE) to save and upload own images.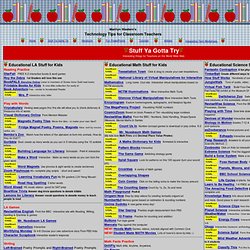 ProQuest K-12 - Online Research Tools for Schools & Libraries
My eCoach Pre-K-12 Technology Scope and Sequence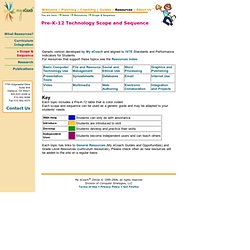 Generic version developed by My eCoach and aligned to ISTE Standards and Performance Indicators for Students For resources that support these topics see the Resources Index Key Each topic includes a Pre-K-12 table that is color coded. Each scope and sequence can be used as a generic guide and may be adapted to your students' needs. Each topic has links to General Resources (My eCoach Guides and Opportunities) and Grade Level Resources (curriculum resources). Please check often as new resources will be added to the site on a regular basis.