Science
Animal Studies : Learning At Home. 3D Human Anatomy | Tour: Subscribing. INSIDE THE SKULL HOUSE - Introduction. "It is still necessary to discover, beneath the noise of actions, those creative sensations or those silent contemplations that bear witness to a brain.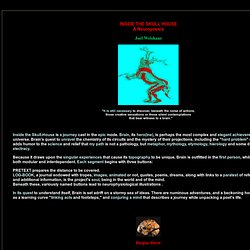 " Inside the Skull-House is a journey cast in the epic mode. Brain, its hero(ine), is perhaps the most complex and elegant achievement of this universe. Brain's quest to unravel the chemistry of its circuits and the mystery of their projections, including the "hard problem" of consciousness, adds humor to the science and relief that my path is not a pathology, but metaphor, mythology, etymology, hierology and some devices of electracy. Because it draws upon the singular experiences that cause its topography to be unique, Brain is outfitted in the first person, while its journey is both modular and interdependent. PythonLearn - Self-paced learning Python. Anatomy & Physiology Courses - Anatomy & Physiology Distance Learning Courses - Open Study College. Our Anatomy and Physiology courses cover many exciting and popular career paths for people with qualifications in this field.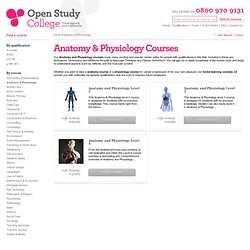 Included in these are Ambulance Technicians and Midwives through to Massage Therapist and Fitness Instructors. You will gain an in depth knowledge of the human body and begin to understand aspects such as reflexes and the muscular system. Whether you wish to take a anatomy course or a physiology course for career progression of for your own pleasure, our home learning courses will provide you with nationally recognised qualifications that are sure to impress future employers. Anatomy and Physiology Level 2. Online Resource for Science Tutors. This resource provides support for tutors and mentors working with primary and secondary teachers at the start of their careers - thus for everyone helping to develop the next generation of science teachers - tutors, mentors, researchers, and teachers too.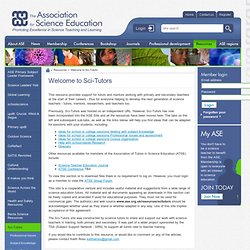 Previously, Sci-Tutors was hosted on an independent URL. However, Sci-Tutors has now been incorporated into the ASE Site and all the resources have been moved here. The tabs on the left and subsequent sub-tabs, as well as the links below, will help you find ideas that can be adapted for sessions with your students, including: Other resources available for members of the Association of Tutors in Science Education (ATSE) include: To view this section or to download files there is no requirement to log on. Scale of Universe - Interactive Scale of the Universe Tool. Fantastic Contraption: A fun online physics puzzle game.
Solar System - Homepage. Vital | Transforming lessons, inspiring learning. Neuroscience. Institute for the Study of the Neurologically Typical. U-NOW: Resource -The anatomy cookbook : a dissection guide with.
---