Primary Education
Year-round Schools Don't Boost Learning, Study Finds. Students in "year-round" schools don't learn more than their peers in traditional nine-month schools, new research has found.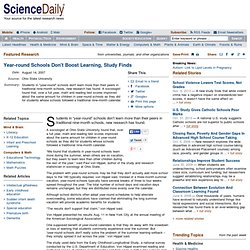 A sociologist at Ohio State University found that, over a full year, math and reading test scores improved about the same amount for children in year-round schools as they did for students whose schools followed a traditional nine-month calendar. "We found that students in year-round schools learn more during the summer, when others are on vacation, but they seem to learn less than other children during the rest of the year," said Paul von Hippel, author of the study and research statistician in sociology at Ohio State. The problem with year-round schools may be that they don't actually add more school days to the 180 typically required, von Hippel said. Instead of a three-month summer vacation, year-round schools typically have several breaks of three to four weeks spread throughout the year. Some Schools Adopting Longer Years to Improve Learning.
Joshua Lott for The New York Times Garvin Phillips helped his children, Garvin, 9, and Bethany, 11, get ready for the first day of school at Griffith Elementary in Phoenix, which reopened on July 30 after adopting a 200-day school year instead of 180 days.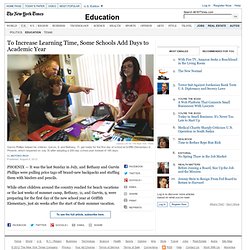 While other children around the country readied for beach vacations or the last weeks of summer camp, Bethany, 11, and Garvin, 9, were preparing for the first day of the new school year at Griffith Elementary, just six weeks after the start of their summer vacation. Year-round school gains ground around U.S. - US news - Life - NBCNews.com. Two days before Thanksgiving, the Indianapolis School Board will make a decision sure to heat up discussion around the turkey in just about every home with young children.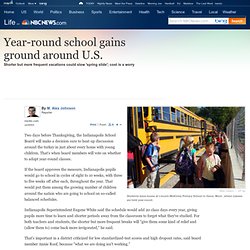 That's when board members will vote on whether to adopt year-round classes. If the board approves the measure, Indianapolis pupils would go to school in cycles of eight to 10 weeks, with three to five weeks off after each, throughout the year. That would put them among the growing number of children around the nation who are going to school on so-called balanced schedules. Indianapolis Superintendent Eugene White said the schedule would add 20 class days every year, giving pupils more time to learn and shorter periods away from the classroom to forget what they've studied.
For both teachers and students, the shorter but more frequent breaks will "give them some kind of relief and (allow them to) come back more invigorated," he said. We need year-round school to compete globally. Drop summer vacation, raise test scores?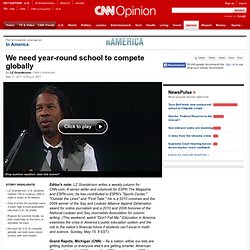 LZ Granderson: U.S. students ranked 17th in science, 25th in math in study of 34 nationsOnly 8 of the 34 countries have a lower high school graduation rate than U.S., he writes Reason for summer break, so kids could help on the farm, is obsolete, he says He says for U.S. to compete globally, we need year-round school, with mini-breaks Editor's note: LZ Granderson writes a weekly column for CNN.com. Is Anti-Intellectualism As American As Apple Pie? - Paul Nevins. Cross-posted at politicsofselfishness.com The New York Times reported today that Republican Congressmen in a House sub- committee have voted to strip the EPA of its ability to regulate the emission of greenhouse gasses.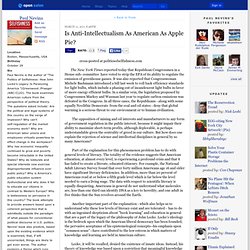 It was also reported that Congresswoman Michele Bachmann introduced a bill last week to roll back efficiency standards for light bulbs, which include a phasing out of incandescent light bulbs in favor of more energy efficient bulbs. In a similar vein, the legislation proposed by Congressmen Markey and Waxman last year to regulate carbon emissions was defeated in the Congress. Deformed: Authoritarian undercurrents in education. When education scholar Harold Berlak paid a visit to a Knowledge is Power Program (KIPP) charter school in San Francisco he was shocked.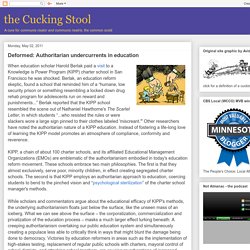 Berlak, an education reform skeptic, found a school that reminded him of a "humane, low security prison or something resembling a locked down drug rehab program for adolescents run on reward and punishments..." Berlak reported that the KIPP school resembled the scene out of Nathaniel Hawthorne's The Scarlet Letter, in which students "...who resisted the rules or were slackers wore a large sign pinned to their clothes labeled 'miscreant.' " Corporate Education Reformers Plot Next Steps at Secretive Meeting. February 5, 2012 | Like this article?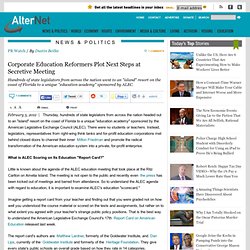 Join our email list: Stay up to date with the latest headlines via email. Thursday, hundreds of state legislators from across the nation headed out to an "island" resort on the coast of Florida to a unique "education academy" sponsored by the American Legislative Exchange Council (ALEC). There were no students or teachers. Gifted Students Deserve More Opportunities. BARACK OBAMA and Mitt Romney both attended elite private high schools.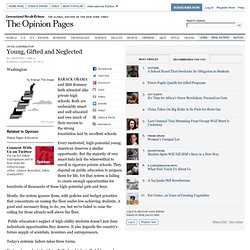 Both are undeniably smart and well educated and owe much of their success to the strong foundation laid by excellent schools. Every motivated, high-potential young American deserves a similar opportunity. But the majority of very smart kids lack the wherewithal to enroll in rigorous private schools. They depend on public education to prepare them for life. Yet that system is failing to create enough opportunities for hundreds of thousands of these high-potential girls and boys.
Current Work « NCEE. NCEE has returned to its original goal of analyzing the world economic and educational scene to identify the best course for American education policy and present its proposals for change in the education system to the American public.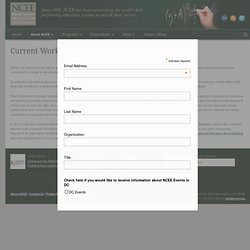 Specifically, it decided to follow up on the work of the first Commission on the Skills of the American Workforce by creating another, the New Commission on the Skills of the American Workforce, to examine the workings of the current global economy and their implications for education and training in the United States. That Commission released its report, Tough Choices or Tough Times, that called for a fundamental restructuring of how America educates its people. U.S. Education Reform and National Security. Order Report Publisher Council on Foreign Relations Press Release Date March 2012.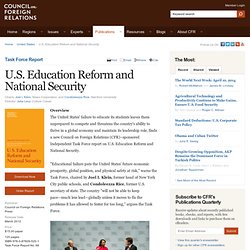 The National Center for Fair & Open Testing | FairTest. If students designed their own schools... 5 Things It Turns Out You Were Right to Hate About School. For many of you, school was 12 or more years of teachers and administrators deciding what was best for you, dictating exactly how you spent every minute of every day -- the result being that you absolutely hated each and every one of those minutes. But as you reached adulthood, you probably came to the realization that it was all for the best.
You were just a stupid kid, after all, and your elders did things a certain way for a reason. That reason being that they were full of shit. Science is just now taking a closer look at these centuries-old school practices, and they're finding out that ... #5. My Daughter's Homework Is Killing Me - Karl Taro Greenfeld. What happens when a father, alarmed by his 13-year-old daughter's nightly workload, tries to do her homework for a week Charles Gullung Memorization, not rationalization. That is the advice of my 13-year-old daughter, Esmee, as I struggle to make sense of a paragraph of notes for an upcoming Earth Science test on minerals.
"Minerals have crystal systems which are defined by the # of axis and the length of the axis that intersect the crystal faces." The Coming Revolution in Public Education. Why the current wave of reforms, with its heavy emphasis on standardized tests, may actually be harming students Defendants in Atlanta's school cheating scandal turn themselves in. (David Goldman/AP) Chicago Is Focus of National Debate on Schools. At stake are profound policy questions about how teachers should be granted tenure, promoted or fired, as well as the place standardized tests will have in the lives of elementary and high school students. One of the main sticking points in the negotiations here between the teachers union and Mayor Rahm Emanuel is a new teacher evaluation system that gives significant and increasing weight to student performance on standardized tests. Personnel decisions would be based on those evaluations.
Over the last few years, a majority of states have adopted similar systems, spurred by the desire to qualify for the Obama administration's Race to the Top education grants. How to Fix the Schools. It's not just the school days that are being lost. Far more important, the animosity between the Chicago Teachers Union and Mayor Rahm Emanuel and his administration will undoubtedly linger long after the strike ends.
The battle will end, but the war between education reformers and urban public schoolteachers will go on. Teachers — many of them — will continue to resent efforts to use standardized tests to measure their ability to teach. Education solutions from abroad for chronic U.S. school problems. What The US Could Learn From Finland About Education. How Finland Keeps Kids Focused Through Free Play - Tim Walker. 26 Amazing Facts About Finland's Unorthodox Education System. Reinventing Education To Teach Creativity And Entrepreneurship. Big Study Links Good Teachers to Lasting Gain.
Number of the Week: U.S. Teachers' Hours Among World's Longest - Real Time Economics. How Computerized Tutors Are Learning to Teach Humans.
---