iPad & Autism
TCEA-Recommended iPad Apps. iPad for Autism by Andrew Proto on Prezi. Chesapeake father creates app to navigate autism. Joe Hill watched his son press a finger against the screen of an iPhone, pull back an animated slingshot, and fire a bird through the virtual air.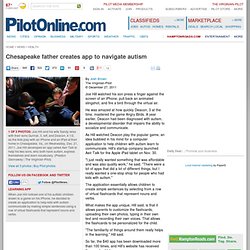 He was amazed at how quickly Deacon, 3 at the time, mastered the game Angry Birds. A year earlier, Deacon had been diagnosed with autism, a developmental disorder that impairs the ability to socialize and communicate. Danny's Wish - It's All About Giving. Apps for Autism: An Essential Guide to Over 200 Effective Apps for Improving Communication, Behavior, Social Skills, and More! (9781935274490): Lois Jean Brady. Apps for Autism. 2010 Year of the iPad - Focus on Autism. The Conversation: iPad Gives Voice to the Autistic. Gage Speaks: How an iPad and Innovative Thinking Gave Voice to an Autistic Child. The iPad: a Useful Tool for Autism. What's the buzz about computers and autism?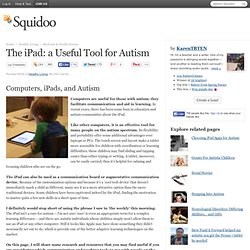 It's a matter of brain wiring. A person with typical neural wiring activates different brain systems when viewing a face than they do when viewing, say, a shrub. They notice subtle differences in facial features and expressions, even if they think those shrubs on the way to the bus stop all look the same. iPad Apps & Resources for People With Autism. Finding Good Apps for Children With Autism. Autism Apps | Family Services. This study examined the impact of computers on the vocabulary acquisition of young children with autism.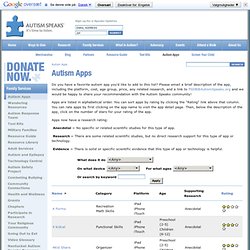 Children's attention, motivation, and learning of words was compared in a behavioral program and an educational software program. The educational software program was designed to parallel the behavioral program, but it added perceptually salient qualities such as interesting sounds and object movement. Children with autism were more attentive, more motivated, and learned more vocabulary in the computer than in the behavioral program.
---