iPad & Autism
iPad for Autism by Andrew Proto on Prezi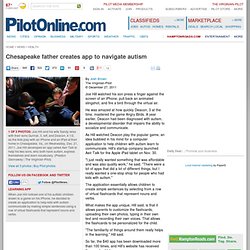 Joe Hill watched his son press a finger against the screen of an iPhone, pull back an animated slingshot, and fire a bird through the virtual air. He was amazed at how quickly Deacon, 3 at the time, mastered the game Angry Birds. A year earlier, Deacon had been diagnosed with autism, a developmental disorder that impairs the ability to socialize and communicate.
Chesapeake father creates app to navigate autism
Danny's Wish - It's All About Giving
Apps for Autism: An Essential Guide to Over 200 Effective Apps for Improving Communication, Behavior, Social Skills, and More! (9781935274490): Lois Jean Brady
Apps for Autism
2010 Year of the iPad - Focus on Autism
The Conversation: iPad Gives Voice to the Autistic
Gage Speaks: How an iPad and Innovative Thinking Gave Voice to an Autistic Child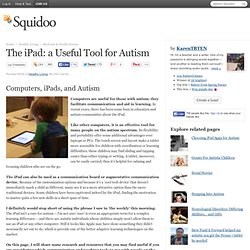 The iPad: a Useful Tool for Autism
Computers are useful for those with autism; they facilitate communication and aid in learning. In recent months, there has been some buzz in education and autism communities about the Apple iPad. The iPad, like other computers, is an effective tool for many people on the autism spectrum. Its flexibility and portability offer some additional advantages, though, over laptops or PCs.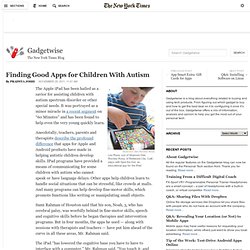 Shannon Des Roches Rosa Leo Rosa, son of Shannon Des Roches Rosa, of Redwood City, Calif., plays with Spot the Dot, an educational app for the iPad. The Apple iPad has been hailed as a savior for assisting children with autism spectrum disorder or other special needs. It was portrayed as a minor miracle in a recent segment on "60 Minutes" and has been found to help even the very young quickly learn. Anecdotally, teachers, parents and therapists describe the profound difference that apps for Apple and Android products have made in helping autistic children develop skills.
Finding Good Apps for Children With Autism