Education Blogs
This Pearltree is dedicated to the curation of resources from educational bloggers. Particularly those that write about using technology such as iPad applications to help improve the quality of education. ostarr Nov 22
Welcome | Graziadio Business Review | Graziadio School of Business and Management | Pepperdine University
PearlTrees - Get your web pearls organised
Education technology has many supporters in its movement to alter traditional teaching methods. This list of the top 50 education technology blogs includes writers, technicians and social media experts…but they all are teachers. The "movers" are teachers who facilitate learning among other teachers and in the classroom, the "shakers" teach new philosophies and innovations, and the folks "on the ground" offer news, tools and methods of using those tools in the classroom.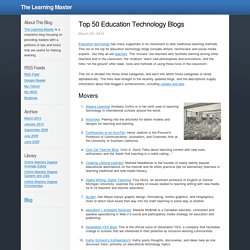 Free Technology for Teachers http://www.freetech4teachers.com This Edublog award winner for Best Individual Edublog 2009 and Best Resource Sharing Blog 2009 is dedicated to sharing information about free resources for use with children. It was developed by high school social studies teacher and Google Certified Teacher, Richard Byre, who believes that, "when used correctly, technology has the power to improve student engagement and student achievement."
Top Five Educational Technology Blogs to Follow in 2010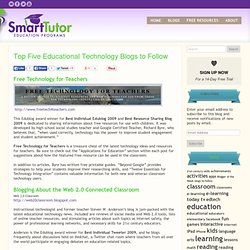 Take a candid look into the day-to-day life of pioneers who play a vital role in outfitting students with 21st century skills by integrating new technologies in the nation's schools. Blogs provide a platform for these trailblazing educators to share ideas and serve as a window into a profession that is truly transformative. iLearn Technology Check out the featured posts on iLearn Technology, where teacher-turned-tech integration specialist Kelly Tenkely offers nifty tech tips and tools like Math Pickle and Off-Road Algebra that make story problems relatable, along with entries in a series on professional development.
Top 50 School Technology Blogs | Best Education Tech Blogs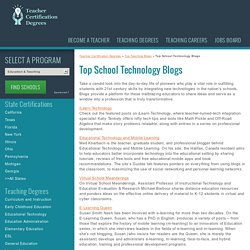 Jason Falls As promised, today I'm sharing the results of some recent research I conducted into the top education blogs on the web. As an experiment, both for a client and for a recent presentation on finding relevant bloggers, I decided to cast a wider net that actually needed and share the results with everyone. Before I dive into the methodology or the list, allow me to caveat this research with a couple of notes. First, because no automated method or service exists to collect the top blogs in a given category, the list I compiled was done so manually. The possibility then, for human error, oversight and just plain not finding all of the blogs that can be considered is there.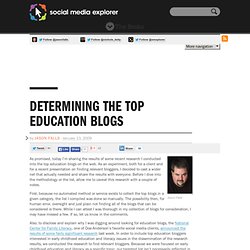 The Top Education Blogs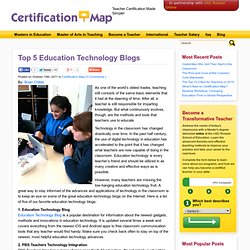 Top 5 Education Technology Blogs | Certification Map
As one of the world's oldest trades, teaching still consists of the same basic elements that it had at the dawning of time. After all, a teacher is still responsible for imparting knowledge. But what continuously evolves, though, are the methods and tools that teachers use to educate. Technology in the classroom has changed drastically over time. In the past half century, the use of digital technology in education has accelerated to the point that it has changed what teachers are now capable of doing in the classroom. Education technology is every teacher's friend and should be utilized in as many creative and effective ways as is possible.
Education blogs are becoming a means for educators, students, and education administrators to interact more effectively than ever before. They are also a great resource for those searching for the best online education programs to jumpstart their teaching careers. Technorati currently tracks 63.1 million blogs. More than 5,000 of them are about education. It is likely that there are hundreds, if not thousands, more education-related blogs on the Web.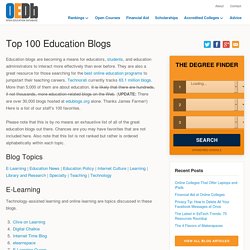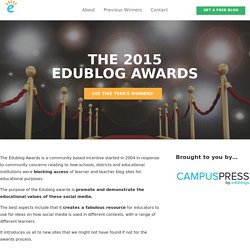 We've been asked to provide data about the Edublog Awards since it was started in 2004. So we've decided to share a walk through of the history of the Edublog Awards because it highlights: How educational technology use has changed.Why the nomination, short listing and voting have changed. Why the Edublog Awards? The Edublog Awards was set up in response to community concerns relating to how schools, districts and educational institutions were blocking access of learner and teacher sites for educational purposes. The purpose of the Edublog awards is promote and demonstrate the educational values of these social media.
Educational Ipad Apps
Posted by Paul Allison on May 22nd, 2012 TTT #297 Margaret Simon on her Young Adult novel, Blessen - 05.15.12 [42:23m]: Hide Player | Play in Popup | Download On this special Meet the Authors episode of Teachers Teaching Teachers, we have a conversation with two teachers and recently published authors from New Iberia, Louisiana,+ Margaret Simon and + Stephanie Judice / @sagaofthesetti . Margaret has been a frequent guest on Teachers Teaching Teachers since the BP Oil Spill. Her elementary school school students published memorable poems and multimedia commentary on Voices on the Gulf, and Ms.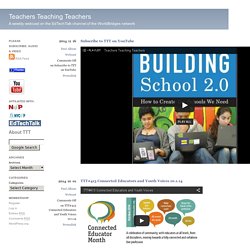 Teachers Teaching Teachers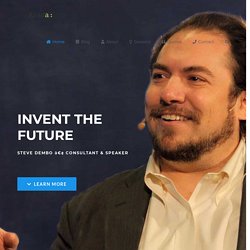 If you're going to pony up the cash for Google Glass, you have to love being an early adopter. I'm not talking about just getting a product through Kickstarter, I mean love getting betas of software and helping developers make it better. I mean being someone who will deliberately crash your own device a few dozen times to try to pin down where a bug could be. You've got to be the kind of person who can take all the flaws in a system and come to peace with them, because you know that someday they'll be fixed.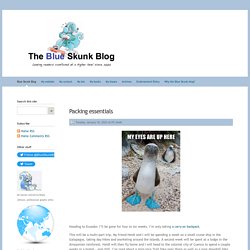 From yesterday's headlines: Air Force pulls 34 nuclear officers off job for alleged test cheating (Associated Press)... 34 are suspected of cheating several months ago on a routine proficiency test that includes checking missile launch officers' knowledge of how to handle an "emergency war order," which is the term for the authorization required to launch a nuclear weapon.... [Air Force Secretary Deborah Lee James] suggested that the cheating was confined to this single case involving 34 officers, although numerous missile officers have told the AP confidentially that some feel compelled to cut corners on their monthly proficiency tests because of intense pressure to score at the highest levels to advance in the force....The 341st Missile Wing at Malmstrom, where all 34 suspected cheaters are based, is responsible for 150 of the 450 ICBMs....The Malmstrom unit failed a nuclear safety and security inspection in August but succeeded on a redo in October.
Editor's note: Chris Casal is a member of the NYC DOE Social Media Advisory Team. His insights have helped inspire and guide teachers in the effective use of social media in the classroom. Here's how he does it.
Sue Waters Blog
As promised here's the summary of our adventures in New York and Niagara Falls for those who have been following our Journey on Twitter and Instagram. As mentioned in my previous post: Connecting with other educators on Twitter has enhanced the experience. My twitter network have helped recommend places to check out and it has been invaluable for connecting face-to-face with other educators in the different cities we've visited. You'll find my guide to using Twitter here.Instagram has been a great way to quickly share photos from our trip. Here's how to use Instagram.
This is a guest post from Samantha Morra of EdTechTeacher.org, an advertiser on Free Technology for Teachers. Many of us using technology in the classroom find ourselves caught between two worlds: Apple and Google. Apple's iPad is a fantastic tool in the classroom which provides students with various opportunities to consume, create, and communicate. Similar to a swiss-army knife, it is only limited by how we choose to use it. At the same time, Google apps provide students with cloud-based services, from search to document creation and sharing, that work seamlessly on iPad.
mLearnopedia
Tom March :: Bright Ideas for Education
teaching technology abroad
TeacherTechnologies.com - Free advice and resources for new education technology
Successful Teaching