Education Blogs
This Pearltree is dedicated to the curation of resources from educational bloggers. Particularly those that write about using technology such as iPad applications to help improve the quality of education. ostarr Nov 22
Welcome | Graziadio Business Review | Graziadio School of Business and Management | Pepperdine University
PearlTrees - Get your web pearls organised
Education technology has many supporters in its movement to alter traditional teaching methods. This list of the top 50 education technology blogs includes writers, technicians and social media experts…but they all are teachers. The "movers" are teachers who facilitate learning among other teachers and in the classroom, the "shakers" teach new philosophies and innovations, and the folks "on the ground" offer news, tools and methods of using those tools in the classroom.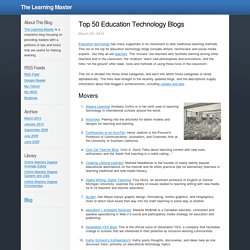 Free Technology for Teachers
Top Five Educational Technology Blogs to Follow in 2010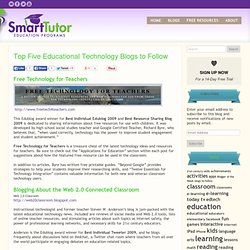 Take a candid look into the day-to-day life of pioneers who play a vital role in outfitting students with 21st century skills by integrating new technologies in the nation's schools. Blogs provide a platform for these trailblazing educators to share ideas and serve as a window into a profession that is truly transformative. iLearn Technology Check out the featured posts on iLearn Technology, where teacher-turned-tech integration specialist Kelly Tenkely offers nifty tech tips and tools like Math Pickle and Off-Road Algebra that make story problems relatable, along with entries in a series on professional development.
Top 50 School Technology Blogs | Best Education Tech Blogs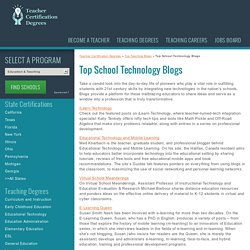 Jason Falls As promised, today I'm sharing the results of some recent research I conducted into the top education blogs on the web. As an experiment, both for a client and for a recent presentation on finding relevant bloggers, I decided to cast a wider net that actually needed and share the results with everyone. Before I dive into the methodology or the list, allow me to caveat this research with a couple of notes. First, because no automated method or service exists to collect the top blogs in a given category, the list I compiled was done so manually. The possibility then, for human error, oversight and just plain not finding all of the blogs that can be considered is there.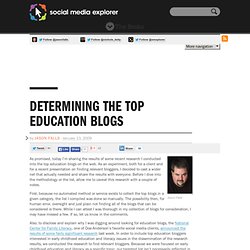 The Top Education Blogs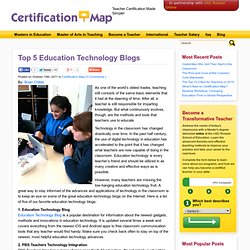 Top 5 Education Technology Blogs | Certification Map
As one of the world's oldest trades, teaching still consists of the same basic elements that it had at the dawning of time. After all, a teacher is still responsible for imparting knowledge. But what continuously evolves, though, are the methods and tools that teachers use to educate. Technology in the classroom has changed drastically over time. In the past half century, the use of digital technology in education has accelerated to the point that it has changed what teachers are now capable of doing in the classroom. Education technology is every teacher's friend and should be utilized in as many creative and effective ways as is possible.
Education blogs are becoming a means for educators, students, and education administrators to interact more effectively than ever before.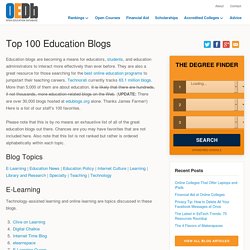 Educational Ipad Apps
Teachers Teaching Teachers
Sue Waters Blog
mLearnopedia
Tom March :: Bright Ideas for Education
teaching technology abroad
TeacherTechnologies.com - Free advice and resources for new education technology
ITM 2.0: Da Scoop
Successful Teaching
Listen A few weeks ago I worked and attended North Carolina's ISTE affiliate conference. I opened the NCTIES conference with a breakfast keynote address and Marc Prensky closed it with a luncheon keynote the next day. Sadly, I missed the second day of the conference.