Edition photo en ligne
Photoshop gratuit sans le télécharger et en ligne. Le célèbre logiciel PhotoShop possède aussi sa propre version en ligne et en plus de cela elle est gratuite.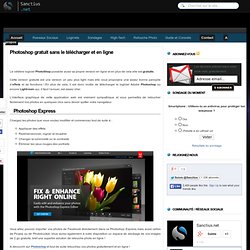 Cette version gratuite est une version un peu plus light mais elle vous proposera une assez bonne panoplie d'effets et de fonctions ! En plus de cela, il est donc inutile de télécharger le logiciel Adobe Photoshop ou encore Lightroom qui, il faut l'avouer, est assez cher. L'interface graphique de cette application web est vraiment sympathique et vous permettra de retoucher facilement vos photos en quelques clics sans devoir quitter votre navigateur. Photoshop Express Chargez les photos que vous voulez modifier et commencez tout de suite à : Top 13 des sites de montage photo fun et de retouche photo avec effet gratuit. ✖ Fermer Un clic, c'est le début d'une histoire...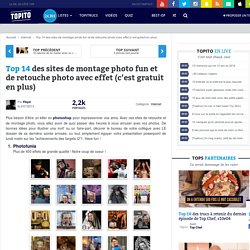 Mais avec un autre clic sur "j'aime", ça pourrait devenir fort entre nous. Resizeimage.org - Resize images with ease. Retoucher rapidement une photo - Tous les navigateurs Web. Vous n'êtes pas sur votre ordinateur et vous avez besoin de retoucher rapidement une photo.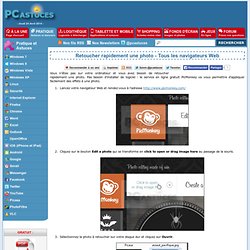 Pas besoin d'installer de logiciel : le service en ligne gratuit PicMonkey va vous permettre d'appliquer facilement des effets à une photo. Lancez votre navigateur Web et rendez-vous à l'adresse Cliquez sur le bouton Edit a photo qui se transforme en click to open or drag image here au passage de la souris. Photo editor | PicMonkey: Free Online Photo Editing. Complets et avancés. FotoFlexer. Pixlr. Lunapic | Free Online Photo Editor. Photo Editor | iPiccy: Free Online Photo Editing for You.
Picadilo - Photo editing at its best. Splashup. Picozu | the HTML5 Image Editor. Efficaces, avancés et spéciaux. PhotoMania. Sumopaint | Get Creative. App mobile. Photo Editor by Aviary. Photo Editing Made Simple - Free Online Photo Editor. Applications portable. Sur réseaux sociaux. Web Applications Products, Mobile Applications Products, Mobile Games. FlauntR flauntR is a free online suite of digital photoediting tools that provides a range of features that are typically only been available in expensive photoediting software.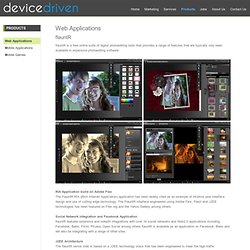 RIA Application build on Adobe Flex The FlauntR RIA (Rich Internet Application) application has been widely cited as an example of intuitive user interface design and use of cutting edge technology. The FlauntR interface engineered using Adobe Flex, Flash and J2EE technologies has been featured on Flex.org and the Yahoo Gallery among others. Basiques. Pixenate - Edit photos online, fast and easily - No plugins required. DrPic.com Free Web Picture Editor and Image Host - Crop, Resize, Text. PicMagick.
Smilart Fan Studio Online Photo Editor. Effets et montages rapides. PiZap | Online Photo Editor & Collage Maker | Fun Edit Effects & Images. Easily Remove Image Backgrounds Online - Clipping Magic. Privacy Image Editor. Effet de miniatures. TiltShiftMaker donne un aspect de miniature à vos photos | Desca. Tiltshiftmaker.com - Transform your photos into tilt-shift style miniatures. HDR (Image à grande gamme dynamique) YoHDR! | Easily Create Great HDR Photos Online.
iStarin - Be the Super Star on Blockbuster Movie Posters! Deux scientifiques américains ont créé un programme qui décèle les retouches faites sur une image avec le logiciel Photoshop - L'algorithme qui démonte Photoshop. Alors que la communication d'H&M est pointée du doigt pour avoir collé des visages de top-modèles sur des corps de synthèse, deux scientifiques américains ont inventé l'outil rêvé des amateurs d' « avant-après ».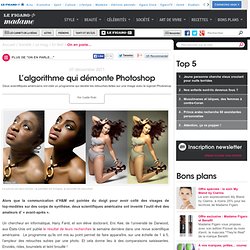 Un chercheur en informatique, Hany Farid, et son élève doctorant, Eric Kee, de l'université de Darwood, aux États-Unis ont publié le résultat de leurs recherches la semaine dernière dans une revue scientifique américaine. Le programme qu'ils ont mis au point permet de faire apparaître, sur une échelle de 1 à 5, l'ampleur des retouches subies par une photo. Et cela donne lieu à des comparaisons saisissantes. PhotoFunia :: Effects. 50 Beautiful Examples Of Tilt-Shift Photography | Inspiration | Advertisement Tilt-shift photography is a creative and unique type of photography in which the camera is manipulated so that a life-sized location or subject looks like a miniature-scale model.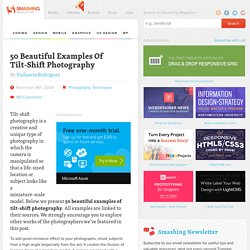 Below we present 50 beautiful examples of tilt-shift photography. All examples are linked to their sources. We strongly encourage you to explore other works of the photographers we've featured in this post. To add good miniature effect to your photographs, shoot subjects from a high angle (especially from the air).
---