Sites Web
Bienvenue sur Wikico - Le wiki de la Consommation Collaborative (CC). La consommation collaborative et plus largement l'économie collaborative désigne un nouveau modèle économique où l'utilisation et l'accès aux objets, services et savoirs est plus important que la possession en elle-même : l'usage d'un bien, service, privilège, peut être augmenté par le partage, l'échange, le troc, la vente ou la location de celui-ci.
Wikico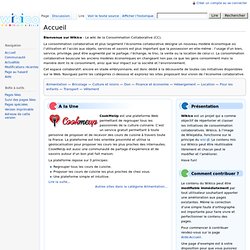 Collaborative Consumption
Collab Consumption (collcons) sur Twitter
rachel botsman (rachelbotsman) sur Twitter
What's Mine Is Yours: The Rise of Collaborative Consumption: Amazon.fr: Rachel Botsman, Roo Rogers: Livres anglais et étrangers
The Mesh Directory
lisagansky (instigating) sur Twitter
The Mesh: Why the Future of Business Is Sharing (9781591843719): Lisa Gansky
Shareable
Shareable Magazine (ShareableDesign) sur Twitter
It all started in 2010, when Antonin Léonard was blogging about collaborative consumption in French. Little did he know that this was the beginning of the organization we now call OuiShare – a network of people with common values, which have finally been summarized in a manifesto. In its early stages, the OuiShare community was a Facebook group created by Antonin in April 2011 to connect people who believed in the potential of the collaborative economy and were trying to make it a reality.
OuiShare (OuiShare) sur Twitter
Antonin Léonard (ccollab) sur Twitter
Consommation Collaborative