Sites Web
Wikico. Bienvenue sur Wikico - Le wiki de la Consommation Collaborative (CC).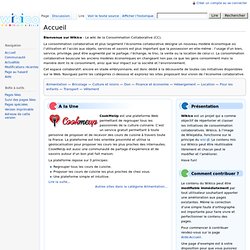 La consommation collaborative et plus largement l'économie collaborative désigne un nouveau modèle économique où l'utilisation et l'accès aux objets, services et savoirs est plus important que la possession en elle-même : l'usage d'un bien, service, privilège, peut être augmenté par le partage, l'échange, le troc, la vente ou la location de celui-ci. La consommation collaborative bouscule les anciens modèles économiques en changeant non pas ce que les gens consomment mais la manière dont ils le consomment, ainsi que leur impact sur la société et l'environnement. Cet espace collaboratif, encore en stade embryonnaire, est donc dédié à la découverte de toutes ces initiatives disponibles sur le Web. Naviguez parmi les catégories ci-dessous et explorez les sites proposant leur vision de l'économie collaborative. What's Mine is Yours: The Rise of Collaborative Consumption.
Collaborative Consumption. Collab Consumption (collcons) sur Twitter. Rachel Botsman / Rachel botsman (rachelbotsman) sur Twitter. What's Mine Is Yours: The Rise of Collaborative Consumption: Amazon.fr: Rachel Botsman, Roo Rogers: Livres anglais et étrangers. Mesh - the living network of sharing. The Mesh Directory. Lisagansky (instigating) sur Twitter. The Mesh: Why the Future of Business Is Sharing (9781591843719): Lisa Gansky.
Sharing by design. Shareable. Shareable Magazine (ShareableDesign) sur Twitter. A Creative Community for the Collaborative Economy. OuiShare. OuiShare (OuiShare) sur Twitter. Le blog de la Consommation Collaborative. Antonin Léonard (ccollab) sur Twitter. 100 sites de consommation collaborative | Consommation Collaborative. Consommation Collaborative.
---